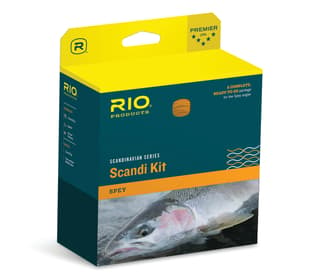 A COMPLETE, READY-TO-GO package for the Spey angler
Scandinavian heads are designed to cast tight loops and make effortless, long distance casts with great presentation. RIO's Scandi Kit is a complete, ready-to-fish outfit, packed in a single box. Each kit includes a RIO Scandi head, built on the ultra-low stretch ConnectCore, a suitably sized ConnectCore shooting line (.032" for 460 & 520gr, .037" for 580 & 640gr), and a selection of 3 different density, 10ft VersiLeaders; 1.5, 4 & 5 ips.
taper profile
technologies
ConnectCore is RIO's ultra-low stretch core (maximum 6%) used in coldwater fly lines that provides incredibly sensitivity and control when casting and fishing.
Extreme Slickness technology is a chemistry formulation that results in an ultra- slick line with dirt-repelling properties.
AgentX is a dual layered fly line that utilizes a high floating inner coating made with more buoyant microspheres covered by a tough outer coating for maximum durability.
features
RIO's printed line marking system that allows anglers to quickly and easily identify each line.
A neat, bulletproof loop welded at the front of the fly line for fast Spey-specific rigging.
A neat, bulletproof loop welded at the end of the fly line for fast rigging to backing.
RIO Scandi Kit - All Models
Line Size
line size:
460gr | 7/8wt
line size:
520gr | 8/9wt
line size:
580gr | 9/10wt
line size:
640gr | 10/11wt