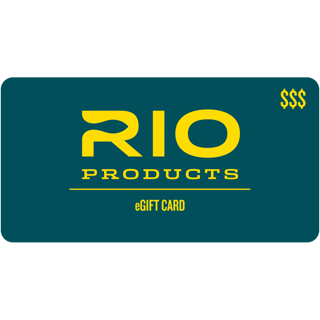 Looking for a gift idea for a keen fly fisher? Let them choose the exact item they want with a gift card from RIO Products - manufacturer of the best fly lines, leaders and tippet in the world. We have a wonderful selection of fly lines for all species and conditions, ensuring that the gift card will be well used and much appreciated.

Please note that these RIO eGIFT CARDs are digital only and will be delivered via email. No physical gift card will be sent. In the check-out process, you will enter an email for the recipient to receive their eGIFT CARD and the recipient will receive their eGIFT CARD email the day after the eGIFT CARD has been purchased.

* RIO does not refund eGIFT CARDS for cash except where required by state law. eGIFT CARDS are only redeemable for products being shipped to the US and Canada. RIO eGIFT CARDs never expire, are only redeemable on our website, and are not available for redemption at retailers.