Tis' the season….
by Jason Hartwick 6.30.2015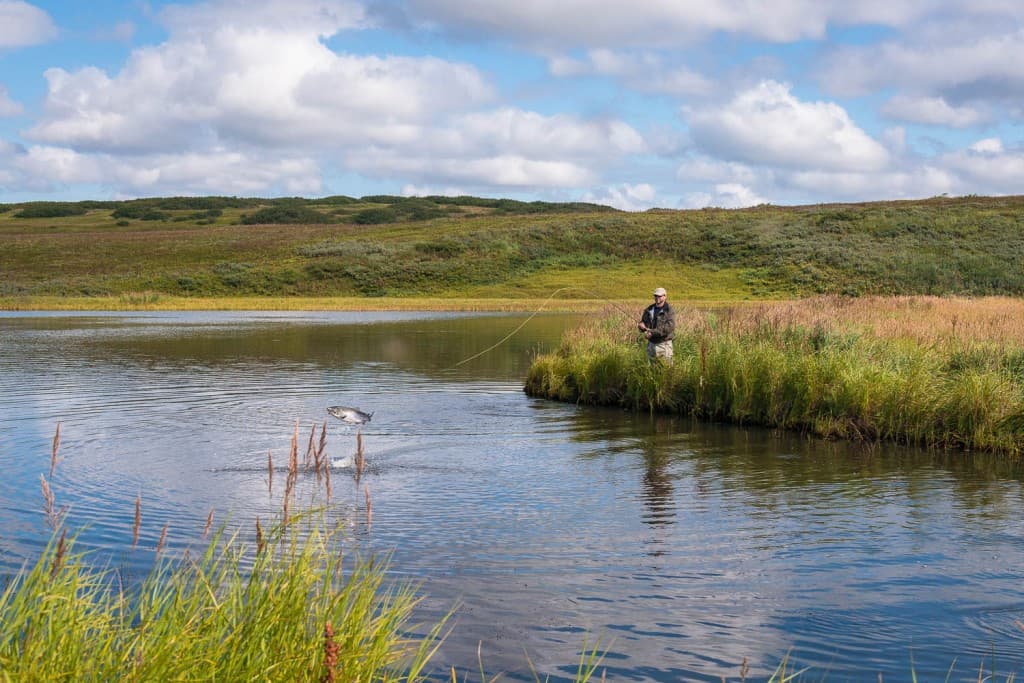 Ti's the season… and I don't mean Christmas. Its that time of year fisherman get ready for big trout, salmon, mosquitos, and bears. We're talking Alaska, Land of the midnight sun. In some places you could fish 24 hours if you have the stamina and have not been eaten by pterodactyl size mosquitos yet. A place you can go catch rainbows on mouse patterns in the morning and swing for chrome Chinook and Sockeye salmon in the evenings as the sunsets low on the horizon. Alaska is an anglers paradise and if have never been, well, everyone needs to see Alaska at least once!
Each June many anglers and guides venture north to Alaska to experience its beauty, wildlife and healthy populations of fish. There's not too many places in the world one can fly fish for a variety of species while having Grizzlies, Moose, and Caribou walk by and bald eagles flying overhead all while fishing.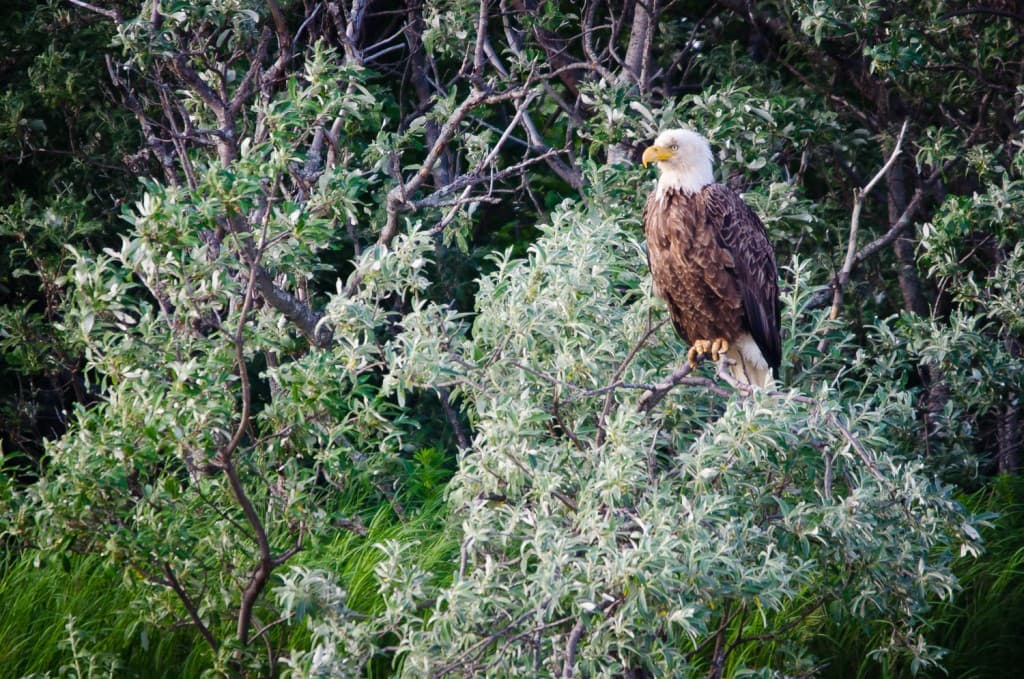 Alaska is probably better known to the fly angler as a premier big trout destination. Some of the most beautiful leopard rainbows you have seen in your life that are hell bent of feeding for four months before winter arrives. Just like bears, it's all about food for these fish in the summer. Early season can provide some of the hardest grabs of the season whether it be fishing mouse patterns on the surface or swinging streamers on lightweight speys.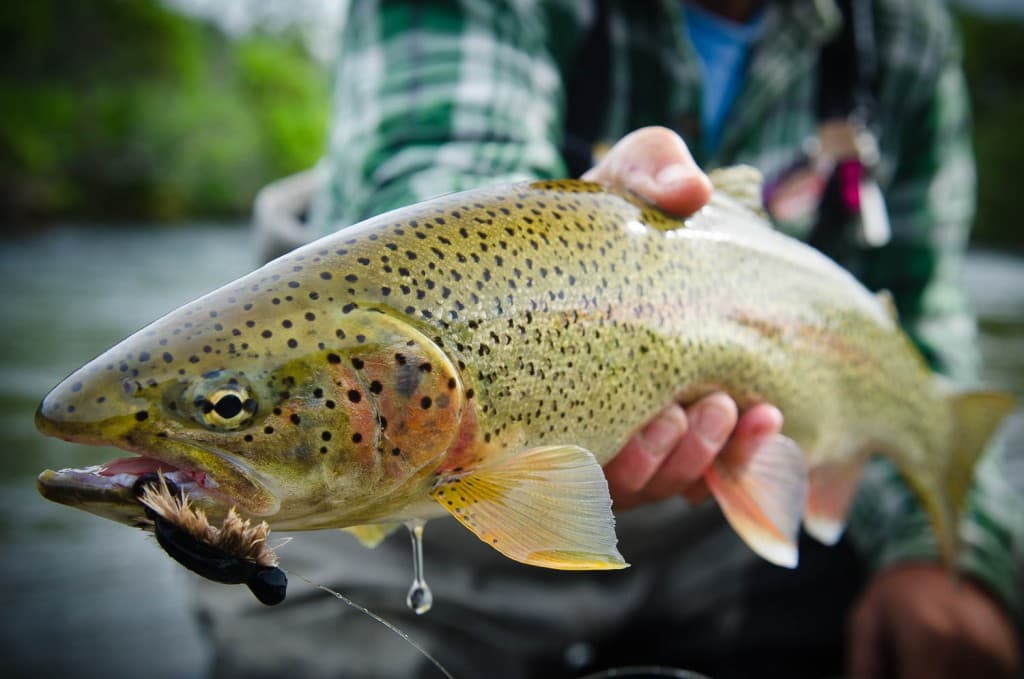 As July arrives, so do the spawning salmon and anglers to Bristol Bay to catch these egg gorging leopard bows. For the next couple of months, rainbows, grayling, and char will line up behind spawning salmon and fatten up for the winter ahead. This is the time of year the numbers of fish increase, as well as their size. As the egg bite dwindles and the end of the summers nears, fish begin eating the dead flesh of salmon. This is where the biggest fish of the season seem to come, as they have been feeding heavily for months and put on that extra pound or two.
Salmon. If there was one word to sum up Alaska, it's got to be Salmon. The state hosts some of the largest salmon runs in the world that support both commercial and sport fisheries during the summer. Many anglers, not just fly fisherman venture north each summer to catch summer whether it be on the ocean or as they are migrating up their natal rivers. Alaska is hands down one of the best places to target salmon on the fly rod. The rivers offer excellent fly-fishable water and the runs of fish are rather large. Two things you must have to catch salmon on the fly!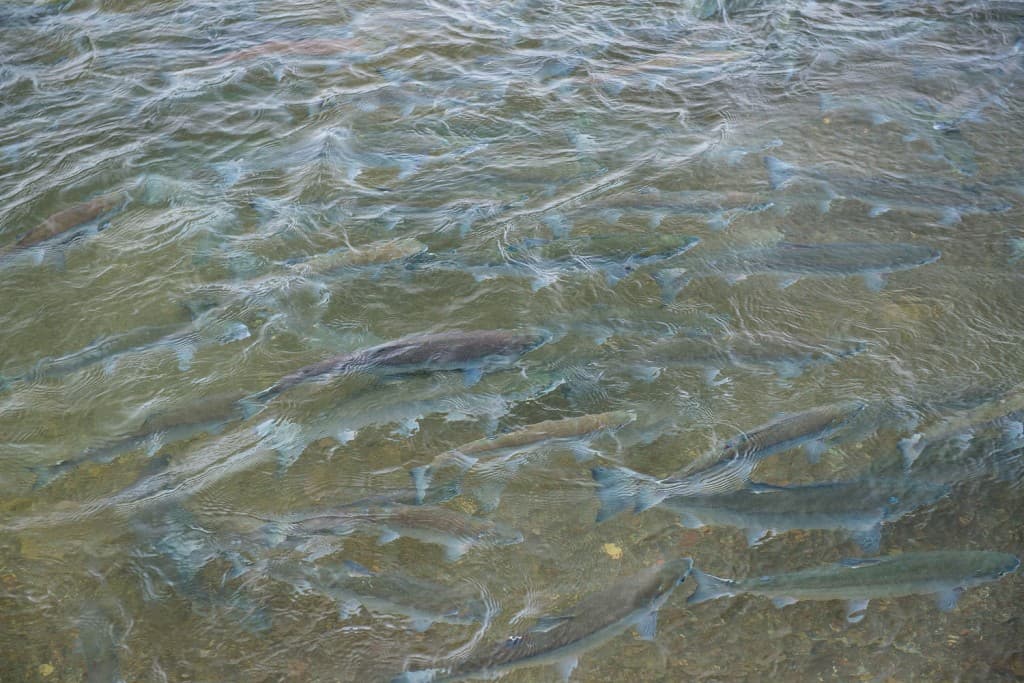 Now you have to pick your poison and determine what species you want to catch as run timing differs between the five species of salmon. In many place in Alaska you might be able to hook all five species, Chinook(King), Coho(silver), Sockeye(Red), Chum(Dog), Pink(Humpy), also known as the grand slam in a single week. Most anglers showing up to Alaska to fish for salmon though seem to favor Chinook, Coho, and Sockeye for their fighting ability and table fare.
The most prized salmon in AK and around the world has to be the Chinook(King). Kings are the largest of the salmon species and hands down the hardest fighting. Alaska has always been known as an excellent place to swing for Kings. These fish can smash a run swing or sip it like a PMD, but once hooked, all hell breaks loose. While not the most aerial fish, they will fight like a bull-dog, take you into your backing, and even run you to the ocean.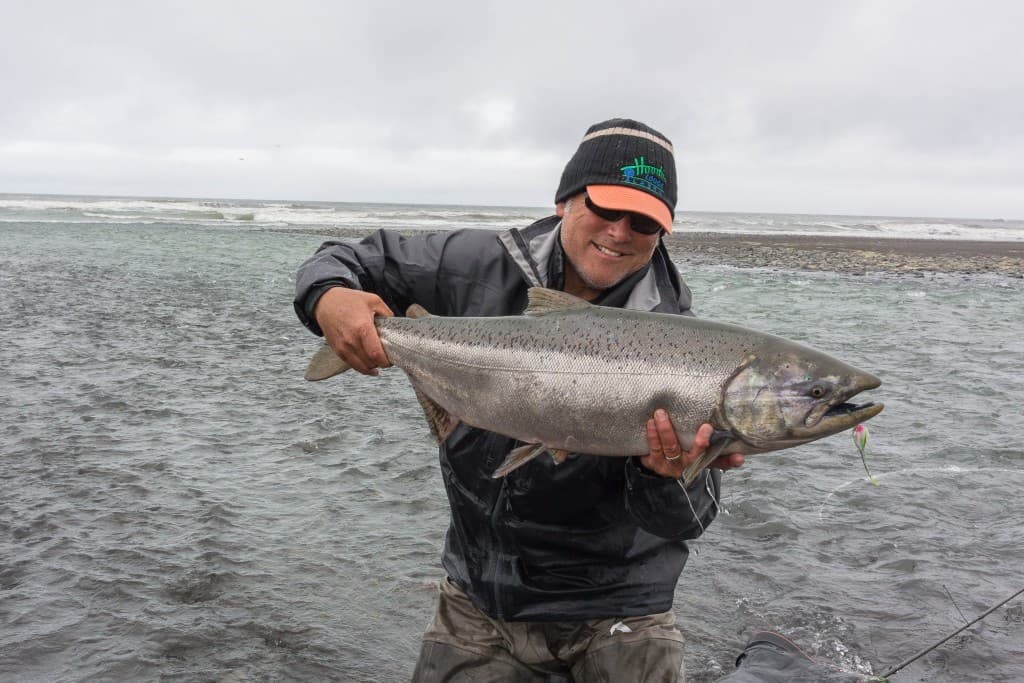 In most rivers, Chums and Sockeye runs will overlap with King runs giving anglers many opportunities at different species. Chums can sometimes be a nuisance when King fishing as they grab flies very well and are hard fighting fish. Maybe even one of the most underrated game fish around. So why do Chums get so a bad rap, well, they taste like s%&t! These fish are a ton of fun and a good species to target on a spey rod or when the King fishing slows down.
Sockeye(Reds) will also overlap with many other salmon runs and can be found in many rivers throughout the middle of the summer. While Sockeye, do not eat flies particularly well, they are hard fighting fish and some of the best tasting on the planet. Though sockeye do not eat a fly well, they can be easy to catch because they travel in large schools and swim/hold on the edges of most rivers in good fly water.
As the air temps drop and the days become shorter, Coho(Silver) salmon enter the rivers and many anglers venture North to Alaska. Silvers are hands down the easiest salmon to catch on a fly rod and maybe the most fun! They chase flies extremely well, fight hard, and seem to spend more time out of the water than in it. These fish are a blast on a #7-8 weight rod and floating lines. They are also one of the few species of salmon to eat top water flies such as wogs and poppers. If you are lucky enough to find these fish near tidewater reaches or sand flats, this is where the magic happens and you can sometimes fish to tailing silvers like bonefish. Whether it is subsurface streamers or surface wogs, you will probably hook enough of these guys in a week to feel like your arm might fall off. Silvers typically signal the end of the summer in Alaska and the beginning of winter, which means ones thing….the fisherman's Christmas has come to an end.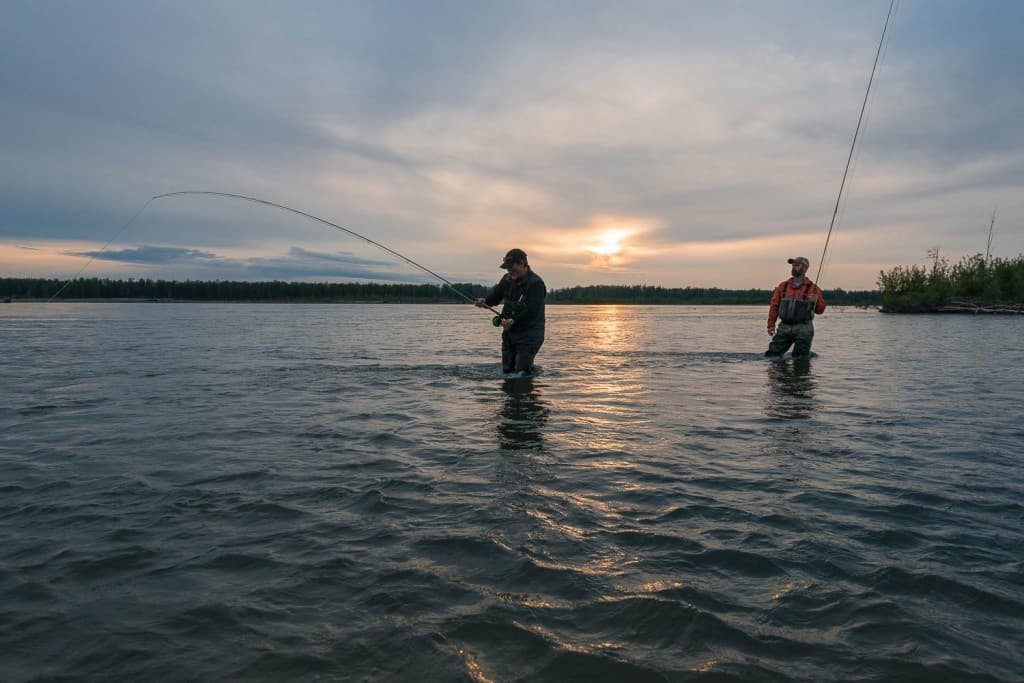 It's time! The fisherman's Christmas is upon us. If you are headed north for your Alaskan adventure, enjoy! If you have never been, well, you need to go. Look for those last minute lodge deals or book a plane ticket and fish the rad system. Alaska is a must see for any fly fisherman with so much to choose from.