Tips for a Saltwater Flat
by Barry Beck 2.19.2013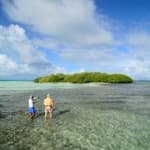 A light breeze blows in over the pancake flat in front of my temporary office. I sit here under a weathered umbrella, my HP laptop open with two local dogs under my rickety table. The black lab named "Tarpon" is snoring peacefully while a smaller mixed whatchamacallit character has his head cocked and is staring with an uncanny smile in my direction. His head turns from side to side and he's kind of funny but it distracts me from the blog that I am supposed to be writing. Both dogs have shared my lunch and Tarpon seems content, but I think my other friend is looking for dessert.
Living on the road for most of the year, my office is often wherever I can find a place to work. Today it's on a beautiful small key off the Island of Los Roques, Venezuela. I watch as two of our clients and their guide slowly fish their way across the flat. It's been a good morning with fine weather and lots of tailing bonefish. Life is good here and our Frontiers group of anglers have had an exceptionally good week of fishing.
Over breakfast this morning my wife, Cathy, who shares the hosting responsibilities suggested that we write about some things to remember when fishing a saltwater flat to our Frontiers pre trip information. She recalled a few comments that she heard from a guest this week and the more we discussed her ideas the more I thought that it would make a great blog. Boy I am glad I thought of it!! So, here are my thoughts:
#1 – We need to be ready to cast. When Cathy is fishing and wading with a guide, she starts out by making a comfortable cast. This shows the guide what he has to work with. She then retrieves most of her fly line and lets the rest trail behind her. She carries the fly in her line hand and has a short amount of fly line extending out beyond the rod tip which will allow her to quickly get the line moving. If we just have our tapered leader in the guides it's almost impossible to get the line moving quickly when a fish is spotted.
#2 – Years ago having the fly line trailing behind us was an accident waiting to happen. Most lines would start to sink and when we saw a fish and tried to make a cast the sinking part of the trailing fly line would make it impossible to shoot line. Today technology used in saltwater fly lines like RIO's Bonefish taper stay high on the surface and come off the with little or no drag. Keeping the fly in hand is much better than allowing it to drag alongside you in the water where it can collect weeds or foul on grass, wading boots, coral and other obstructions.
#3 – Two sets of eyes are better than one. Most of us will never see the numbers of fish that a guide sees. After all, that's one of the most important reasons we hire a guide in the first place. That said, there is nothing wrong with keeping alert and trying to spot the fish ourselves. It's easy to walk alongside our guide and get lost in the moment. I am as guilty as anyone often letting my thoughts drift off to somewhere else and then the guide whispers bonefish and I realize I have been day dreaming. Looking and learning to spot fish will make us better anglers and certainly increase the numbers of caught fish at the end of the day. With good sunglasses and a little practice, you'll be surprised at what you can see in the water. Cathy and I both wear Smith Optic copper-tinted polarized glasses for all of our flats and inshore fishing. The copper colored lens helps define the bottom which in turn helps us see more fish
#4 – Most professional guides in both fresh and salt wear Buffs for skin protection from the sun. Buffs work very well, but they also buffer the instructions coming from the guide especially if the guide is soft spoken or there is some wind noise. Flats fish are almost always on the move, so time is of the essence. This is not the time to stand around and ask a guide what he said, so I always make it a point to be sure I can hear the guide. If I can't, I ask him to speak-up.
#5 – This one relates to presentation. Having the right fly is one thing, getting it to the fish without spooking him is another. I try to always make a low profile cast to my target. First, the fish is less likely to see the fly line coming at him; and secondly, the wind will have less effect on the cast. Wind is something that we almost always have to deal with on a saltwater flat and the higher up in the air we put our fly line, the more likely it is that our cast will be blown off course. Oh, I should add that I've have had more than one guide remind me of which end the fish feeds from – get your fly in front of the fish.
#6 – This thought involves how we retrieve our flies. If we wear a stripping finger or tape, it will protect our fingers from line cuts. If you are using a guide, then listen to their advice on how fast or slow to retrieve. He may use hand signals showing you when to retrieve or when to pause. Remember to keep your rod tip close to the surface as you retrieve and set the hook with your line hand and not by lifting the rod tip.
#7 – Like the guide who wears a buff, sun protection is a must. Take it from me I know all too well what can happen if we don't cover up. Thousands of dollars and two operations later, I now wear a buff. I still use lots of sunscreen and reapply as needed, but I stay covered up. Looking like a well-tanned beach bum has been replaced with some commonsense. Sun gloves and hats with good coverage should also be used.
#8 – Ok, so we fished through the flat, got lucky and caught some fish and now it's time to move. Most of us probably got to the flat in a flats boat so now it's time to get back in the boat and move on. Always be careful and aware of how slippery a deck or floor can be when you enter with wet wading shoes. The ride to the next flat can be wet as well, so carry a cleaning cloth or lens wipes to keep your glasses clean.
#9 – Our last thought for today. Over a lot of years of riding around in flats boats I am more frequently than not disappointed in the availability of a good rod rack to safely store my rods. Good rods don't come cheap and, yes, my Sage rods all come with a lifetime warranty but if I am here in Los Roques where a fly shop doesn't exist, and I stumble in the boat and break a rod or two finding a replacement could prove difficult, or impossible. So do your best to store rods safely and keep the fly reels covered in neoprene pouches. Remember too – periodically check the ferrules. The boat vibration as we travel to and from the flats can loosen a ferrule or two which can also result in a broken rod.
arpon (the dog) is waking up and has almost upset my table along with my laptop. Out on the flat the guide and clients have moved on and Cathy has finished her lunch and with fly rod in hand looks ready to go. My office is closing now so I store my laptop, pick up my Nikons, take my toe and write in the sand "Gone Fishing".