The Perfect Match
By Lani Waller 7.26.2012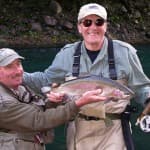 Forget science, if you can. And sometimes you can even forget the line recommendation on the rod – if you want to. What matters most in matching a rod and line are you, your style of fishing and casting and the kinds of conditions and circumstances you will encounter. Remember, the person who designed the rod, or the one who sold it to you won't be there with you.
In the meantime, let me admit my prejudices and strengths (I have a few) and my weaknesses (I have more than a few.) In the first place, I like to keep some things in fishing simple (like line selection) and others I will complicate to the point where even nuclear physicist Stephen Hawkings would scratch his head and ask for an explanation.
I'll start with trout, because I don't do much bass fishing any more, although I always liked the way they pulled, especially smallmouth, and I always liked the way bass fishermen dressed and drank beer. In the first place, some anglers claim that there are two, and only two kinds of trout fishing: trout fishing and TROUT FISHING. In my opinion, both are fun, and in most ways they are on equal ground because trout are always beautiful and so are the places they live.
There are some distinctions, however. Trout fishing is usually done close to home, where the trout are never as large as they are when you have to travel ten thousand miles to get where they live. And…most of the time the casts are shorter closer to home than they are when you are fishing ten thousand miles away.
When I am trout fishing, especially on small streams, I always use one line size heavier than the manufacturer's recommendation, because I will almost always be casting only five to maybe twenty feet of line. This means I may only have the tip section of the line and just a few feet of the line belly in the air…not enough for me to truly load the rod. The extra weight of the larger line helps me load the rod better on those kinds of short casts.
On the other hand, if I am TROUT FISHING in New Zealand, under "decent" conditions (no heavy cross winds) and trying to do what the guide sometimes wants me to do: make a perfect shot on a fifty foot cast with a fifteen foot leader and two flies, I know I will have the weight of the entire length of the casting "head" (usually around thirty feet) to help me load the rod. So in these circumstances I just go with the weight of line recommended by the rod manufacturer. If I am ever in doubt, no matter where I am or how I am fishing, or the kind of trout I may find, I always go to one line size heavier.
As far as rods go, I prefer a nine foot rod for almost all my TROUT FISHING, and a smaller one for my normal trout fishing… maybe an eight food rod. Now here comes the "brand plugs," but they are more than well deserved, and I offer no apologies: most my TROUT FISHING over the past few years has been at Tongariro Lodge in New Zealand and I let the travel pro's at Fly Water Travel help me get there. Once there I have been waving around the SAGE TCX 590-4, or their Z-Axis 590-4. I put a WF6F RIO Line on them and away I go. In truth, I don't do as much trout fishing as I used to, but at this time in my life and career, memories of trout fishing now seem more like TROUT FISHING than ever before, and maybe that's a good thing because there is no such thing as an unimportant or irrelevant trout.
As far as steelhead are concerned, my favorite rivers are in British Columbia and my lodge of choice is the Silver Hilton. About twelve years ago or so I picked up my fist two hand rod and now I refuse to give it up. When it comes time to pull out the two handed rod, the only one I want to think about is the SAGE Z-Axis 8110-4 "Switch Rod," as they are called. I would kill for this rod – not a fish but anyone who tried to take it away. When it came time to match the rod with a line, I called Simon one day at RIO and asked him for some advice. He responded and I took his advice – a RIO Short Skagit 525 grain line and it seems a perfect match to me. The 525 works well with the "number eight" rod even when combined with heavier tips (15' #12)
All my saltwater fly fishing follows the same basic pattern: I always go one line size heavier than recommended by the rod manufacturer. Most of the time the flies are heavier, and there is more wind to deal with. It seems a help to me then to have that extra weight to help me get steadied and ready to "make the shot," when the fish are moving and when the wind is blowing. As someone once said, "It isn't a matter of if the wind will be blowing, its' just a matter of how hard."