The Meaning of Guide
By Capt. Sarah Gardner 3.07.2013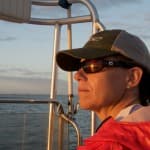 For most people, the definition of "being a fishing guide" is simply someone who takes people fishing – and gets paid to do so. Guides, on the other hand, know that there is much more to this job description, and occasionally a trip will truly challenge their skills and change the definition.
It was 3:30 in the morning, and I was wide awake – my brain still buzzing from the last trip.
Earlier, I tearfully said goodbye to a dear client and his new guest. Dave was a false albacore veteran and a world-traveling fly fisher. His partner was also an experienced trout and salmon angler, but this was her first saltwater fly experience (name withheld for privacy). Dave had already prepared me for her skill level by email. I was looking forward to working on her saltwater casting, and to creating a new albie addict.
On the first morning, he met me at the boat alone. "My friend just received a bad biopsy report. She is still in the car, on the phone with an Oncologist. Please don't let her know I told you, but I think you need to know."
On the run out, I made the usual stop in calm water for some practice casts. This lets anglers get familiar with the scenario and test sea legs, while I mentally evaluate skill level, before we venture into the choppy ocean. This tiny, but competitive runner easily transitioned from delicate floating trout line to a beefy 9 Wt. RIO Intermediate Striper line, and as soon as we hit the choppy ocean, the albies were there to greet us. We did a lot of bouncing, moving, casting and cleaning of salt crusted sunglasses, and with every pod of fish, she got closer to hooking a fish – this gal had game!
Then came the phone call.
With albies busting all around, I killed the engine and let the boat drift down wind while trying to ignore words like chemo, surgery. Dave hooked a fish while hiding from the terrible conversation going on in the bow. While he fought and maneuvered his fish, she sat next to me and said "I have breast cancer. My Doctors are forming a treatment plan, but there is nothing I can do now, so let's just keep fishing."
It was inspiring to watch as she focused all her energy and attention on hooking an albie, and it wasn't long before she caught one, and we were hooting, hugging and taking photos. She got good, fast. Sometimes when Dave was fighting a fish, we would take a break, sit side-by-side, trade life stories or try to comprehend the diagnosis. We would laugh about raising chickens or compare running injuries, while moving to different fishing locations.
At one point we took a detour from a really crowded albie spot, to an inshore wreck, just five miles off the beach. It had been loaded with Spanish and king mackerel. As I pulled onto the wreck another friend/guide was landing a king caught on live bait. This was a great opportunity to try something different. It was also a much slower way of fishing, allowing us to talk more and not just me barking orders. I pulled out a Sage xi3 9wt. teamed with a 300 grain
RIO Leviathan
. I gave a quick demonstration on how to cast and feed line, and then turned it over to her.
The first few casts were a little clunky, but she quickly learned to let the rod and line do the work. It was fun for her to watch the fish marks on the fish finder, while sweeping extra line out to let the fly get deep, and she quickly mastered the art of counting down the fly and roll casting it to start another cast. After a couple of missed strikes, a 5.5 pound Spanish took her into the backing, before making a one way trip to my cooler. As we held it up for photos the other guide boat drifted by and everyone in that boat cheered for her. They had no idea how important their shouts were. We were all lost in the experience, letting the fear of cancer drift away from the "Fly Girl".
I love my "glamorous" job and embrace all the challenges that come with it. This trip went way beyond providing the best tackle, a great boat and expertise. After 15 years, and thousands of charters, I had tested skills that I didn't know I had. I lay in bed feeling incredibly gratified, but still wondering if I helped provide escape for someone who needed it.