The Forgotten Double Taper
by Devin Olsen 9.27.2013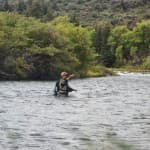 The Forgotten Double Taper
When I first began fly fishing almost 20 years ago now my father handed my some pretty old gear to start my fly-fishing addiction. One of those gear pieces included a double taper line. As I began acquiring my own gear I of course bought a weight forward line like everybody told me to do. The weight forward revolution over the last few decades has brought on every conceivable type of taper one can imagine. It's hard to even find a double taper fly line in most fly shops currently. In my opinion, this is a shame because the most common technique employed by western anglers today is best done with a double taper line. As an illustration, I'll draw on my recent experience at the FIPS Mouche World Fly Fishing Championships in Norway.
Many of the nymphing techniques in today's world of competitive fly fishing rely on achieving the utmost in drift and strike detection by the use of long leaders and little to no fly line out the tip of the rod, let alone on the water. In water that is broken and/or shallow, the currents are turbulent and complicated, and the fish are approachable, there is no deadlier approach that I've found to catch high numbers of trout. However, especially on larger lower gradient rivers, there is plenty of water with a smooth enough surface and/or great enough depth to make it impossible to approach holding water with short range techniques. Many of the anglers from other countries chose to use wet fly or streamer approaches for this type of water in Norway this year. I chose to pull out the deep dry dropper rig, which is as close to indicator nymphing as I'm allowed to get under the rules of FIPS Mouche competitions. Before Fly Fishing Team USA left for Norway, RIO was gracious enough to sponsor us with a few fly lines of our choice. One of the lines I chose was the only premium line RIO still features in a double taper, the Trout LT. I chose this line for one main purpose, to indicator nymph with a buoyant dry and dropper.
The Vefsna River began the trip formidable in size but had dropped around 3 to 4 vertical feet by the start of the championships in a couple of weeks without rain. At this point, the river was almost reminiscent of the South Fork of the Snake River in Idaho but with exceptionally deceptive clarity. In my second session of the tournament, I found myself on the only good beat I drew for the entire championship. I had a rock outcrop that created a nice deep softer edge that spanned out into the river to where it transitioned to a very fast slot. I began working the edge with a single caddis dry, which yielded 6 fish and some other missed chances. At this point I began fishing a buoyant cross between a Chernobyl and a stimulator with a tungsten hare's ear soft hackle 4 to 5 feet below it. I worked my beat up and down with long single handed spey and roll casts quartering upstream. After the fly would land I would use a stack mend (essentially a tight looped under powered roll cast) to place the dry upstream of the nymph. This allowed the nymph to drop vertically with no tension and attain quick depth. If the fish didn't eat the dry or the nymph on the drift I turned it into a pulsed wet fly rig as my teammate Lance Egan had suggested after his first session. Progressive passes up and down the beat were accomplished by fishing a heavier nymph and longer dropper length to work the deeper water out into the river. By the end of the session I found myself having to employ casts upwards of 60 feet to reach water near the middle that I simply couldn't wade to. The combination of dead drift and induced take tactics produced 10 more fish for me which should have been 11 if I'd been able to land both of the grayling over 19 inches that I hooked simultaneously. Two fish of that size going in opposite directions on fine tippet didn't end well though and only one slid into the net. The total of 16 fish was good enough for the session win and the highest total for any session in the championship where the rivers and lakes were seemingly devoid of fish in most stretches. I believe one of the reasons I had success was my choice of a double taper fly line. The reasons below are why I believe it is still the best choice when indicator nymphing at distances greater than 30 feet.
Double tapers allow mending at distances well beyond the 30 to 40 feet where most weight forward lines transition into running line that doesn't transfer the energy of a mend as well as the thick mass in the center of a double taper
Double tapers are exceptional at roll casting and single handed spey casting at distance. With a weight forward, I likely would have had to strip in about half of my line below me to start the next cast. With the double taper I simply performed a quick snake roll to land the flies in front of me then formed a D loop and launched the line out into the river with a haul on the roll cast. (Thank you Simon Gawesworth)
Being able to roll/spey cast with an indicator rig reduces tangles dramatically and maximizes time drifting in the water instead of false casting in the air.
The next time you're looking for a line to indicator nymph with, don't hesitate to make it a double taper. I think you'll like the results.
Devin Olsen Fly-Fishing Team USA