Swinging for Steelhead – Adapting to the conditions
Jason Hartwick 10.27.2015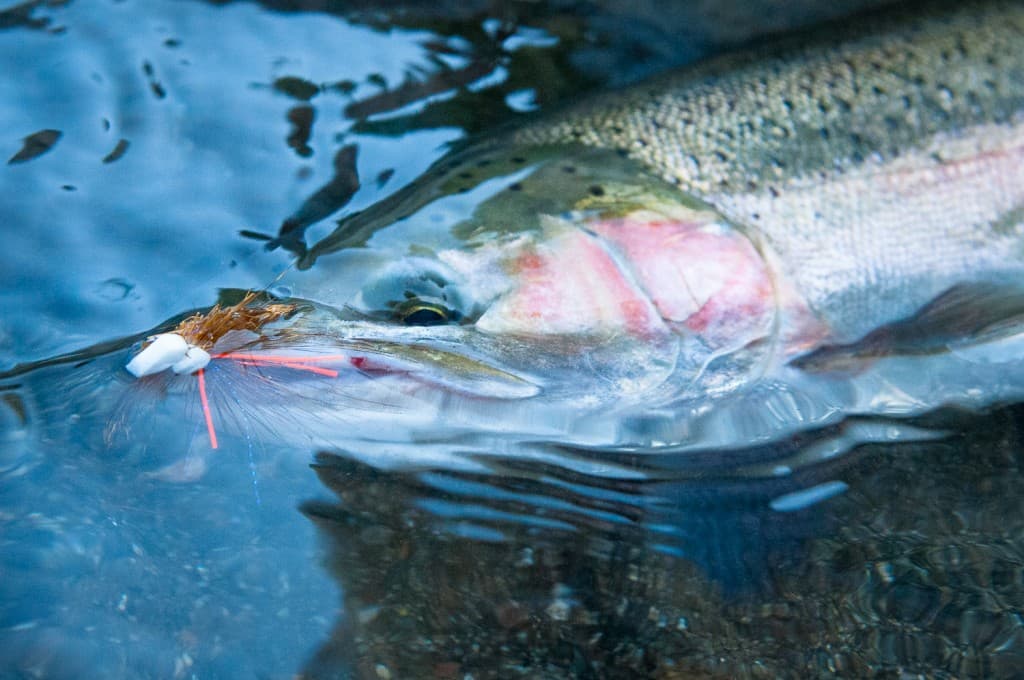 Swinging flies for steelhead is not always easy but in my honest opinion, it is the most enjoyable way to catch these fish. They don't always come easy and much of the time we have to work hard for our fish. Being able to adapt to the conditions certainly can increase your odds.
Over the years equipment has evolved making it much easier to chase these fish on the swung fly. As a guide, I find myself carrying a variety of rods, lines, and flies for any condition suited from summer to winter fishing. That doesn't mean everyone needs to have two or three rods rigged when chasing these fish, but it does make it easier to grab and go as the situation dictates
Since Skagit and Scandinavian heads where developed not too long ago, it has allowed one to choose the best setup for almost any given situation while steelhead fishing. These days it is fairly common for anglers to use both types of shooting head systems. More commonly you see anglers fishing Scandivnian shooting heads such as the RIO Scandi for summer/fall steelhead while fishing around the surface and Skagit shooting head systems such as the RIO Skagit Max and Max Short for more sink tip work commonly associated with winter steelhead. There is no right or wrong way with either of these systems. I find myself fishing and guiding with Skagit heads and set of MOW tips for all seasons due to the ease of casting and how quickly they can load a right in tight quarters. That being said, I sometimes prefer a Steelhead Scandi and tapered leader when skating flies on the surface since they can provide a bit more subtle approach in the low, clear flows of summer and fall.
When most people think steelhead fishing, rivers such as the Klamath, Rogue, Deschutes, and Skeena come to mind when talking about summer and fall steelhead. These are all places where one can see some stellar floating line fishing. Rivers such as the Deschutes and Klamath are well known for swinging traditional wet flies in or around the surface for summer steelhead. This is what we all hope for, to hook these somewhat elusive fish on a floating line with sparsely tied traditional wet fly. But what happens when conditions change?
This summer a friend and I decided to drive up to Maupin and do a three-day float down the lower Deschutes from Mack,s Canyon to the mouth. We were super excited to get out on the Deschutes and swing and skate flies on floating lines for summer runs. We both spent many evenings tying and loading up the boxes with skaters, muddler minnow, and a variety of sparsely tied hairwings making sure we had all bases covered for any floating line fishing we could encounter. It was my first trip to the Deschutes in over six years and the last time I was there, the White River was kicking in glacial mud and made the river extremely off color. While I did hook a few fish on floating lines and wet flies, much of the trips consisted of fishing sink tips and larger winter style patterns. Knowing this was a possibility I made sure to bring a fly box full of leeches, marabous, and intruder style patterns in case we ran into the same situation.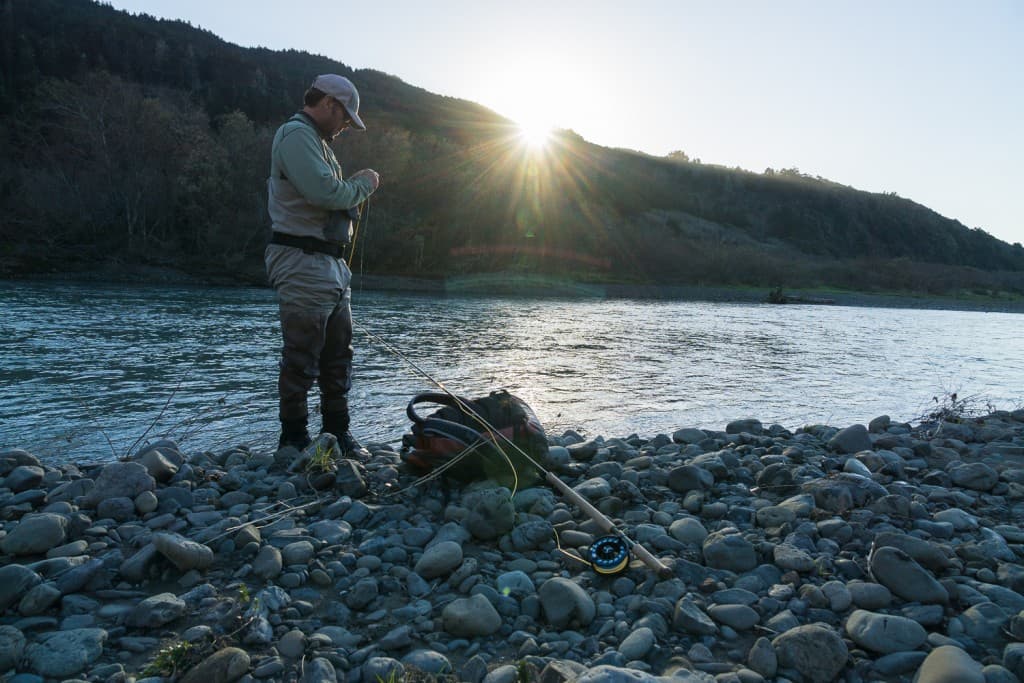 Day one, we load up and launch the raft in search of a favorite camp spot. As we float down to camp, we notice the water is beginning to pick up a little color but nothing too bad, still a solid four feet of visibility. Camp was set, beers were cracked, and a gourmet meal of reheated chicken burrtios were served. We were anxious to get up early in search of Deschutes summer run steelhead. Morning came way too fast and when we finally arose, the river was fairly off color and slightly more turbid than the night before. We were locked and loaded with Scandi heads, floating leaders, and traditional wets and gave it a go in the first few runs. As we worked our way downriver, the turbidity only grew worse and without a tug thus far, it was time to switch out to Skagit heads and sink tips to get bigger winter style flies in front of these fish in hopes this might increase our odds. It didn't take long and shortly thereafter, my buddy landed the first fish of the trip on a Skagit head, 10' of T-11, and sparsley tied Intruder style pattern. Getting the fly down and in front of the fish made all the difference.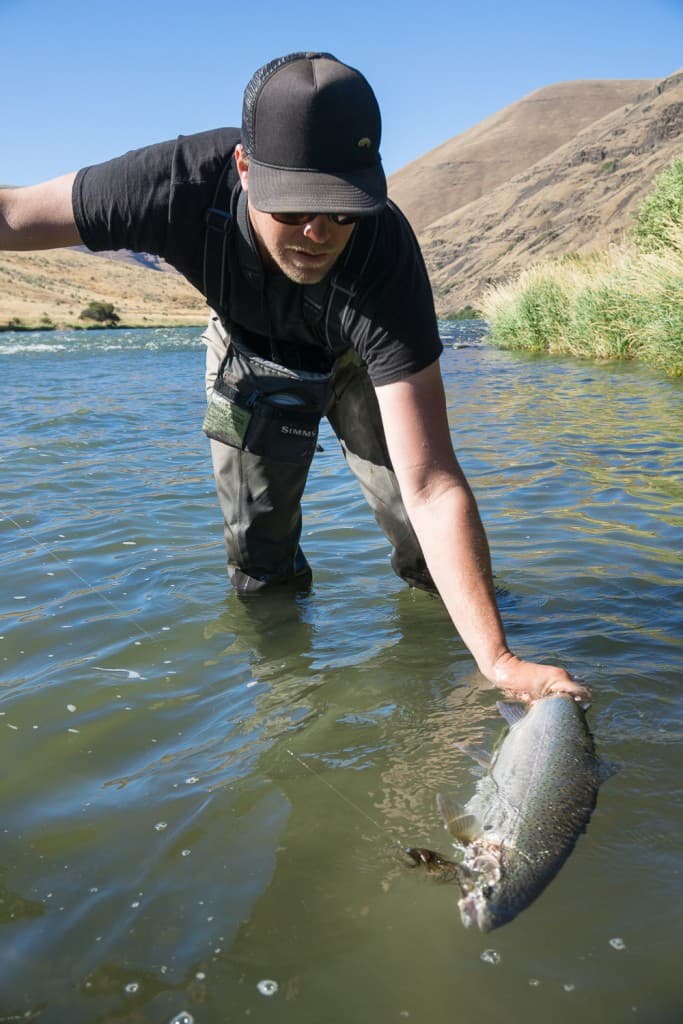 As we floated down the next two days, conditions worsened and while we continued to fish subsurface with sink tips and larger flies, the water was just too turbid. We still finished out the float and too many cases of beer but still had one hell of a time. The fact that we came prepared for any given situation the weather, water, and fish presented us turned a potential zero fish trip into somewhat of a success. Hooking a couple of steelhead is always better than no steelhead but we would have had a blast no matter what happened.
Both being fishing guides and steelhead junkies we came loaded with plenty of gear, multiple rods, and a variety of shooting heads. We had various rods rigged with floating lines and Skagits with sink tips. But rather than fishing bigger, heavier rods for these Deschutes fish, we both choose to remove our Scandi heads from our lightweight speys and loop on a Skagit head with a sink tip and proceed to target these fish with the rods we wanted to fish. Carrying reels with a looped running line and a variety of shooting heads allowed us to fish our favorite lightweight spey rods with either a Skagit or Scandinavian head. In our minds, it is just a lot more fun to fight a five to eight pound summer steelhead on a lighter rod so that's what we did.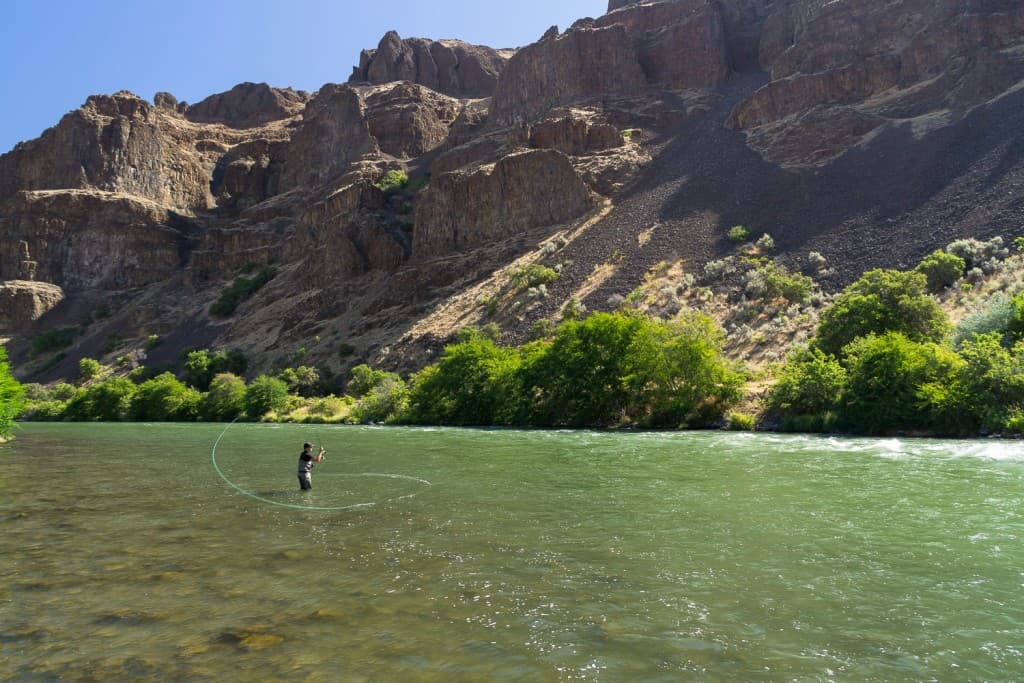 When steelhead fishing we have to be able to adapt to the conditions and situations we are presented. No matter if you are chasing summer or winter run steelhead, rarely do a river or steelhead run fish the same all the time. Sometimes a run can fish better with a floating line and a few days later the water could rise a few inches forcing one to have better odds fishing a Skagit head and a sink tip. Being able to adapt to these situations will help increase your chances at hooking these fish. Today's modern technology seems to make this a lot easier than when I started spey fishing for salmon and steelhead fifteen years ago. With the advances in modern Skagit heads, Scandinavian heads, and running lines we can now simply remove a head and loop on a new one. It is very common see anglers fishing both Skagit and Scandi heads for steelhead all in the same day.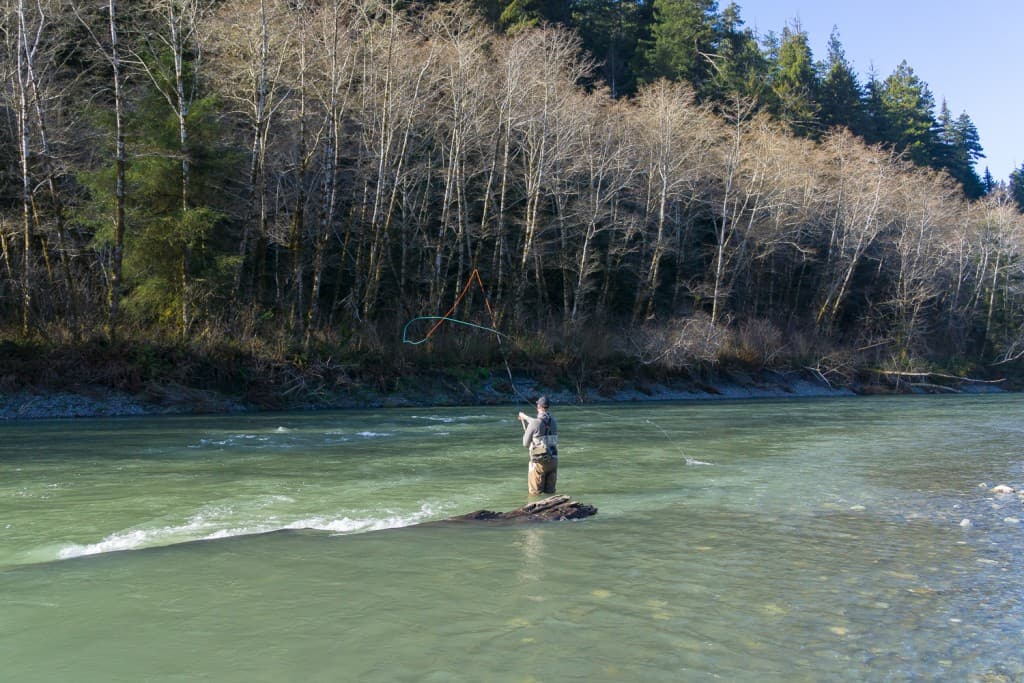 As a guide, I am often asked by anglers what the best line would be for there spey rod. That is always a tough question because it can sometime depend on the rivers you are fishing and or your casting style and how one prefers to fish. Once we begin to narrow that down a bit, I find that most people are fishing one or two spey rods and I often recommend a Steelhead Scandi with a set of Versi-leaders for fishing around the surface or for chasing summer/fall run steelhed and a Skagit Max or Max Short and set of MOW tips for winter steelhead fishing or dredging sub-surface. These two systems will often cover all basis' a Spey fisherman will experience during any given season. Anglers could have one rod designated for each system or with a single rod and a looped running line such as RIO's
Gripshooter
or
ConneCtcore
shooting line, be able to switch out heads given the conditions warranted. This ype of system may not be for everyone, but it seems to be the most common these days for common Spey fisherman chasing steelhead. The biggest key is to find whats best for you. If you are unsure, contact your local fly shop or check out the Spey Central page on RIO's website. Go for the grab!