Steelhead on the Grande Ronde
By Mike McCune 2.02.2012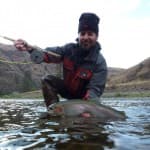 I'll never forget that first drive down into the canyon of the Grande Ronde. With the odor of hot brakes warning me to shift to low range, I came around yet another switchback and finally saw a river. I specifically remember pulling over in the first turnout and staring in slack jawed amazement at what I was seeing. It has often been said that steelhead live in beautiful places, but I had never seen anything quite as outrageous as this.
Since that day the Ronde has drawn me back most every fall to fish and guide. While this is a river with seemingly endless amounts of fly water with strong returns of willing fish, the memories that I associate with the river aren't limited to just the fishery. As a birdwatcher my first Townsend's Solitaire and Clark's Nutcracker were significant events. The opportunity to photograph Bighorn Sheep and see my first Mountain Lion are other highlights. It was on the Grande Ronde that Scott O'Donnell, Ed Ward, and I introduced Jim Vincent and Simon Gawesworth to the Skagit style of casting which culminated in RIO's subsequent introduction of the first manufactured Skagit line. More recently we demonstrated the advantages of integrated sink tips now referred to as MOW tips.
I'm often asked as to the best time to fish the Grande Ronde. My usual reply is "whenever you can". Fish start to become available in the lower reaches by early September with system-wide distribution by mid October, and anglers are successful up until the spring spawning closure. For myself, the most enjoyable period is the narrow window that exists from mid September up to mid November. This is classic summer steelheading from my perspective. Early season water temperatures are ideal for surface and near surface methods with only very light sink tips helpful for the cooler temps normally associated with late fall. Indeed, my standard "go to" tip this past November was a 2.5' sink T-8 MOW.
We use and recommend 5 and 6 weight rods in 11 to 13 foot lengths. Add an appropriate Skagit line with a complete MOW kit and there is really no situation that you can't handle, even in the extreme wind conditions that often occur. As discussed in a
previous writing
, I prefer to have several different rods set up and ready to go.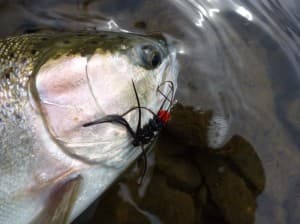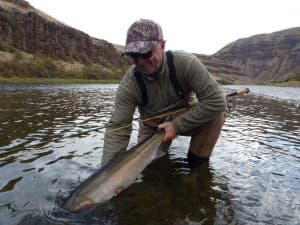 Fly selection for the Grande Ronde is really a no-brainer. Skaters, classic low water dressings, steelhead wets, and leech type patterns are all viable. My friend and partner Scott likes 'em tied in the traditional Dee style. My flies tend to be somber, buggy affairs of my own design, but that is more of a personal matter than attaching importance to specifics in most cases. As in all steelheading, pick one that you like and fish it. Constantly changing flies just leads to more
downtime.
It has been over twenty years since I had my first glimpse of the Grande Ronde. Since then I've had a lifetime of experiences, made lifelong friendships, and have never regretted burning up that set of brakes.