Spring Fling Shad
By Capt. Sarah Gardner 4.26.2012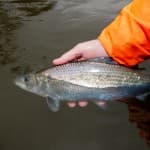 When the days lengthen and red buds bloom along the East Coast, saltwater anglers head inland. We are drawn from the ocean to the fresh water spawning grounds of our favorite saltwater quarry such as stripers and shad. In North Carolina, "spring fling" begins with hickory shad, who gather in the Roanoke River.
When I got the "it's on" call from Chuck Laughridge the unofficial mayor of the Roanoke, I didn't hesitate to say yes, for several reasons. Hickory shad are small, but they fight hard and jump, giving the name "mini tarpon". They are caught on scaled down saltwater fly gear and I had new tackle I wanted to try. Spring on the Roanoke is gorgeous, compared to the icy sandbar I live on. Most importantly, nobody knows the Roanoke like Chuck or has his sense of humor. I knew that fishing with southern fried "Chuck" and his Yankee pal Al Bruno, was a sure way to forget that my husband was doing his spring flinging at billfish in Guatemala.
It's a three hour drive to Weldon, where I was to meet Chuck. I got a call when I was just ten minutes from the launch ramp. "Ya'll better hurry the heck up – we've released 50 already." Sure Chuck! The last ten minutes of the drive seemed like a hour. Soon enough, I was standing at the floating dock with new tackle in hand, watching my partners pull anchor on the little skiff. Two minutes and 200 feet later I was casting, but not catching. What did Chuck say about 50 fish?
Shad are temperature sensitive in chilly spring water. Often, anglers get a first light bite, but fish start hunting for warmer zones as the day progresses. The Roanoke is tree lined and has high banks, so hot spots change often. We were anchored in shade and it was time to move. The first sunny patch that Chuck stopped on, produced a few fish for us, but Chuck was not satisfied.
Chuck and Al were a well oiled, boat moving team, so I chowed down on their food while cheering them on. Each re anchor produced more fish and more trash talk then the previous. Many fish were over three pounds, a real fight on such light gear. Finally, we were in the zone! We would cast cross current, count to five, strip, trash talk, hook-up, release and repeat.
The Roanoke looks like a trout stream, but the fly fishing methods couldn't be more different. Like most Eastern coastal rivers, the Roanoke carries sediment and is rarely clear, so flies have to be bright, bordering on gaudy. Shad flies look like bonefish flies that got caught up in a Mardi Gras parade. Leaders consist of a three foot shot of 12 lb. RIO Fluroflex Plus. This combo reduces tangles with unseen river snags and effectively tosses chunky flies to shad that are not leader shy.
Roanoke fly casters typically use 2-5 wt. rods teamed with sinking lines, ranging from 125 to 200 grains. This is known as "lead slinging". A rod and line combination used for slinging often reduces great casting, trout sized rods into dull mush. So, I was really pleased with the responsiveness of the
4 wt. Sage ONE
and a RIO Striper 26ft, 200 grain line. The line was the perfect blend of weight and narrow diameter, getting down to fish without dogging the rod. It definitely allowed me to talk trash with confidence, because I was casting so well.
There is no better way to celebrate spring then to tighten up a dusty cast stroke, while releasing mini tarpon, talking trash and inhaling day old donuts!