Situational Rods
By Mike McCune 9.28.2011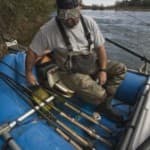 Many years ago while fishing a Northern California estuary for kings, I found myself changing the shooting head sink rate for what seemed to me the four hundred and seventy third time that day.
I specifically recall calculating the
"downtime
" that this one rod multi line arrangement created and immediately decided to increase efficiency by obtaining rods and reels that would be rigged and ready for any tidal sequence that I might encounter. Unfortunately, the realities of my financial situation at age seventeen slowed the acquisition process down much longer than I would have liked.
However, I eventually managed to accumulate set ups in sufficiency to discover that my down time was greatly reduced, and that transitioning to the proper line rather than "just making do" with the incorrect one was a breeze. Since then some thirty years have passed, but I find that my basic philosophy regarding the use of multiple rod arrangements has varied but little.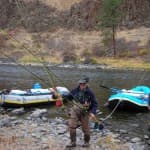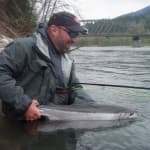 What are situational rods? To me they are nothing more than an array of rod and line combinations assembled with the intent to give me the flexibility to cover all of my expected fishing situations without having to change lines or tips. Some of the more important advantages of this system are minimizing downtime while providing the ability to fish the run properly the first time through. Few things make me crazier than the individual (always a friend, never a client) that attempt to fish the wrong line in the right water.
One of the keys to outfitting a proper situational line-up is to develop a familiarity with the water and the species. The vast majority of my fishing and guiding has been focused on steelhead, both summer and winter, as well as my annual Alaska gig where I guide primarily for rainbow trout. All of these, while sharing some similarities, also have their own unique differences that have to be taken into consideration – to say nothing of the changes that occur during the specific seasons themselves.
As an example, my first weeks of summer steelheading (in the fall) often find me fishing warm water and sunny days. For these conditions, I would most likely have a presentation floating tip or line, for a just sub-surface, greased line approach – something like RIO's AFS or Steelhead Scandi Headis ideal for this.
Another would be a rod lined with a driver type floating tip MOW tip to facilitate turn over of a skating or waking type fly, and finally, a rod rigged with a Skagit Flight and a RIO MOW Tip in either a 2.5' sink or a 5'x5' for mid day, bright light scenarios. As the season progresses and the water begins to cool, I may augment my selection by adding a longer sink tip, heavier fly combination to my boat or vehicle.
Like many, I have developed prejudices in terms of how I like to fish. I know anglers that are staunch proponents of a floating line/traditional fly for their summer steelheading. Others adhere to the one-size-fits-best sink tip school for their winter pursuits. And while I admire, and secretly envy the minimalists amongst us, I have never been able to adopt a singular approach to my fishing activities and find it unlikely that I will any time soon. If you should see me on the river the chances are good that I'll be the one in the floating porcupine.