Sight Fishing for Tarpon in Low Light
By Diana Rudolph 6.06.2012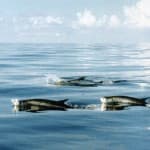 As the sun fought its way up through the low cloudbank clinging to the horizon, the wind diminished. The morning oozed tarpon. Hot, muggy and still. To the west a flash of lightning lit up the sky momentarily and a faint rumble of thunder was discernible but distant. I gathered my rods and tackle and headed for the Lorelei, a quaint cabana bar and gathering place for guides and fisherman in Islamorada, Florida. I was anxious for what appeared to be the first day in a string of 14 that would finally deliver light winds, few clouds and rolling tarpon. I was mistaken.
I loaded my gear into the skiff and shuffled over to the bar dragging the heels of my flip-flops. Excited but low on energy, I reluctantly ordered a cup of black coffee because I needed the caffeine not the warmth of the steaming, hot beverage. Just as I took my last sip, the storm, which appeared to be hovering over the Middle Keys rolled in and engulfed my perfect tarpon morning. For four long hours I sat under a leaky canvas awning drinking coffee. When the storm finally dissipated, I was left with 20 knots of wind, a layer of clouds that would make Seattle skies look bright and the caffeine induced jitters.
During my three-week tarpon fishing stint in the Florida Keys, Naples and Appalach, I never witnessed that quintessential light wind, sunny tarpon day that I dreamt about for the last 6 months. In fact, I can recount very few instances when the clouds parted and bestowed ideal or even adequate light for sight fishing upon me. So, while I squinted and cursed the fish that blew out under the bow, my guide and friend Kyle Giampaoli compiled the following list of tips to help anglers in their search for tarpon during the dark of day.
1. Lower your expectations. When conditions are poor, one landed fish or even a nibble is a huge accomplishment. Give yourself and your guide a big pat on the back when it all comes together.
2. Change your quarry. Yes, it is a tarpon trip, but if sight fishing conditions are horrible and the tide is right for tailing bonefish or redfish, don't be afraid to change gears. Catch fish.
3. Get down. While it's beneficial to perch yourself on the casting platform when it is bright and sunny, lowering your position in low light will enable you to see subtle surface disturbances, rolls and pushes with more clarity.
4. Manage your line and your tackle. You may have very few shots over the course of a day, so make certain that your line is not tangled, your hook is sharp and your knots are tied with confidence. Stretch your line and keep it well lubed with RIO's Agent X. This will make casting and clearing the line easier.
5. Communicate with your guide and/or fishing partner. Know what track the fish should be taking and how fast they should be moving. If a wake is briefly visible or a fish rolls, calculate when that fish should be close to the boat. Let your guide know where you are looking and be responsible for the short shot.
6. Shorten your leash. Ideally, you may like to have 10 feet of line out to initiate the saltwater quick cast, but when visibility is limited you may be casting to a fish 10 feet from the boat. Keep a few feet of fly line out of your rod tip and use a quick flick of the rod tip created by snapping the wrist to slap the fly down rapidly on the tarpon's dinner plate for that instinctive or aggressive bite. If you need to make a long cast, wet load the rod and allow line to drag out as you initiate the forward cast. This will get things moving. Try RIO's Short Tarpon Taper.
7. Change your sunglasses. Yellow or rose-colored lenses help tremendously in brightening a dreary day and in creating sharp contrast in the water. Always carry multiple pairs of sunglasses for different light conditions.
8. Stay focused. While it's fun to think about cocktail hour and your dinner plans, think about a fully charged tarpon sucking in your fly a few feet from the boat. Have multiple "quick change" leaders tied with flies, so if all the action happens at once, time is not wasted tying a new leader. Stock them in RIO's Headcase which stores and travels much better than a leader stretcher.
9. Feel comfortable and confident with your rod and tackle. There is a time for pretty casts and a time for simply getting the fly in the water and in front of the fish with little or no finesse. The more comfortable you are with how your rod and line perform the more improvisation you can do.
10. Know when to throw the towel in. Often toughing it out for another half an hour leads to frustration and disappointment. Head back to the barn and hydrate.