Season in Review
By Capt. Quigley 9.20.2012
It has been another interesting fly fishing season here on the Jersey Shore, filled with ups and downs, big fish and small. Because of our very mild 2011/2012 winter, the season started for us here in the Garden State two months prior to its normal timing, In fact, for some the season never stopped, and Striped bass stayed in our ocean waters along the outer beaches all winter long. To start things off during the months of March and April, we saw a huge influx of herring and sand eels, which brought the stripers in close to shore and gave fly anglers with small skiff's great fishing from dawn till dusk. Surf anglers were greeted at night with nice sized Stripers on the edges of the sand bars and in the deep holes chasing sand eels. Long Popovics Jiggy flies, Half & Halfs, and bucktails deceivers where the flies of choice. With the fish being fairly high in the water column the RIO Outbound Short's were the fly line of choice for both surf and boat anglers.
Enter May, and the big bunkers arrive, giving anglers shots at stripers of truly trophy proportions. This season was nothing short of stellar. Year after year more and more anglers are targeting these thirty plus pound Stripers with fly tackle, and successfully landing some real brutes. This year we saw many of our clients land and release fish up to 42lbs on fly gear. This is no easy task this time of year, but those anglers that stuck with the fly were rewarded with some nice fish all the way into late June. Heavier sinking lines like the RIO T-14 paired with larger Bunker patters where generally the best. However, some anglers did well with floating lines and big poppers during the early dawn hours.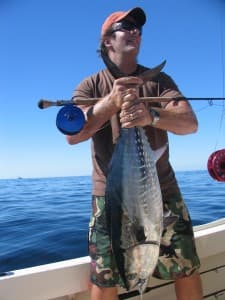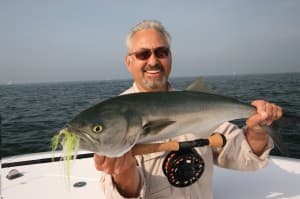 My favorite time of the year is summer here on the Jersey Shore, because that means Bluefin Tuna and a host of other forked tailed pelagic species. Bluefin can be one of, if not the most, challenging saltwater fish to catch on the fly. Early in July we saw many days where fish were on top and feeding heavy on sand eels and squid. Heavier gear (twelve to fourteen weight fly rods) matched with high end reels are mandatory this time of year. Most of our fish this year were on the small side, making it a lot of fun on fly tackle. For lines, we use the Leviathan Sink Tip lines in 400 and 500 grain. Make sure your knots and connections are perfect, and try to use leaders made of stiff fluorocarbon.
As of this post, fall is just starting here in Jersey, and we have already started to see large pods of Bonito, Bluefish, and the famous False Albacore show up along our beaches. We are seeing more bait than we ever have, and much of the peanut bunker that has disappeared over the last five years are back filling our bays and rivers. If you are targeting false albacore from shore, stick to longer jetties and inlets. Floating and Intermediate lines like the RIO Outbound shorts are perfect for loading the rod quickly and getting your cast to fast breaking fish.