Save the Delta
by Aaron Stiny 2.27.2014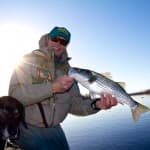 Warning: This week's RIO blog concerns environmental issues. If you're not into that, feel free to skip. If you disagree, great. Healthy debate is good, but let's keep things respectable.
As fly fisherman we're often given a front row seat to various environmental issues plaguing our fisheries. For many, fly fishing is supposed to be a relaxing escape from the daily grind. Unfortunately these days it's often a stressful reminder of what we humans stand to lose.
Last week Simon Gawesworth and I spent a day on the California Delta with
John Sherman
. We raced around in his bass boat, flinging clousers at every stop, testing out some prototype lines. We caught fish, observed birds, and had a great day. Unfortunately things were overshadowed knowing that the Delta, the west coast's largest wetland, is in danger.
John is a consummate steward of the Delta, he literally lives right on it and is in tune with the environmental issues concerning it. He has done a lot to raise awareness about the threats the Delta is facing. As a Delta resident, he has a lot to lose, but so do all Northern Californians.
A storm is brewing as a result of the proposed Bay Delta Conservation plan. You can read about it
here
, but the quick and dirty is that two large tunnels have been proposed to move quite a bit of water from the California Delta down south. Conservation seems an odd word to use all things considered.
For those unfamiliar the Delta is a vital byway for struggling Salmon and Steelhead, the endangered delta smelt, and the controversial striped bass. In addition over 200 bird species call the Delta home, with a good number of endangered birds finding refuge here. Its close proximity to the SF Bay Area and Sacramento make it a popular destination for fisherman and boaters alike.
Water issues are nothing new in California, or the west in general. Cadillac Dessert was published nearly 3 decades ago, exposing many to the struggles for water in the American west. Since that time water usage has actually dropped in places like LA, despite ballooning populations, thanks to conservation efforts. Though there has been a lack of investment in infrastructure like desalinization plants or wastewater treatment plants.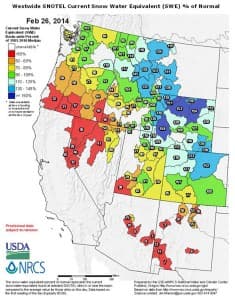 Currently the snowpack in the Northern CA is sitting well below 50% of normal, that's on top of 2 prior lean winters. Reservoirs won't fill up, and there will be a struggle to provide adequate water this summer and fall for returning anadromous species. It's hard to make sense of pumping more water from a resource that is struggling to find its own.
Not only would fish numbers keep struggling in the Delta and related waterways, but the tunnels have revived talks of raising Shasta dam and resurrecting the oft proposed and killed Auburn Damn. These peripheral potential effects of the proposal have their own challenges which you can read about for days with a simple Google search.
I'm not here to make anyone pro or against the Bay Delta Conservation plan. Awareness is key in preventing a potential loss of vital water for many species anglers hold near and dear in California. The sportsman community has come up huge so far in resisting the proposed Pebble Mine in AK. Hopefully we can do the same if the Bay Delta Conservation Plan is found to be as detrimental to the CA waterways as it sounds.