Saltwater Fly Fishing Tips & Tricks
By Cathy Beck 7.19.2012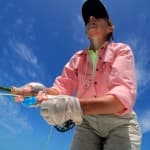 In over 25 years of hosting trips for Frontiers, Barry and I have seen it all. For our clients, having us along gives them assurance that in most instances we can help. We'll tie on their shock tippet, suggest flies, and loan them a rod or reel or line should they have a malfunction. Starting out properly prepared will give you a much better chance of having a successful day on the water. Below are ten of the most common mistakes anglers make in saltwater fly fishing.
1. Lifting the rod to set the hook instead of using a strip set. This is by far the hardest transition for a trout fisherman to make when he comes to salt water. It is critical to set the hook by pulling back with the line hand instead of lifting the rod tip. These fish are going to come down on the fly and lifting to set the hook pulls the fly away. Also, when you lift the rod tip you pull the fly out of the water. Often the fish will still look for the fly and if you strip set and miss, he will come after the fly again because it stays in front of the fish.
2. Become efficient with your double haul. No, you won't need it on every cast, but when you do you'll be glad you can double haul. There is almost always wind on the flats and you're often making a long cast and turning over a heavy fly in seconds. The angler that can quickly, effectively, and accurately make the cast will have better chances at landing fish. The fish are always moving in saltwater, they don't stand still and the sooner you can get the fly to them without them seeing you or the boat, the better your chances are of catching them. Most people aren't hauling correctly and they don't gain line speed in the cast. Sadly, most of them don't know it.
3. Have the right tackle. We never go anywhere without an intermediate and a fast sinking line for saltwater. Even though you think you'll be wading and fishing for bonefish, there are so many times when something else shows up and you want to be ready. In places like Mexico, Venezuela; or Belize and many others, you're fishing for a variety of species in different types of water. Having the right line is critical, whether it's fishing for snook in the mangroves, tarpon in deep water, or permit and bonefish on the flats. In these destinations you should have four rods rigged and ready in the boat – bonefish, tarpon, snook, and permit. Each fish presents a different challenge and we're fortunate today to have the right tackle for each. Most lodges have loaner rods for the fairly new saltwater angler, but eventually you will want your own gear so you have control over the rod, reel and line combination.
4. Line Control. Be aware of your line at all times in the boat. Don't stand on it or in it and make sure it hasn't fallen outside the boat which will result in it soon being under the boat. Any of these situations will result in lost time in getting the cast in the air and probably a missed opportunity. When you get to the first flat and the guide turns off the motor and you get up on deck, pull plenty of line off the reel, make a comfortably long cast, and strip in the line. This will do three things: (1) It will give the guide an indication of your casting abilities which will help him position you to the fish. (2) You will have enough line pulled off the reel to make your cast, and (3) By stripping the line back in you will have the line on top of the pile that is going to be used first when you start casting and shooting line. Otherwise, the line that you need on top to go out first will be on the bottom and it will often tangle as it comes off the floor.
5. Work with the Guide. I often get the opportunity to fish with other people and I'm always surprised at how little the guide and client talk when a fish is spotted. If the guide should say, "Bonefish 50′, 1:00" the first thing you want to do is be ready and get the line in the air. Don't stand on the deck without any line pulled off your reel and say, "I don't see it." If you don't see it, tell the guide but have the line going so you can either put the cast where he tells you. As soon as you see the fish, tell him "I got it" so he knows you see it. Work with him. Don't question him and don't argue with him. You'll both have a better day.
6. Cover up for the sun. With everything we know today about the sun, it amazes me when anglers don't protect themselves properly especially when you take into consideration the reflection element of the sun on the water. There is no excuse for sunburn today. We have comfortable tropical clothing, buffs, hats with good coverage, sun gloves, and sunscreen up to 85 SPF. There is almost nothing more uncomfortable than sunburn. Nor is there anything easier to prevent. Cover up, use the sunscreen, and use it often.
7. Stripping Fingers & Bug Spray. Ever had the fly line burn a cut in your finger? It is like a super-charged paper cut and it hurts. If the line is lying in the sand or in the grit on the floor of the boat it hurts even more. And when the line is cutting through your finger there is no way you can hang onto it. Wearing a stripping finger on the fingers that the line slides through will prevent line cuts and give you more leverage in adding pressure to the line as it is screaming off the reel. Fishing gloves will also help, but often the fingers are too short to help. When the wind dies or you get into places where there is no wind like mangrove lagoons or the lea side of islands, you'll wish you had put bug spray in the gear bag.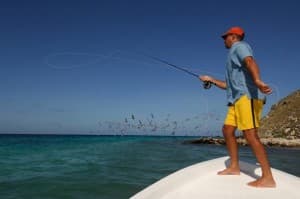 10. Clean tackle thoroughly after the trip. It's very important to wash rods, reels, lines and accessories in warm soapy water and rinse well. All the zippers on our gear bags, waist packs and raincoats get oiled so they continue to run smoothly. Leather plier holsters get oiled and as snips and pliers get wiped off with an oiled cloth. Boca grips get washed along with our fly boxes and used flies. Remember to back off the drag on all the reels before putting them away. We use Pledge wipes on our rods and reels after they dry thoroughly to restore the shine. Wash rod socks if they've been in the salt air. It all takes time, but you'll be glad you did it.
Want one more? Okay. 11. Imodium & Pepto Bismol – never leave home without these two!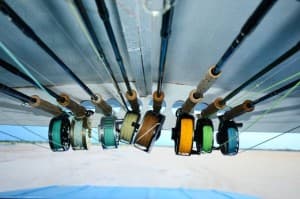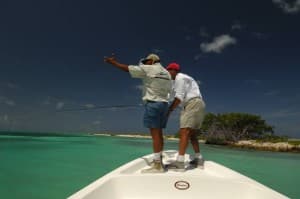 8. Proper Footwear. Sometimes you don't need anything. There are lots of flats in the Bahamas where you can wade all day barefoot, but try it in Christmas Island or Los Roques and you'll be in for a big surprise. There are many places where good, hard-soled, wading boots are necessary. In Los Roques, anglers walk a lot in a day often through coral and shells. There are also sting rays, so always wear the proper footwear.
9. Have a couple back-up rods, reels, & lines. You don't have to back-up everything, but have a back-up for the outfit you think you'll use the most and always throw in a couple extra lines. We put a serving on the end of our fly line and have a loop on the fly line backing so we can quickly change lines if we need too. Sage and Redington both have very nice models of less expensive fly rods that make great back-up rods. I've seen lots of rods broken in boats and ceiling fans – and on fish. And reels break too. We don't use spare spools but take spare reels with us so if one goes down we have a spare. If you damage the frame on the reel or the drag malfunctions, the spare spool is not going to help you.