Ryabaga Home Pool
By Barry Beck 9.27.2012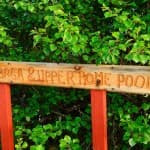 I heard the Russian dive bombers long before I saw them. Peering out from beneath my covers I looked up and there they were. The two mosquitos had to be on steroids and the little monsters were hovering above my nose which I thought to be their intended target. It's two a.m. and night doesn't come at this time of year to Ryabaga Camp on the Ponoi River on Russia's Kola Peninsula. It's light twenty four hours a day. The Ponoi is known as one of the world's premier Atlantic salmon fisheries and Cathy and I are here to photograph the camp and the fishing for Frontiers. Cathy lays fast asleep unaware of the mosquito invasion and I decide that if I can't sleep I might as well go fishing. Before I slip out of our tent I light a mosquito coil and quietly unzip the tent and step out.
Squadrons of mosquitos now attack me and I cover up as quickly as I can. I look around and decide that the entire Russian mosquito air force is right here in camp. We were warned to be prepared for the bugs, so I suck it up, take my rod from the rack and head down the path leading to the Home Pool. This is spey rod work, but I carry a single handed Sage 10 foot Z-Axis for a 8 weight line. The guides have referred to my single handed rod as a toy fly rod, but that's okay. Because I rarely get to do any spey casting, I am much more comfortable with a single handed fly rod. Cathy on the other hand is becoming quite the wiz with a two handed rod. She, too, often laughs at my choice of rod for this kind of fishing.
There is always something special about a home pool, most lodges have one as do many fishing clubs. Ryabaga is in my mind one of the best pools on the river and it often gives up one of the largest salmon of the week. Someone did their homework when they chose this spot for the camp. It's pushing three a.m., but there's another angler working his way through the pool. The rule is to start at the top of the pool and work your way down, so I wave to the fisherman and continue to the head of the pool. I cast, swing the fly, take a step downstream and cast again — a routine that I will repeat over and over again. I realize that the bugs are not so bad out here on the river and attribute it to the light breeze. Thank you, Mother Nature. Time flies by and although there have been no tugs on the line it's still great to be here. Before I know it, my stomach is telling me that it's time for breakfast so I reel in and head back to camp.
With breakfast over it's time to go to work. For me that means time to put the rod back on the rack and pull out my cameras. The light is good for shooting and our day on the river produces five salmon for Cathy. I shoot the hook-ups, the landing of the fish and some grip and grins. Everything is going better than I expected, the day flies by, and it's not long until we are back in camp finishing our dinner. The light holds and I decide to take my cameras and my fly rod down the Home Pool. Another guest, Joel Grade, has decided to join me and we meet at the head of the pool. Standing in the background is guide, Angus Walton, a Scott who has brought along a huge landing net, obviously optimistic about the evening fishing. I hope we need it.
Joel offers to let me go first, so I take the first step in and cast. No sooner is the line on the water and I hear someone say, "What the bloody &%$# are you casting?" I turn around and it's Angus. He apparently liked the cast, Joel too offers his compliments so I explain that I have a RIO Outbound Short with an intermediate tip on my "toy rod" and it is quite easy to reach eighty five feet without too much effort. I offer to let both of them try it out. I don't know if this has ever happened to you but the scenario went like this – Joel makes a cast, actually he launched it almost ninety feet, and with backing in the guides he turned and grinned and said he was impressed. Next the line went tight, the fly reel screamed and I ran for my cameras and Angus ran for the net. In the end, we ended up with a nice Home Pool salmon, some great pictures and no one calls my 10 footer a toy anymore.