Rooster Fishing
By Capt. Brian Horsley | RIO 7.12.2012
Every angler has been told "You should have been here last week." Who are those guys who were there last week? This spring in Baja we were those guys. We walked into a week of red hot rooster fishing.
Everyone has a favorite fish — you know, the one that really trips your trigger. Roosters are at my pinnacle of fly rod inshore gamefish. What makes them so special is that even when the rooster fishing is red hot and on fire, they are still difficult to catch. Just because you made the perfect cast and retrieve does not guarantee a bite or even a follow. Rejection is the norm, so leave your ego on the beach or it will end up bruised.
Most rooster stories involve fly anglers running down the beach chasing cruising roosters. But if I am traveling 1,500 miles, I want to give myself the most possible shots, and running does not fit into the equation. A 23-foot panga is more my style.
We fish with Gary Bulla and a family of panga captains south of La Paz. We start every morning making bait with cast nets or from bait sellers. When the live well is full of sardines, we make our way along the beaches looking for rooster signs. The captains throw a few live sardines, and a few more, hoping to bring up the roosters. When the sardines do their job and attract the attention of the roosters, it is game on. We see a rooster's comb breaking the surface, water starts to fly and sardines begin to die.
These fish are fast, and the quick acceleration of a feeding rooster is amazing. The water is gin clear, so we can see all the action. Now our job is to deliver a fly into the area where the roosters are and move the fly as fast as humanly possible, pick up our flies and recast. As long as the roosters are on top, we just keep casting and stripping the fly.
Speed, distance and accuracy are very important. Fly lines that load a rod quickly and deliver a fly far and fast are definitely an advantage. RIO's Tropical OutBound Short is perfect for chasing roosters. The short head loads the rod quickly with minimal false casts, and the thin running line lets the head drive the fly easily. Both the OBS Intermediate and Floater were equally effective. It is a matter of personal preference. I like the OBS Tropical Intermediate, but the top rod of the week loved the OBS Tropical Floater.
Anglers looking to chase roosters should go prepared with fast action rods from 9 to 11 weights, each loaded with OutBound shorts. The new Sage ONE 10 and 11 weights were perfect. They are very light in the hand and will deliver the fly, wind or no wind, and they have plenty of power to whip a rooster of almost any size. The other great option is the Sage XI3 series of rods.
The most successful anglers fish long leaders, so get used to throwing a leader of 12 to 14 feet in length. I take a RIO standard 10 foot saltwater tapered leader either 20 or 16 pound and add 2 to 4 feet of 20 pound FluoroFlex tippet. At times I will add only 2 feet of 20 pound and then 16 inches of 25 pound FluoroFlex. (Caution: This is not IGFA specs.) The extra shock lets me change flies more often without having to add more shock.
Anglers who can cast accurately and quickly from 40 to 90+ feet have a leg up. The strip is almost as important as the cast. The fly needs to move as fast as you strip it. The two-handed strip is a must. Make your cast, and before the fly hits the water place the rod under your arm and get ready to strip as the fly hits the water, groan as the rooster rejects you, then recast. You know when a rooster is going to eat — he is tracking your fly at warp speed and you can see his head narrow as he gives that last little burst of speed to inhale your fly. Many times the fish is swimming at you so keep stripping until the line comes tight.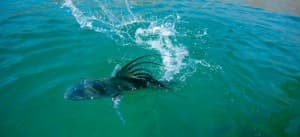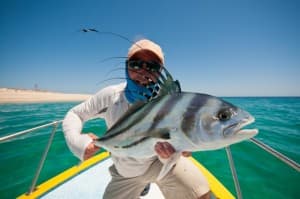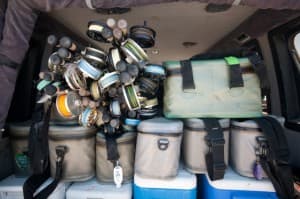 All this effort is worth it — a fish that is beautiful, picky, and with enough fight in it to pull you off the bow of the panga. There's nothing better than getting rocked by a rooster. And remember, if you fish enough, one day you will be the guys who were there last week.