RIO Products Releases Three New Products for the Spey Angler
rioproducts 2.01.2013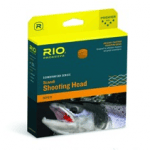 RIO Products Releases Three New Products for the Spey Angler
February 1, 2013 (Idaho Falls, Idaho) – RIO Products, manufacturer of fly lines, leaders and tippet material, introduces three new products specifically designed for the winter steelheader.
The new
Spey Swivel
from RIO is available in a pack of three, and features a tiny swivel connected at each end to a braided loop. The rotational forces that occur when Spey casting frequently puts twists into anglers' running line, creating kinks, tangles and much frustration. By adding one of these bright orange connections with a simply loop-to-loop connection between the shooting line and shooting head, such tangles are avoided. A pack of Spey Swivels has a MSRP of $29.95.
RIO's
Scandi Short VersiTip
is one of the most versatile and easy casting Spey heads ever designed. To complement this head, RIO proudly introduces two new body densities: 1) The new, clear-camo colored Scandi Short Intermediate Body has a sink rate of 1.5-2 inches per second (ips) and is ideal for getting a little extra depth, for fishing on windy days or in faster currents. 2) The faster sinking S4 Scandi Short Body has a sink rate of 4-5ips and is perfect for cold weather conditions or while fishing in very strong currents.
The incredible taper design of either body makes it easy to cast a wide range of sink tips – whether MOW and iMOW tips, "T" tips, or standard 10ft and 15ft tips. Anglers should choose their tip based on rod size and fishing conditions. RIO recommends using 10ft tips for rods shorter than 13 feet and 15ft tips for anything longer.
Neat, welded loops at both ends help with faster rigging, and the printed line size on the rear loop helps keep gear organized. With a MSRP of $44.95, and available in 6, 7, 8 and 9 weights, both of these additions will enhance any spey casters arsenal this winter.

RIO is a pioneer in developing fly lines, leaders and tippet material to enhance fly fishing experiences across the globe. Offering premium fly lines for both freshwater and saltwater fishing applications, RIO consistently utilizes field experience and scientific testing to create the best products on the market for anglers. Founded more than 20 years ago in the mountains of Idaho, RIO continues to develop innovative products, design revolutionar