RIO Products Introduces Two New Fly Line Technologies
rioproducts 7.03.2012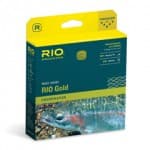 July 2, 2012 (Idaho Falls, Idaho) – [Video Below] RIO Products, manufacturer of fly lines, leaders and tippet material, is excited to announce the addition of two new sophisticated and radically
advanced proprietary technologies
. These technologies, called MaxFloat and MaxCast, are being added to three of RIO's highly respected and best-selling trout lines, the
RIO Gold,
RIO Grand and
Trout LT lines
, creating lines that anglers will now love even more.
RIO's new, innovative MaxCast line coating redefines floating line performance. Made with a groundbreaking proprietary formula, MaxCast lines float higher, shoot farther, last longer and stay cleaner. The secret is in the coating's advanced hydrophobic chemistry that actively pushes water away from the line, resulting in radically improved floatation and reduced dirt adhesion. It also allows the line to slip more easily from the surface film for longer, quieter pickups. At the same time, MaxCast's coating formulation contains a sophisticated blend of permanent slickening agents that continuously migrate to the line's exterior for enhanced shooting and durability.
The addition of RIO's new MaxFloat Tip technology allows the tips of these lines to float more than twice as high as regular line tips without an increase in diameter. The tip of a traditional floating line tends to sink because its narrow, tapered end has a reduced coating that does not provide enough buoyancy to stay above water. RIO's MaxFloat Tip solves this age-old problem by placing maximum floatation right where anglers need it for reduced drag, longer drifts and quieter pickups.
Both MaxCast and MaxFloat technologies combine to greatly improve the three RIO lines that will incorporate them this year. The RIO Gold, RIO Grand and Trout LT lines can be found at any RIO dealers at a retail price of $74.95.
About RIO Products: RIO is a pioneer in developing fly lines, leaders and tippet material to enhance fly fishing experiences across the globe. Offering premium fly lines for both freshwater and saltwater fishing applications, RIO consistently utilizes field experience and scientific testing to create the best products on the market for anglers. Founded 20 years ago in the mountains of Idaho, RIO continues to develop innovative products, design revolutionary tapers and refine performance-driven fly line technologies. For more information about RIO Products, please visit www.rioproducts.com.