RIO line testing in Guanaja Honduras
rioproducts 4.08.2013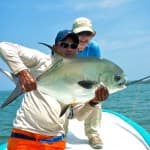 RIO's Marlin Roush recently joined a trip to Guanaja Honduras for some flats fishing. Of course he took the opportunity to test a variety of lines and work with some prototypes.
Who: I was a group of ten hosted bt Pat Ehlers, The Fly Fishers
Species: Bonefish, Permit, Tarpon, Snook
Conditions: In the 90's and mostly sunny but windy for most days, coral flats mostly covered with Turtle Grass
Besy Fly: Kung Fu Crab for Permit, Bonefish were not picky about the pattern
The bonefishing was done mostly wading the flats and casting to tails. Permit fishing was mostly from the boat over 3-4 feet of water on the flats. The Tarpon available were in Creek mouths and small mangrove Lagoons. We did find Snook available in one particular creek mouth. The guides were great and all spoke English well. On a few days rather than a shore lunch we visited local establishments. Over all the Lodge food was excellent, mostly local flavor with plenty of Seafood. The lodge has wadable flats all around it, in fact 2 of the permit were caught before breakfast!