RIO in Action – Return to the Dean
Jesse Robbins 8.26.2015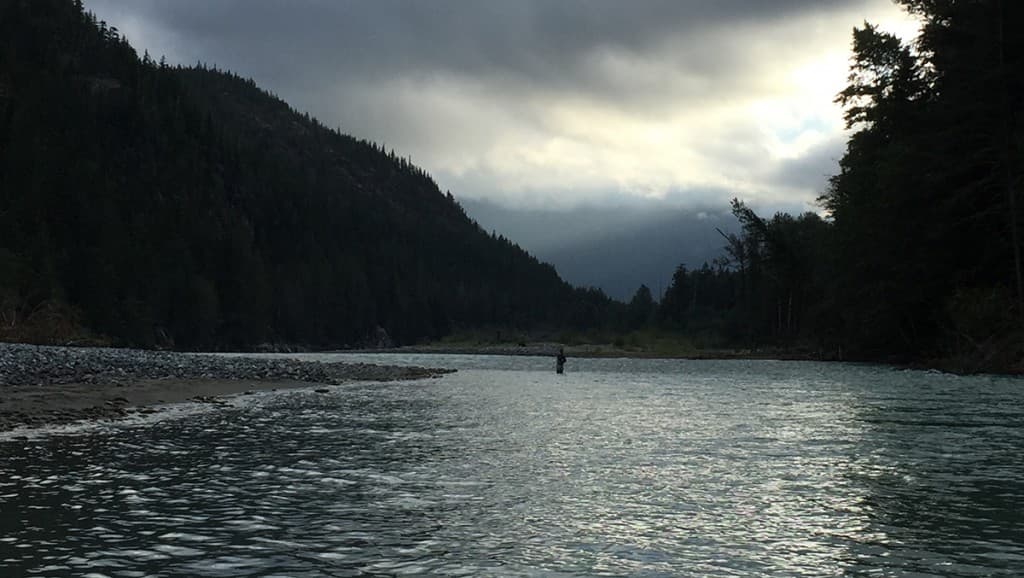 Most steelheaders will know the name Dean River. It's among the world's most famous rivers not only for the quarry it holds, but also for its remoteness and rugged beauty. Just getting there is an adventure and the scenery you pass along the way doesn't allow for any nodding off. For the three of us coming from Bainbridge Island earlier this month, it was a trip that took about 24 hours and included four different forms of transport.
The drive from Bainbridge Island to Vancouver was a slow, anxious one. Somehow we caught the ferry we didn't think we would, but we were delayed at the Canadian border and again when we hit rush-hour traffic in Vancouver. A couple beers, a marginal hotel dinner and a restless night's sleep later, we found ourselves at the South Terminal of Vancouver International Airport. The flight from Vancouver to Bella Coola took us straight through the Coast Mountains, and when we noticed the peaks were all of a sudden higher than the elevation we were flying at, we knew we were getting close. The windows in the Pacific Coastal prop plane didn't seem to be big enough, but the ones in the chopper were and everyone's head was on a swivel as we flew north out of Bella Coola and into the valley where the mighty Dean River flows. After touching down and meeting the staff at the Lower Dean River Lodge, we frantically organized gear and got into waders. And then finally, we were off.
In the days since my return, I've tried to give family, friends and coworkers an honest report of the trip. It seems impossible to tell the story in a start-to-finish fashion, so I'll let the photos do most of the talking and recount some particular experiences or moments that happened while we there.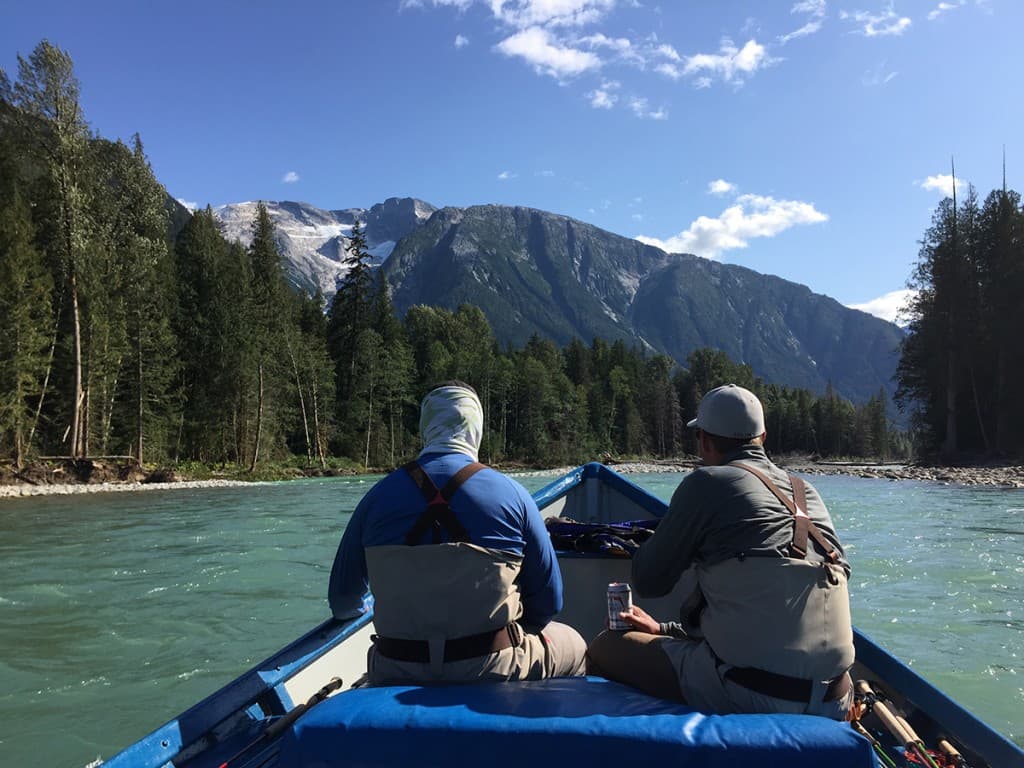 It seemed like everyone at the lodge had a run or two in which they'd stick a number of fish in short time. For me, it happened at Lunch Pool, in the course of a couple hours before, as you might guess, we ate lunch. I went three-for-four here, including one big buck of 18ish pounds that I did not think I would land. A little while later, our guide, Paul came around the bend and dropped Chris off on the other side of the river. After I stuck another hen, I suggested to Paul that Chris should take my spot so he could take a pass through the bucket himself.
"That never works," Paul chuckled. "For whatever reasons," he said, "when someone's in a run catching fish, swapping them out for someone else doesn't seem to get the second person any fish." I pondered this and we discussed. There's no mistaking that feeling when you're fishing with confidence; everything seems easy and fluid and just feels fishy. On one hand, you almost can't believe another fish just came out of that run, but on the other hand, you're not at all surprised a fish ate a fly swung like that!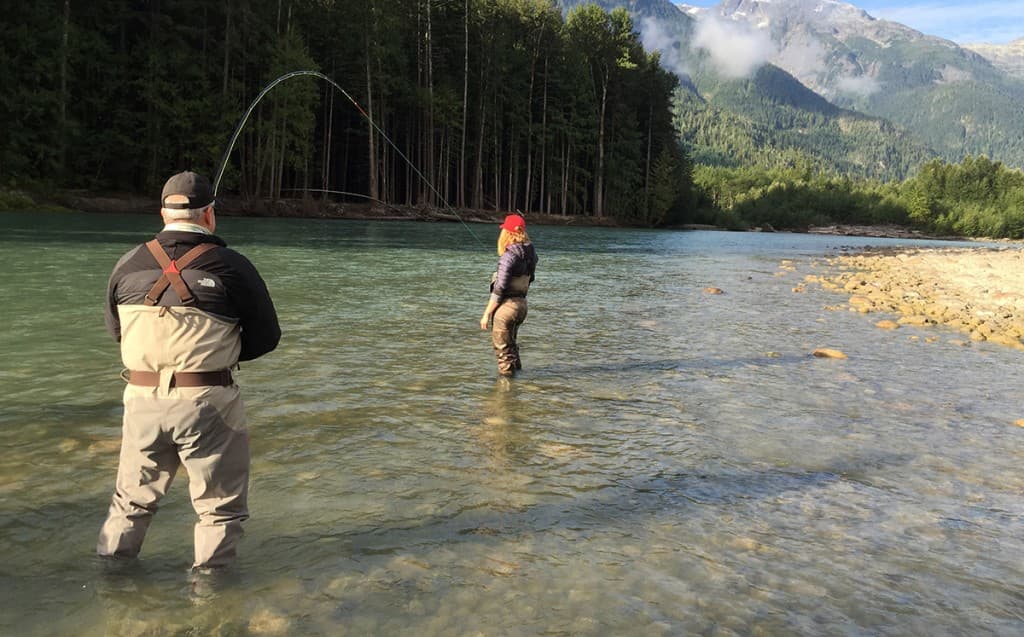 Paul has seen this happen time and time again, and as I said, it seemed like just about every guest at the lodge had it happen to them during the week. You get into a run, stick a fish, then another one, then the next thing you know, it's like you've figured out the run – how and where to cast, how to mend, when to recast, etc. So when I offered for Chris to take my place, Paul's stance was that Chris didn't have the successes I just had, didn't see the casts and swings that took fish, so therefore wouldn't be able to replicate what I was doing. A few days later, Chris would get his turn, hooking nine fish in one run while Scott and I didn't touch one!
There's a bit of a drought going on the Pacific Northwest, if you didn't know. While it's not as hot in British Columbia as Seattle, it's definitely warmer and drier than normal. As such, the Dean was on the low side and also had good color coming from its glacial tributaries. Visibility in our stretch of river was around 3 feet at best. So we spent the majority of our time with Skagit heads, tips and medium-sized flies, 2 – 3" typically.
I brought a pile of flies with me, mostly tied for this trip over the previous months, some also gifts from friends. I had so many variations of colors, sizes and patterns that I tried to change flies after every encounter. "Steelhead aren't that hard to catch," our guide Paul said to me at one point. "There just aren't that many of them around." Thankfully, in the Dean River there are a bunch around, so I was able to get confirmation on a number of my ties this trip. This will definitely come in handy on future steelhead trips.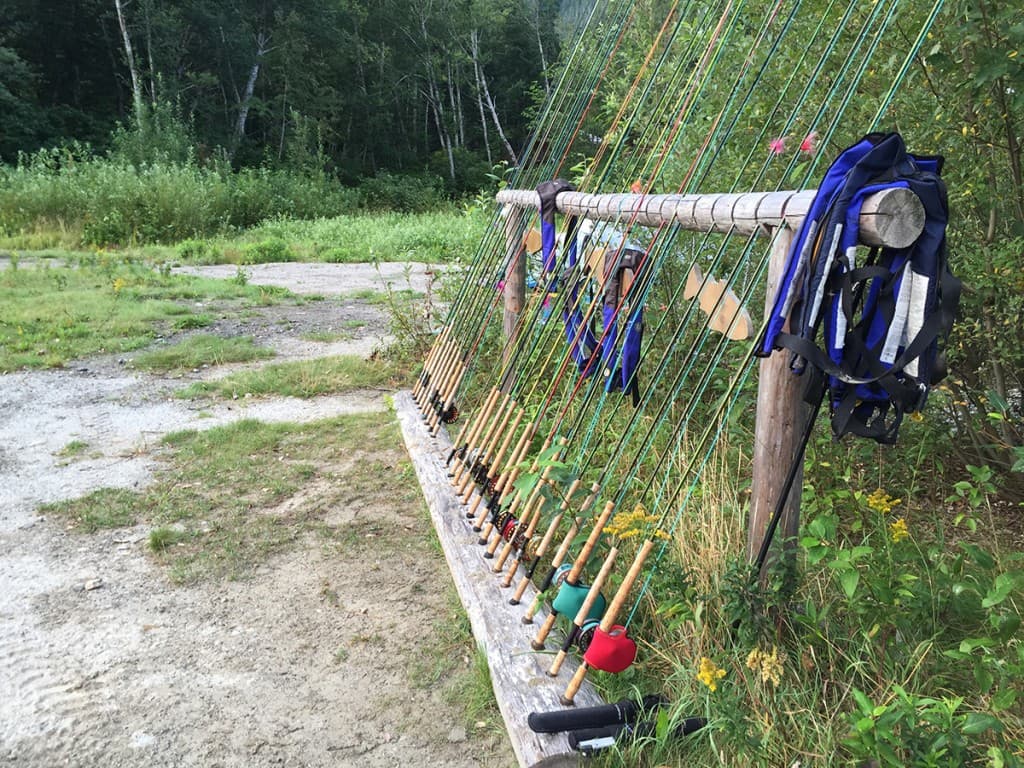 We played around with a bunch of rods, reels and lines while we were there. Some favorites included: 6130-4 Sage MOD with a 400 grain RIO Scandi head; 7126-4 Sage METHOD with a 525 Skagit Max Short; 7130-4 Sage PULSE with a 525 Skagit Max; and a 7136-4 Redington CHROMER with a 550 Skagit Max.
As implied above, I have visited the Dean River before. A first visit to any new steelhead river is a special one, but when that river is the Dean, it's especially incredible. That said, at the end of that trip a couple years ago, after the last fish were tailed, the final casts made, I realized it was the company that set the trip apart as much as the locale. This trip would be no different.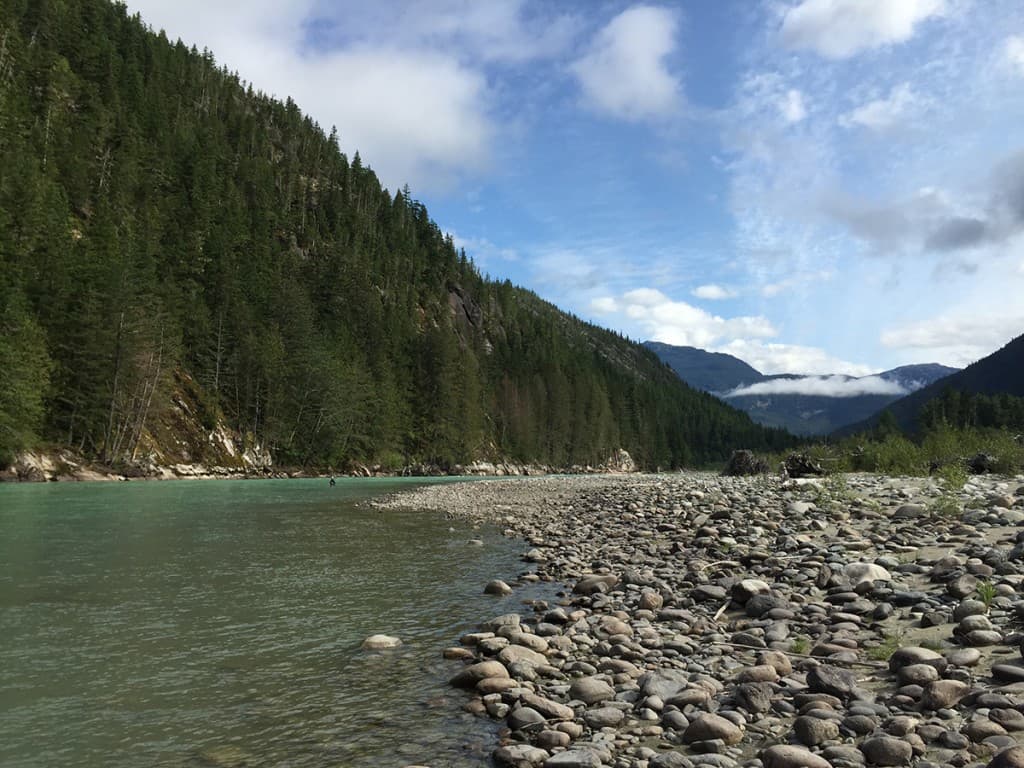 Billy and Mandi Blewett manage the day-to-day of Lower Dean River Lodge. Which is to say, they will do everything from cooking and serving four-course dinners, to giving two-handed casting instruction, to maintaining boats and outboards to joining us for cocktails on the porch at the end of the day. Their staff is top-notch and if not family already, they could be mistaken for it. Given the remoteness of the operation, it's no surprise the staff operates so effectively and guests and staff interact daily and become very close even within the short week's stay.
Steelheaders' bonds are particularly special ones. Tailing fish for one another or sticking it out through adverse conditions and fishless days all adds to the relationship. It seemed like the laughs were never-ending in our group and the Molsons never ran out. On the last day of our trip, the three of us staked out a run, me taking river right and Chris and Scott taking river left. The high bank on my side forced me to start fishing almost exactly where Chris did on the other side, so we paced our fishing and chatted the whole way through. At some point we realized our casts were nearly overlapping in the middle of the river and we were quite literally covering the run entirely. By that time of the trip, confidence in everyone was high, so when we then looked upstream to see Scott fishing behind us both, waved and softly laughed as we were fairly certain no fish were getting by us two. When we saw Scott's rod bent a little while later, we both went silent and watched, until we realized he'd hooked a trout, then we broke out in laughter again. The three of us worked our way through that run methodically and the unsurprisingly, the four encounters were split between Chris and I (sorry, Scott!).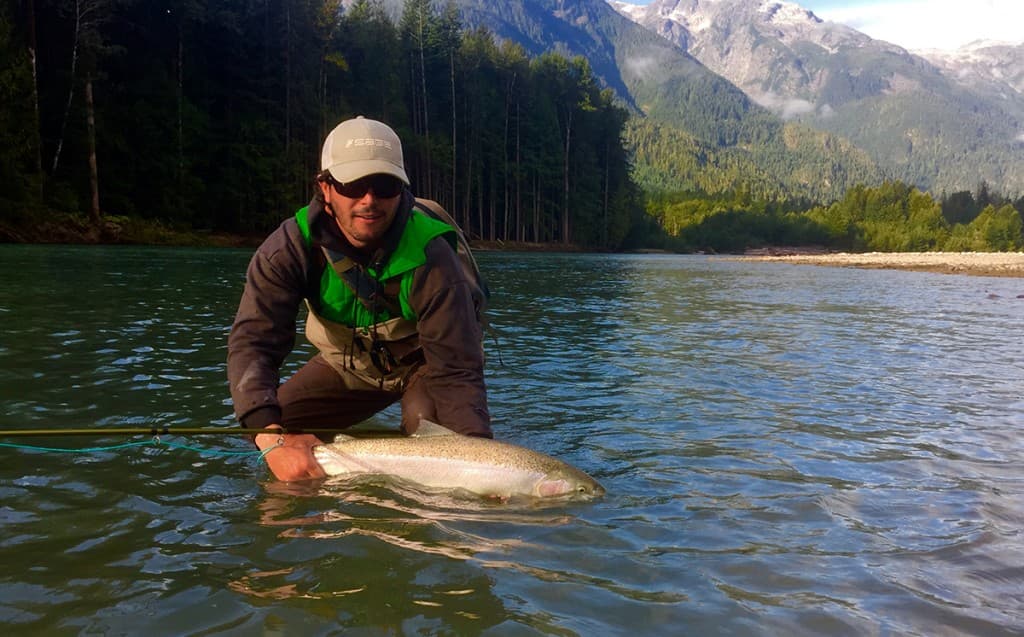 What's a trip report without a fish story?! Near the end of our second day on the water, I was nearing the end of a long run, fishing from river right. Chris had fished through in front of me, but had gone downstream to the next run. Halfway through the run, I realized that I should be fishing more of the run. I started wading deeper and lengthened my cast, trying to cover the water that Chris hadn't.
Sure enough, the tailout in sight, I got the big yank. It was a grab like the fish ate it going downstream: one second all you hear is the river gurgling around you, the next second your reel is whining. The fish didn't stop running until it had gone into the backing. My line was headed downstream when the water exploded… across the river! Again the fish jumped, this time almost directly across the river from me. The fish had my line in a near-perfect "U" through the run. It was then that I realized my chances for landing this fish might be minimal.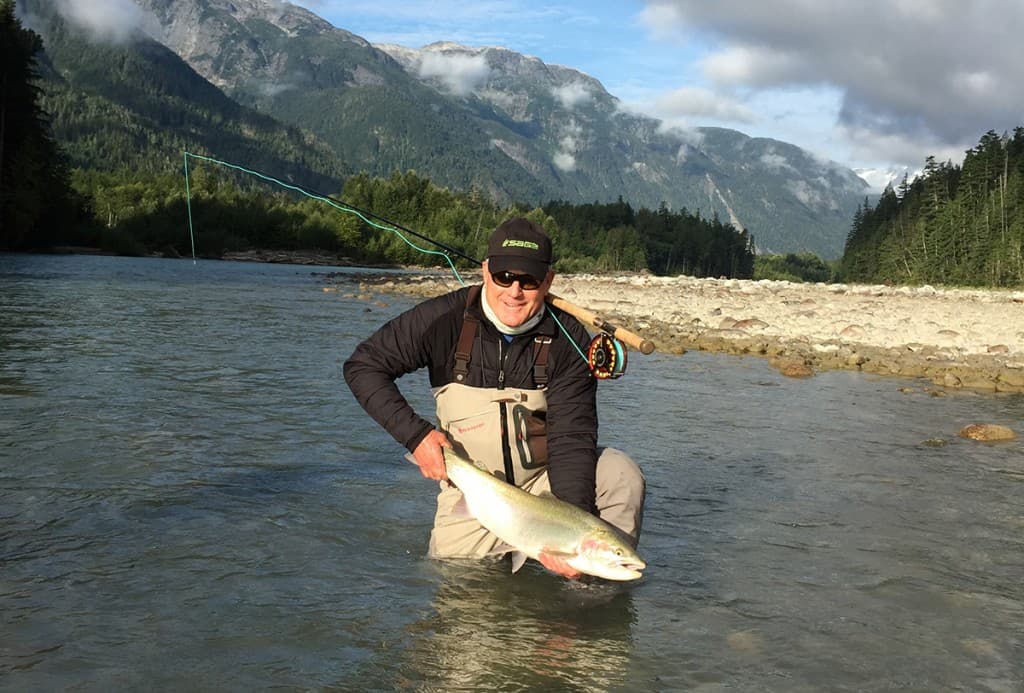 After its acrobatics, the fish decided it would go downstream again, and take some more line with it. I could see the end of the pool and whitewater ahead. I did not want the fish to go down those rapids and if it did, it didn't look like I could follow it from my side of the river. I tried to hold my ground but it wasn't working. The fish boiled again and I could see it was very close to the rapids below. And then it was gone. I reeled in my line (which took quite a while) and checked my fly. It looked like it did when I tied it on.
Where: Lower Dean River Lodge, Dean River, British Columbia
When: 8/12/2015 – 8/16/2015
Who: Jesse Robbins (Product Development), Scott Forristal (VP of Sales), Chris Keeley (Owner, Anglers All)
Species: Hot, wild steelhead!
Conditions: On the low side, but strong color from glacial melt
Best Fly: Hawking's Cosmic Leech and various tubes of many color combinations – blue & black, black & purple, black & red, pink & purple, pink & orange, orange & red…
Tackle: Sage 6130-4 MOD rod & Redington BEHEMOTH 9/10 reel; 7130-4 MOD & Sage EVOKE 10 reel; 7126-4 ONE rod & EVOKE 10; 7136-4 ONE & Sage 6012 reel; 6119-4 METHOD rod & Sage 4680 reel; 7126-4 METHOD & 6010; 7130-4 PULSE rod & EVOKE 10; Redington 6126-4 rod & BEHEMOTH 7/8 reel; 7136-4 CHROMER & BEHEMOTH 9/10.
Lines Used: Skagit Max, Skagit Max Shorts, RIO Scandi, RIO Scandi Shorts
Leader/Tippet: MOW Tips, Spey VersiLeaders, Steelhead/Salmon Tapered Leaders, Steelhead/Salmon Tippet
Technique: Classic downstream swing