RIO in Action – Big Gulf Reds – December 2015
rioproducts 1.12.2016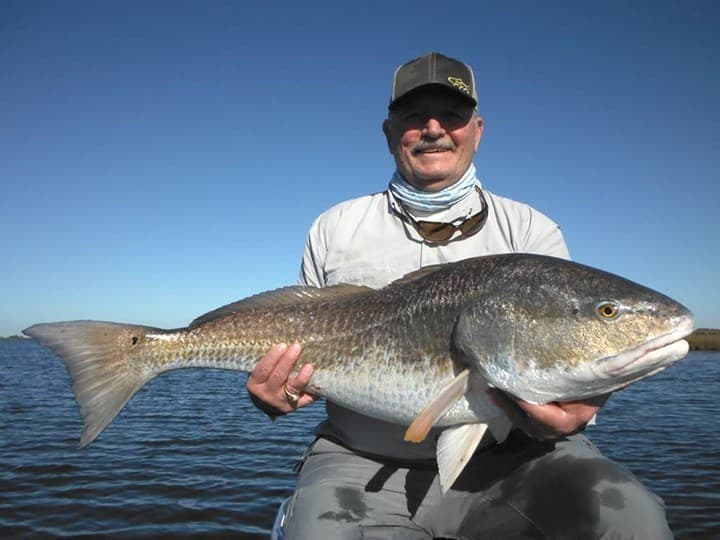 When: 14th to 18th December, 2015
Who: Marlin Roush (Line Designer), Zack Dalton (Sales Manager), Tim Moon (COO), John Harder (R&D), Travis Campbell (President), Simon Gawesworth (Brand Manager)
Conditions: Sunny, with one day of cloud. Air temps 60 to 75 degrees, light winds (mostly) with semi-decent water clarity towards the end of the trip.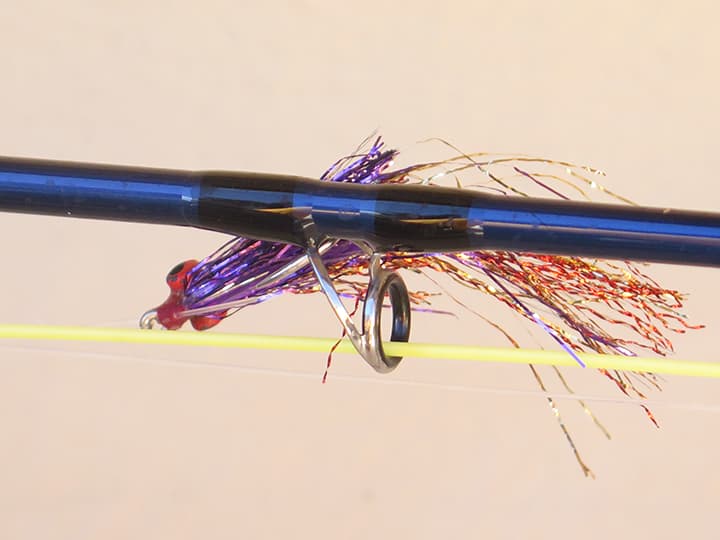 "Fly" The most successful fly of the trip – fast sinking, and purple!
Best Fly: Flashy, relatively small Clousers, and other heavily weighted, fast-sinking Streamers.
Tackle: 1) Sage ONE 990-4 2) Method 990-4 3) Prototype Redington and Sage 9wt rods and reels
Lines Used: Testing a variety of new "Winter Redfish" lines, with different tapers, cores and coatings – to be launched for 2017
Leader/Tippet: Testing a variety of new saltwater leaders and tippet – for 2017.
Technique: Sight fishing to slow, cruising Reds
Travis Campbell and John Harder with a "double"
Report: The RIO team went down to the Gulf to test a selection of prototype Winter Redfish lines, with a variety of tapers, cores and coating to try. In addition, a bunch of new saltwater leaders and tippet materials were taken to put through their paces.
At this time of year, the main target is big Bull Redfish, and Black Drum, and the standard technique is fishing out of a flats boat, sight fishing to cruising beasts in the Bayous and canals around the Port Sulphur and Empire areas of the Delta.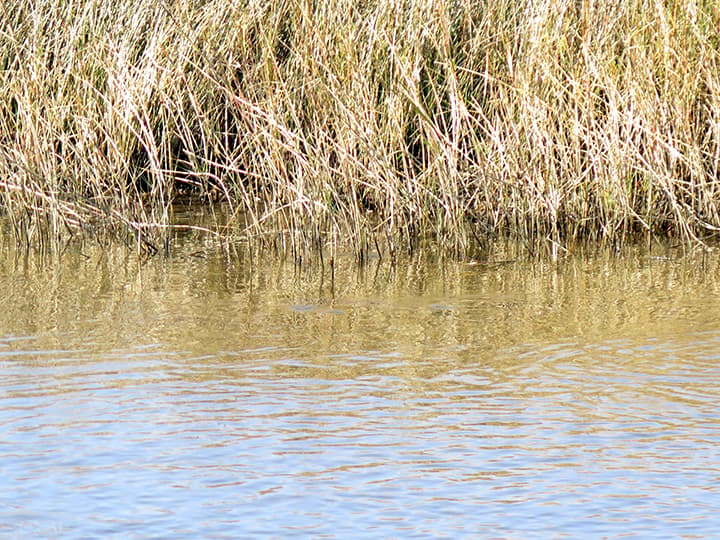 A rare, but welcome sight – redfish cruising and feeding in the margins
A storm the day before the RIO crew arrived churned up the Gulf pretty good, and made sight fishing particularly hard. The sun helped a bit, but most shots were to fish less than 20 feet from the boat.
Unseasonably warm water and air conditions meant there were a lot of mullet in the water, yet to push out. For some reason this seemed to keep the Reds on high alert and spooky, resulting in many fish bolting before a cast could be made, and very few Black Drum.
Despite the relatively poor conditions and few fish around, the trip was a great success, with decent numbers of fish caught, and some very large Bull Reds amongst them. The largest fish of the trip was a 32lb Red, caught by Sales Manager, Zack Dalton, with Brand Manager, Simon Gawesworth's 31lb running a close second. Those were the only two fish above 30lb, but the group landed more than a dozen fish over 20lb, and numerous Reds between 10 and 20lb.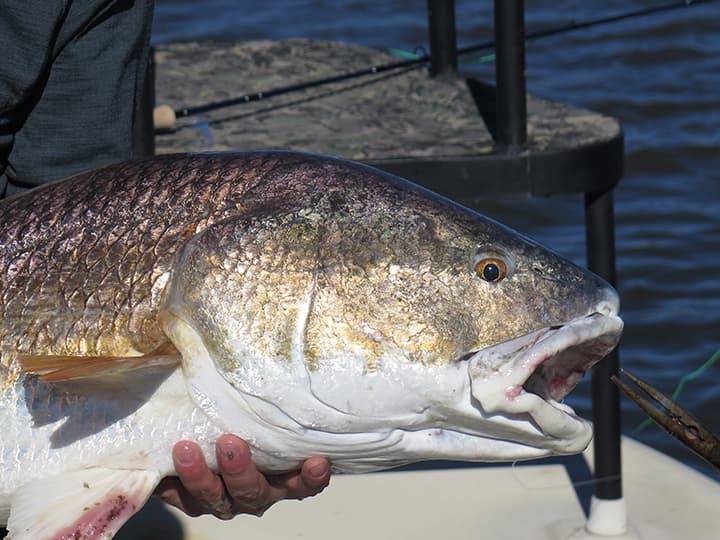 "The Beast" – Zack Dalton's 32lb Bull
The most successful technique was to cast the fly a couple of feet in front of the fish, let it sink quickly to the bottom, and then make medium paced, long strips back. The spooky nature of the fish, meant they would frequently bolt when the fly was cast on its nose – a technique that is usually the most successful at this time of year.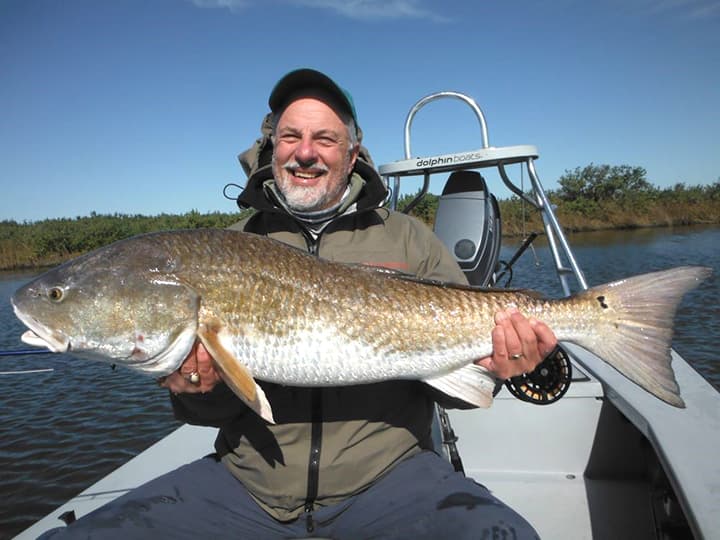 RIO's chief line designer, Marlin Roush with a big bull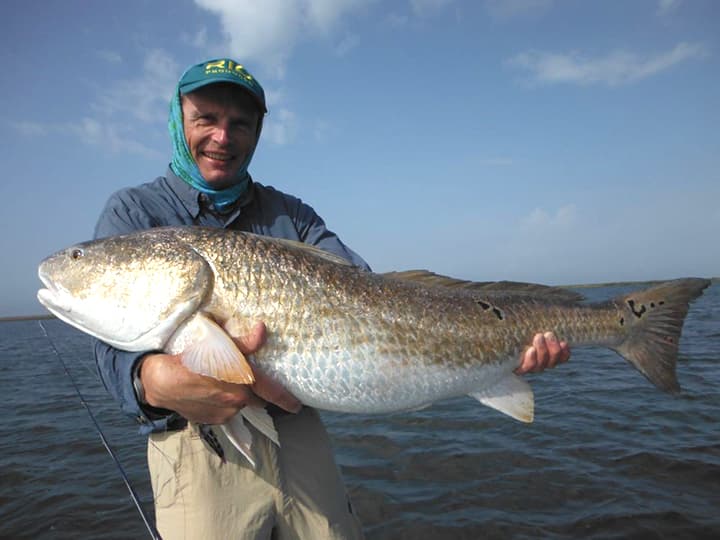 Simon Gawesworth with his 31lb bull Red
As far as the gear testing went, the crew were unanimous in their preference of taper, core and coating combination, as well as in the new saltwater leader and tippet materials that were tested. Watch out for these new products in the next year or so…