RIO in Action
rioproducts 5.30.2013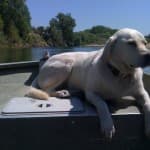 With Spring turning to summer and fishing conditions turning favorable, the RIO crew has been hard at work doing what we do best: Product Testing! This last week saw RIO employees fishing from Idaho to California, to the Bahamas.
RIO's marketing assistant Aaron Stiny recently took a brief trip back home to Northern California and was able to spend some time on the water with several 2014 products.
Day 1 was spent with advisory staff member, Skagit Master, and all around good guy Mike McCune and pup Willa. We jetted up the lower Yuba river, Spey rods in tow, in search of summer runs (ok fine, we were shad fishing…!) We had a myriad of light Spey and Switch rods on the boat, including the
4116 Sage ONE
and
4109 Redington
Prospector. At one point Mike even busted out the venerable Sage 5120 Brownie. To match were some upcoming RIO Spey and running lines that have been getting rave reviews from our testers. Our findings were no different! Excellent and efficient turnover were the name of the game when it came to 2014's Spey line up. Unfortunately the majority of the fish were piled into a single run on this low water year, and it was occupied with a healthy dose of anglers. We picked another run and enjoyed trying new product, a few cold beers, and good conversation on a beautiful Nor Cal day.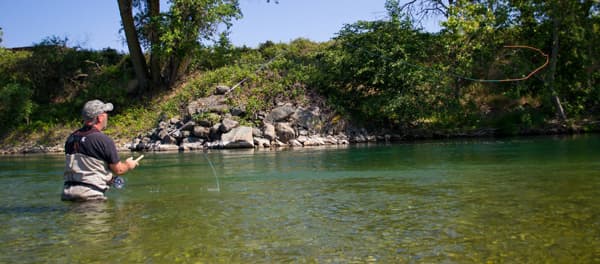 Day 2 was spent with longtime RIO supporter, and excellent Striper guide,
Capt. Maury Hatch
. As is usually the case when fishing with Maury, I found my alarm clock set for 3:30am, who ordered the alpine start?! With coffee in hand and Maury's sled in tow we headed up the Sacramento a ways and put in as the sun came up. We found some willing Stripers, and enjoyed another gorgeous Nor Cal day. I turned Maury on to the RIO Outbound Short S6 a few seasons ago and I think it's changed his life for the better ever since. Quite often you'll hear him giggling in the boat as he's cast the entire line off the reel. It's the perfect line for this type of fishing; it turns over large flies, cuts through the wind, and is extremely easy to cast for distance, especially for clients. It's a must have one line quiver for the Striper fisherman. The day ended with us hooking into a Springer King for a little extra excitement, unfortunately it came unbuttoned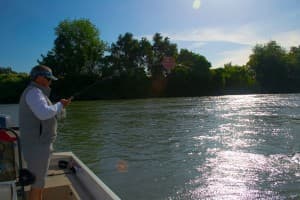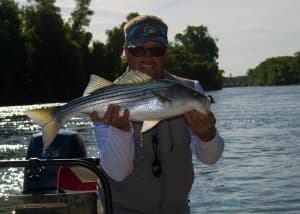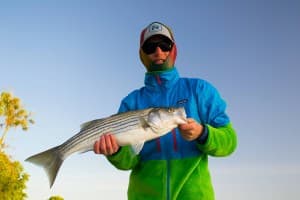 All in all a solid couple of days on the water, now it's back to Idaho to get caught up at work and maybe squeeze in some Salmonfly fishing!