Product Testing
by April Vokey 1.07.2013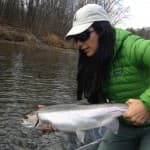 "Product Testing" with the new boy!
I first met Pete Humphrey's on a wet and dark night at his cabin in Michigan. The inviting aroma of beef stew carried the welcoming words of "hello, nice to meet you," to my senses and it was evident that I had stumbled into the right cabin. Jerry Darkes, a mutual friend of ours, had made the introduction and I was delighted to finally meet the infamous English caster.
Pete had recently found himself as a part of the RIO team and together the two of us spoke dorky line jargon and compared the advantages between Skagit, Scandi and long bellied lines. Pete, originally from England, owned a cabin on the Muskegon River and guided for the hard-pulling Muskegon steelhead. I was curious to hear his thoughts on winter fishing and compare the gear he preferred to our more popular techniques on the west-coast.
Myself, a recent convert to dry flies and light tips, I found myself increasingly partial to the slightly extended bellies of the Scandi lines and the longer casting stroke that it required. Confessing that they were indeed more difficult to turn over heavier sink tips, Pete excitedly let me know that RIO had a new line soon to be released that might be able to help my dilemma. It didn't take us long to find ourselves launching the boat in pursuit of bright fish and playful casting quibble.
The line, while not yet named, was labeled an intermediate sink with the characteristics of a Scandi line, complete with a light tip and a small dark streamer. "Try this…" he smiled.
Like butter, the line shot from my cast atop the bow of his boat, the longer length perfect for boat fishing while obliging and not popping my anchor.I grinned in delight. Swinging on a straight angle, the composition of this line was developed to avoid hinging, thus resulting in a more precise swing.
Running up river, we opted to drift our way downstream and see if we could find some fresh fish new to the swung fly presentation. We succeeded and my soft loop was ripped out of my hands as it set into a spunky little hen. Jumping, running and pulling line like a coastal steelhead, I shook my head in amazement as I proceeded to get destroyed by a fish that I had admittedly not given the respect that it deserved. With a quick pop of the hook and gentle release, Pete beamed from ear to ear. "Exciting, huh?"
The day proceeded to entertain as it delivered us several more fish and many more stories. Pete and I fished until dark until eventually our hungry stomachs pulled us back towards the kitchen. Scotch and a fresh meal called our names and as a few more friends gathered, we found ourselves comparing battle scars and casting perspectives… voices increasingly rose in time to the decreasing gold liquid in the Scotch bottle.
From Canada, America and England, it will never fail to amaze me how such different backgrounds, professions and generations can always settle on one thing at the end of the day; satisfaction in swinging flies for steelhead, worthiness of battling the cold for a shot at such fish, and of course the worthiness of a shot of finely aged scotch in celebration of all of the aforementioned.