Paying Homage to the Bighorn
by Barry Beck 10.16.2014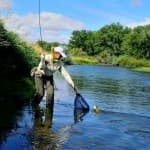 Most of us have a favorite river or a piece of fly water that we know intimately, we know the hatches, its moods, riffles, and runs, pools and flats. Because we hold it in such high esteem we almost never have a bad day fishing it. Be it high water, low water, temperatures too warm or too cold. We bear with it because it's part of our love affair with the river and on the other hand, we know it can also be perfect with rising fish that willingly take our offerings. In the end it's all part of the game.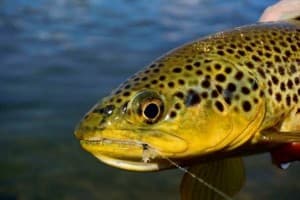 Access starts at the After-bay at Fort Smith on the Crow Indian Reservation. When you first see Fort Smith you quickly realize that one only comes here to fish. You might say it's a one horse town but everyone here drives a pickup, has a dog of some sort and trailers a drift boat. House trailers and a few resident homes, three fly shops, a market, lots of lodging and camp sites and a group of trout bum guides that may just be the best that the west has to offer. This is truly trout town USA.
As far as gear goes it's always a personal choice but a nine foot fly rod with a five weight line will almost always do the job. On gray and windy days when the fish are down you can move some good fish on streamers and in those situations I prefer a stronger action to turn over the larger and heavier flies. This year I had the chance to try a new nine foot for a six
Sage Method
matched with a
RIO Grand floating line
and a
RIO Outbound short
with and intermediate tip when I wanted to get the fly a little deeper. The new Method is a casting machine and matched with the right fly line, it's a dream.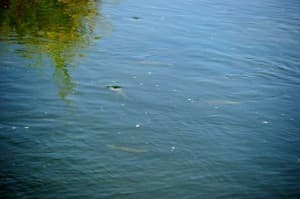 If pressured into picking only one river to fish in the American West it would be a river that to some is over-crowded, over-loved and in some opinions over-fished. Perhaps there is some truth to that, but each year Cathy and I find ourselves knee deep in one of our favorite places on Montana's Bighorn River. We have fished the river at least once every year since the early 1980s, soon after it opened. I have always had a thing for spring creek-like water with weed choked channels, small insects like tricos or BWOs and rising trout. Yes, it's true that you can float the river with a strike indicator and a pair of nymphs, San Juan worms or scuds and catch fish. On a really good day using this method you can catch a lot of fish, but for me it's more about looking for heads and trying to match the hatch.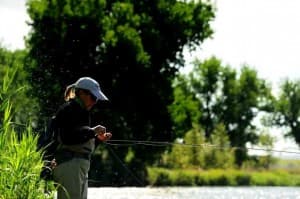 Cathy and I have just returned from our annual trip to the Bighorn, the tricos made their appearance almost every morning followed by a mixture of tan caddis, flying ants, a few hoppers and late on two mornings a heavy mahogany spinner fall. It's a long 12 months before we get to go back and there will be lot of fishing ahead in both fresh and salt, but when the time comes I'll look forward to that tell tale rise form from a trico feeding Bighorn brown trout.