Never Too Old or Too Windy
by Sarah Gardner 11.10.2015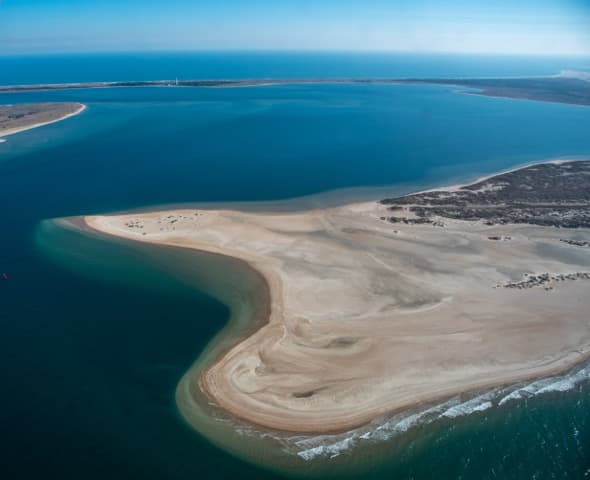 A pair of "old" clients show that they've got the right stuff.
It's a sad morning for me, horrible weather has caused me to cancel the last three days of a six-day trip with a pair of beloved clients. Michael Nowak and his stepfather Lou are among my oldest clients… literally. Well, Lou is, anyway. When the two first started fishing with me, Lou was already in his sixties.
This year, after he released his first false albacore of the 2015 season, I asked Lou his age. He proudly answered that he was just six weeks shy of his 79th birthday. Lou also happens to be my farthest-traveling client. He flies in all the way from the United Kingdom, and then drives down to my fall base in Harkers Island with Michael, who now lives in Washington D.C.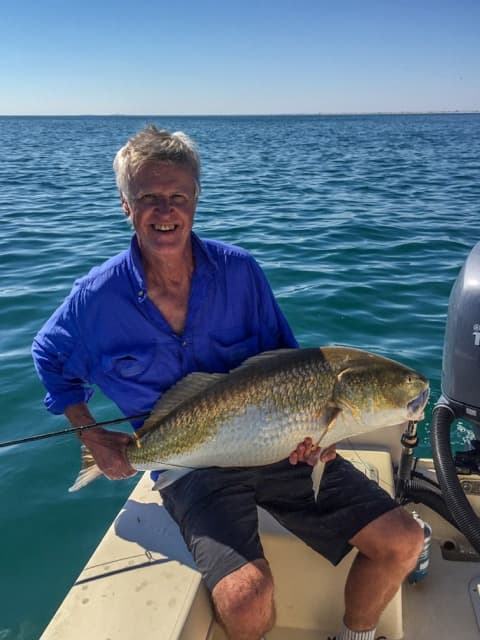 After almost two full decades, the three of us have developed some established patterns, which starts with their arrival. I recognize them long before they reach the boat, because their bags, the number of rods, rain gear, and stripping baskets barely change from year-to-year. The annual reunion allows me to prepare for another ritual—the proper British peck on each cheek. Twenty years later I still get it wrong. Then, we go fishing.
Lou always fishes the bow, while Michael gets the stern. I think Mike gave Lou the bow out of respect, but soon realized that being in the back has lots of advantages. Most notably, fishing from the stern gives Michael the ability to watch the fish action for a few more seconds, make the perfect cast, and then strip like mad to get the line tight. Michael is one of only a few albie fishermen I have who truly understands how important line control is in the water, not just in the air.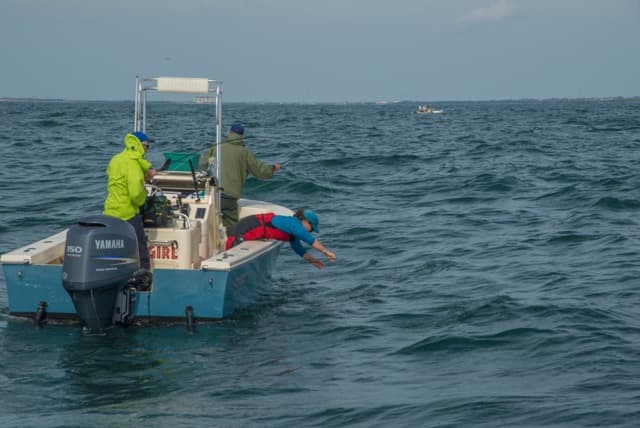 Of all my clients, Michael is my best caster. He could throw a bomb from any position in the boat. He is so in tune with Lou's cast that he can land his fly much farther forward into the "poaching zone" yet never interferes with Lou's fishing. As a result, the two rarely tangle lines.
The bow? Well that's Lou's domain. While Lou is a great caster, especially at his age, he is not as good as Michael. At 78, his mobility now is more restricted. That said, Lou sits on my cooler while we maneuver to different pods of fish, then pulls himself up with a grab rail on my bow before making a cast. A few years ago I installed that grab rail for people to hold onto while standing forward. I call it the Lou bar.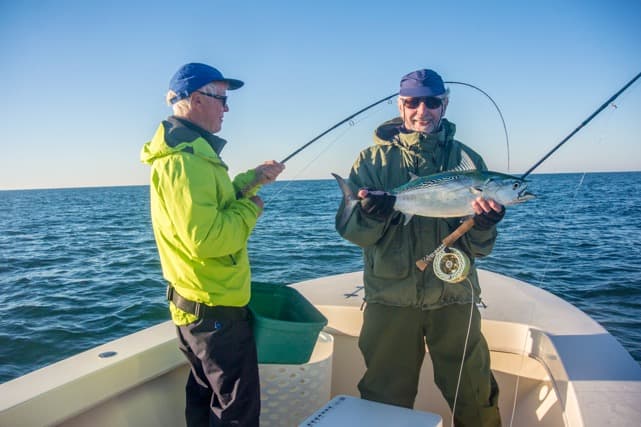 Having Lou and Michel settled into their respective positions has been especially important this fall, mainly because of wind. Twenty knots was the normal for 2015, and I had to be very mindful of both boat speed and angle while setting up on moving fish.
On one particularly challenging occasion I had albies running through a current rip created by outgoing tide along a steep beach drop. The wind was howling. I was able to hold the boat with a hard application of reverse as Lou cast to fish that were exploding along the edge. Michael—even with his Jedi casting skills—had no casting options. He muttered to himself watching the crashing fish as Lou struggled just to stand up in the chop created by gale-force winds shoving against tide.
Finally Lou connected and I shouted to Mike, "Go forward! Go forward! Do it!" He charged and landed the perfect forward cast into the fray, just as the fish disappeared. Lou landed his fish. The two had worked well together despite the exceptionally difficult conditions.
It's really gratifying as a guide to watch people learn, improve and adapt. Mike and Lou both use RIO's Tropical Outbound Short. I think it is the perfect albie line for both of them, but for different reasons. For Michael, an advanced caster, the Tropical Outbound Short does exactly as advertised; it easily casts flies very long distances.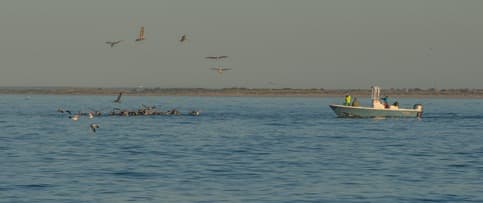 The Tropical Outbound Short lines are keeping Lou in the game. Lou does not get to fish in saltwater very often and he likes a fast rod. With the Tropical Outbound Short he is able to feel the heavy 10-weight load up, which helps to keep his false casting to a minimum. Regular tapered intermediates simply don't cast well for him anymore; the Tropical Outbound Short does.
When they got off the boat on the last day, Michael joked about rolling Lou onboard in a wheelchair. Lou quickly shot back. "I think he is going to need one first."