Montana Fall Fishing
By Diana Rudolph 10.21.2011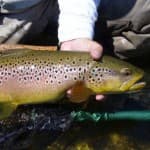 Autumn in big sky country is a welcome break from the heat of summer and a last gasp before winter mutes the landscape. The hills shine a golden straw color and grey clouds cling tightly to the valleys, relenting to the occasional patch of brilliant blue sky. The crowds on the rivers diminish, as sportsmen change gears in search of gamebirds, deer and elk, rather than trout. This is an extraordinary time to be fly fishing on the legendary rivers of Montana. More specifically, fall is streamer fishing season.
Most trout anglers are very familiar with fishing streamers using a floating or sink tip line. On cloudy days, streamers are indispensable; and when fishing is slow, they are always a good choice to persuade a fish into biting. Not only do these swimmy flies catch large fish, but they also elicit aggressive takes. In my twenties and early thirties, I worked for Dan Bailey's in Livingston, where Chester Marion and John Bailey introduced me to an exciting, big river streamer fishing technique: shooting heads.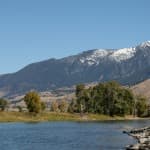 Autumn streamer fishing on the Yellowstone can be as spectacular as the scenery.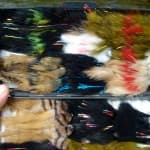 Who wants to have some fun? The author shows off her streamer box.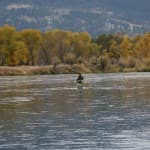 Let the fly do the work and hold on.
As the weather cools and the rivers drop, trout tend to get very active, especially the big browns. They hold in moderately quick runs, pools and flats, very similar to steelhead water. Current speed is important. Fish will not hold in water that is too fast, and it is difficult to swing a fly in "frog" or deep, still water. Wade deep, but be safe and work from the head of the runs down through the tail outs. Nice browns and even little ones will follow a fly from the far bank and eat it just as the line begins to straighten out. In addition to browns, sizable rainbows often lurk in the uppermost riffle water and lunker whitefish will bite in the slow water on the dangle or as the fly is being stripped back to recast.
Rigging a shooting head is simple. I use a 7 or 8 weight 9-foot rod. Sage's xi3s and the new One rods are perfect choices, because they have strong tips that can pick up the weight of the line and powerful mid and butt sections. For a 7 weight, I recommend a RIOMax II type 6, 250 grain head cut back 2 or 3 feet. A powerful 8 weight can handle 300 grains, but if it feels too heavy, cut it back a few feet as well.
A lightweight reel is critical, because it makes casting all day effortless. Use an ample amount of backing to fill the spool, as shooting line and a head do not fill the reel as full as a standard wf-f line. Attach approximately 100 feet of .024 diameter Powerflex Core or 25-pound SlickShooter shooting line to the backing using an Albright knot. Then, connect the head to the shooting line with a
loop to loop connection
or a double nail knot. If you do not care to rig a head and shooting line, RIO's integrated 24 FT Density Compensated sinking tip lines are a great option. They work perfectly straight out of the box.
A loop to loop connection can also be used to attach a piece of 25 pound butt section to the head or sink tip line, but I prefer a modified nail knot. Taper a 5-6 foot leader down to 0x or 1x. Attach the fly with a loop knot to help sink it and allow it to move freely. I don't care for lead or cone head flies. They are more difficult to cast and unnecessary if you choose the right density sinking head. I like a moderately bulky fly to push water, but still want it to sink. Big flies, if tied somewhat sparse, are extremely effective.
Line management is an important element of shooting head fishing, because you are handling as much line as you can cast. Start by stretching your running line and let the current straighten out all of the line down stream. Then, coil the line. I hold it in my mouth, while others hold the loops in the fingers of their line hand, releasing as the forward cast is launched.
Cast directly across the run, flat or pool at 90 degrees to ensure that the fly sinks and moves rapidly. I often use a hand twist and jig the tip of my rod Chester Marion style in slower water. This keeps the fly from getting hung up and gives it a nice, sexy swimming motion. Big boulders in runs create great holding places for fish, but they will also devour your head. If you get "rocked", walk downstream and let the weight of the head dislodge the fly. Check your hook often, as the points can roll or dull quickly as they bounce along the river bottom or get nicked from an ill placed back cast.
The anticipation and prospect of landing a trophy brown trout while swinging flies with shooting heads is incomparable. Let the fly do the work and hold on. This is autumn fishing at its best. Enjoy the invigorating, crisp fall air and finish the day with a cold Oktoberfest beer. Why would you want to be anywhere else?