Missouri River Trico Fishing
by Mark Raisler 8.21.2014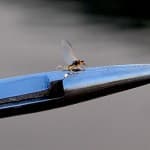 Love it. Love it. Love it.
Trico fishing has arrived and Missouri River anglers can rejoice. With a summer filled with aquatic insects the Trico separates itself from the rest based on a number of factors. Consistency, timing, hatch duration, and depth.
One of the strongest arguments for voting the Trico as the "Bug of the Year" happens to be the consistency factor. They always come and they always impress. No there insect on Montana's Missouri River can boast that stat.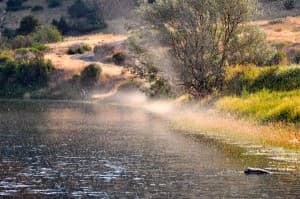 The consistency of the spinner fall too is yet another reason. Daily about 9am. On those hot and stale mornings the Trico's get moving early. By 7am they are emerging and moving into the mating swarms. Those swarms look like columns of insects 5-10 e=wide and sometimes as high as 100 feet in height. Yep, a major cloud of Trico's mating, swarming, moving, morphing…it truly is an amazing sight!
Missouri River Trico's arrive the first part of July. You can almost mark it on your calendar for the coming year. July 5th. Enjoy the fireworks the night before and get up early for the first spinner fall of the year the following morning. Above average water flows can push the hatch back towards the end of July while lower and warmer flows can move the initial bugs into June. Just watch the summer flows and plan your trip accordingly.
This year we saw the first sign of Trico's the final week of June. They show on the lower river and arrive in Craig a couple days later. It really has been the largest and most consistent hatch of the entire year. It always is.
A solid couple months of Trico mornings greet us as July arrives. On any given year the hatches can be daily running well into August and occasionally bleeding into September. Mid September can surprise you with a couple last hatches before the life goes out of the Trico and we begin the waiting period again. The re-birth will happen the following July. A long wait for an impressive insect.
PMD's hatch for 6-8 weeks, caddis off and on for most of the summer, BWO's spring and fall for about 4 weeks…the Trico Hatch lands dead center in the middle of our Missouri River Summer and can last up to 10 weeks. Just awesome is what I say.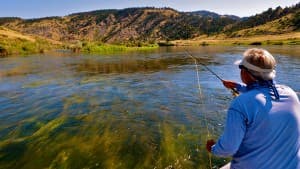 It can be perceived as the frosting on the cake, a dee-liscious dessert, while others believe it falls more in line with the meat course.
The sheer number of insects on the water can present some angling challenges that may not be associated with such prolific hatches. Too much of a good thing commonly happens here on the Mo. There are just so many bugs on the water during the spinner fall that accuracy plays a huge role in how many fish you can fool. Casting accuracy is imperative if you want to succeed. Sometimes, commonly, the trout here will not move an inch for your Trico pattern of choice.
So what can you do? Practice casting is my first suggestion. Often. Learn some sort of slack line presentations including the Reach Cast. An "S" cast is not a bad idea. Some sort of Recoil Line tricks can be helpful. Ideally you should be able to employ any and all of those on any given cast. Having the ability to combat the complex meandering currents of the Missouri River can add hook-ups to your list of accomplishments.
I use the SAGE One 9' 5wt. or the SAGE Method 9' 5wt. rods as my fishing tools of choice. Both deliver accuracy, strength, enough line speed to battle the perpetual Missouri River winds, and fantastic feel for fighting fish. I believe in both the One and the Method to get me through even the toughest of conditions. Thankfully Trico's love non-wind days and these two SAGE rods feel even better without the pesky breeze
As for lines I like either the
RIO InTouch Gold
with ConnectCore Technology or the
RIO InTouch Grand
with ConnectCore Technology. Both load easily and deliver the fly to the tiny sipping target with ease. I have had a good time with the
Trout LT Double Taper
as I still cling to my softer rod Double Taper roots. They have since been chopped clean but I find a fondness in my heart for DT fly lines. They have certainly fallen out of favor with the continual taper innovations that seem to make our modern day fly rods cast even better. I just love to fool around with differing fly lines on different rods. A different taper can change the personality of the fly rod. The RIO In Touch Gold and In Touch Grand change the feel of the SAGE Method drastically. Those two fly lines are designed for different casters, varying casting styles, and various fishing situations. Choose the appropriate line for your individual needs. Many fly shops have Demo lines for you to try. Take advantage of that privilege and find a line that works best for you!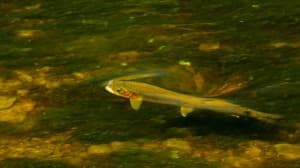 Leaders can make a big difference as the line comes into contact with the water. I once used much shorter leaders as I believed that the fly would more often roll over and present better. I was wrong. I now know that it is nearly as weary to turn over a longer Trico appropriate length leader. Spookier more difficult fish do require longer leaders. They demand cleaner drag free drifts and the
RIO 12' 4X leader
allows me to present more efficiently more often and therefore fooling more fish. I tie on a 48" piece of 5X and let it ride. A 16' leader is not too long. Sometimes I even insert a 24" section of 4X first. Now I am nearer 18'. Down and across presentations here on the Missouri allow you to use these long delicate leaders to fool our wary trout.
Practice with your gear and leader length before you get to the river. You will be more familiar and far more confident when you finally wade up to a solitary sipping Brown Trout.
One item I am never without is the
RIO Line Cleaner
. The single packages are easy to slide into your pocket and use freely. It is not uncommon for me to clean my fly line as many as 3-4 times during the hatch. Just takes about 30 seconds and improves the slickness and shootability dramatically. Fewer tangles, a slippery feel, higher floating, easier mending, farther reaching put you in the captain's chair while casting at freely rising Trico feeding trout.
The Missouri River Trico Clouds hold the dreams of anglers all over the trout fishing universe.