Lees Ferry, Spring 2015
by Jesse Robbins 5.07.2015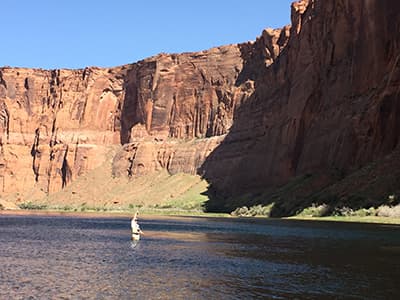 A series of events over the past several years all culminated a few weeks ago with my first trip to fish the Colorado River at Lees Ferry, AZ. Back in 2012, my parents made a trip to Marble Canyon and Lees Ferry. Their visit included a day of fishing, and my father's glowing report upon return put the locale permanently in my mind. A year or so after that, one of my very best friends relocated to Las Vegas, NV. While the move was a step forward in his career, it cut into his angling time significantly.
His better-half had noted this decline, so I was contacted by her to help get our buddy back on the water. With cheap plane tickets into Vegas and the Ferry only four hours away from there, we booked a long weekend with at Terry and Wendy Gunn's Lees Ferry Anglers and Cliff Dwellers Lodge. Soon thereafter, a few other good friends separately encouraged me to read Kevin Fedarko's new book The Emerald Mile. As I read, I realized it was the perfect introduction to the Grand Canyon and its waters. My excitement for the upcoming trip was growing exponentially.
Finally the day came. Arriving late in Vegas, our drive to the lodge was in the dark, but spirits were high and we had plenty of catching up to do. Sleep time would be minimal for us that night, but a coffee and a breakfast burrito from the Cliff Dwellers Restaurant had us ready for a day on the water. We elected for a short hike down a wash, taking us to a less-frequently fished section of the river. We had instructions from the fly shop to fish midges and dead-drift them as far as possible. This all seemed well enough. Fresh off of winter steelhead season and some tarpon fishing, it had been a while since I had played around with size 20's and 6X. My fingers seemed to be in slow-motion. Eventually we got the rigs looking good and started fishing the big, foreign river.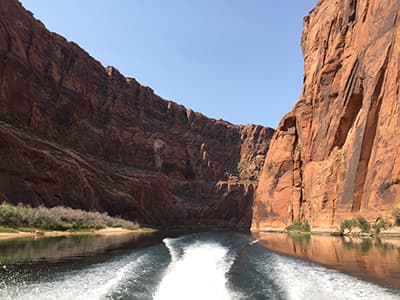 There are always a host of emotions when fishing new water. While I certainly let my mind wander to think about this or that, in the end it was just plain fun. To say the very least, the scenery was incredible. It was easy to lose myself in the river, the seam, the drift and my indicator, but eventually something on the bank would catch my attention and then my eyes would slowly drift up the canyon walls to the top and into the sky, so that I was looking almost straight up, not focused at all on my fishing.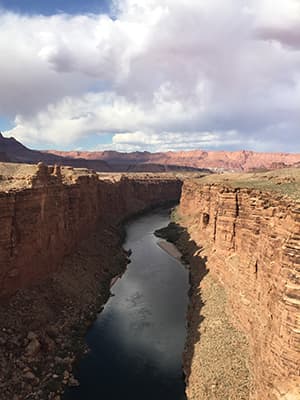 We did not catch a lot of fish that day, but we caught a few. We fished, looked around, moved around, chatted, laughed, and when we had our fill, made our way back up the wash to the lodge. We watched the sun go down and with another hearty meal in our bellies, the lack of sleep from the previous night caught up to us and we were down a good seven hours earlier than the night before.
The extra early bedtime had us up early – an hour earlier than our already-early alarm. We were slated to fish with veteran Lees Ferry Angler guide Tyson Warren in his jet boat, so excitement had us up and at 'em quickly. We met Tyson at the dock at the Ferry and were off, heading up river all the while still enjoying the amazing scenery.
Not surprisingly, we were much more effective in our catching this day. Tyson quickly schooled us with the appropriate presentation techniques. This was long-line, stack-mending, indicator fishing at its finest, and including a little 'walking the dog,' we were usually making 60-plus foot drifts. Given the nature of our fishing, our fly line and tippet choices were essential. Utilizing the low-stretch ConnectCore of our new InTouch RIO Gold lines, we were able to stick the size 20 hooks into fish even 80 feet away. Fluorocarbon tippets were also a must in the clear, cold water and we spent all our time using 6X Fluoroflex Plus. Fluctuating water flows resulted in waves of action – at times, we expected a bite every cast; others we would go 15 minutes before a take. As before, any break in the action allowed for sight-seeing.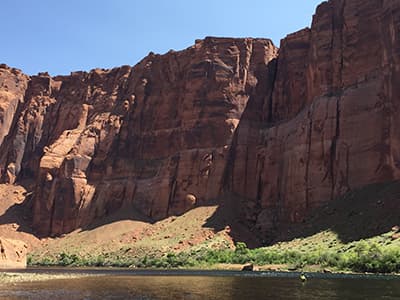 Eventually the shadows grew long and it was time to again retire to the front porch to watch the sun go down over vermillion cliffs. As Tyson put it – a real tough place to drink a beer. Cheers!