Keeping an Eye on Things: Sight-Fishing for Cobia
by Capt. Sarah Gardner 6.22.2017
Last week I was able to "fun fish" with my hubby Brian; we were targeting cobia, our most challenging fly-eating species in coastal North Carolina. After a spring filled with endless rain and wind, conditions were finally perfect for a cobia hunt. The sky was clear with no haze, winds were calm, and the water was warm.
Sight-fishing is a favorite for me, because it provides the feel of a real hunt… but on the water, not on land. Last spring, I upgraded my boat Fly Girl, adding an elevated tower with steering and throttle controls, in hopes of becoming a better cobia hunter. It's like having a tree stand in my boat. I can spot fish from a distance and easily see them react to presentations.
Cobia are harder to see than flats species such as bonefish and tarpon, because they are dark fish swimming over deep, dark water. Like flats fishing, the captain is usually able to see the prey before the angler. It's a fun challenge to maneuver the boat within casting range and then coach the angler about distance and angle of the fish without spooking the fish. Cobia really blend in with their surroundings and they tend to switch directions, so sometimes the angler has to act on faith and just launch the cast.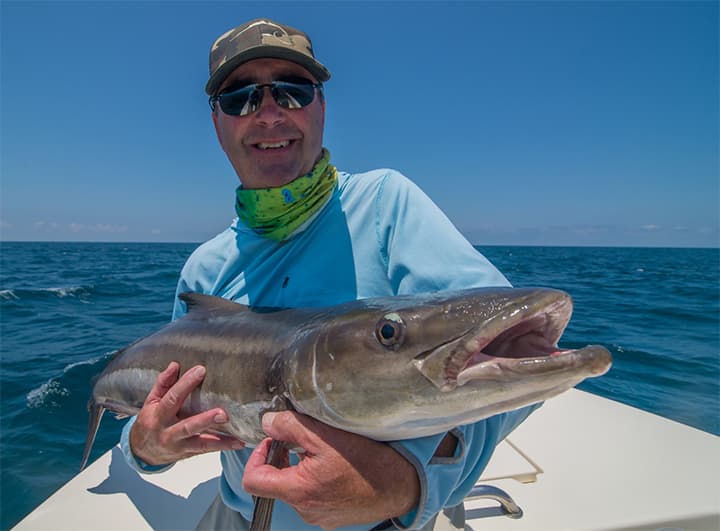 Cobia are fun to catch because they have a powerful, surging fight and sometimes jump, which is a real surprise for people who haven't tangled with tarpon or billfish. In North Carolina, cobia range from 10 to 110 pounds and look like enormous catfish, but without the whiskers. Other than North Carolina's inshore shark species, such as spinners and black tips, cobia can be among the biggest fish we catch. But the sharks don't fight as hard or taste as good as cobia, which we affectionately refer to as "chocolate thunder."
These attributes make cobia a prize for all inshore anglers. Our coastline gets busy when inshore water temperatures reach the magic 70-degree mark, usually sometime between mid-May to June. For about a month the Northern Outer Banks gets a flush of cobia headed for the Chesapeake Bay to spawn, then the flow tapers drastically. Like other wandering species, we've only got a small window of opportunity to chase these fish before they're gone.
During our exploratory trip Brian was able to see two cobia cruising side-by-side almost immediately and I was able to idle the boat parallel to the fish without spooking them. Brian already had his Sage X 10940-4 in hand, with line stripped out. This presentation gave him time to place the fly at an optimal angle-swimming away from the predators. A Popovics Hollow Fleye on a
RIO Tropical Outbound Short
intermediate fly line teamed with a Sage X was the perfect combination for this game.
Flies have to get down at least a few feet to be effective, but the whole package also must be launched without unnecessary false casting. This red and yellow Fleye created a lifelike big fish silhouette with a great swimming motion-but without any added weight. The Hollow Fleye also recasts easily and turns over well with the 20 pound RIO Products
Redfish/Seatrout Tapered Leader,
even with an added foot of RIO Products
Fluoroflex Saltwater Tippet
for rough mouths. Brian made the perfect cast and was able to see the fish react to the fly. He was able to change strips accordingly to keep her interested while staying tight to the fly, but he still didn't connect! From above, i watched as the cobia inhaled and immediately spit the fly out-twice! It literally followed the fly to the boat before turning away, pulling a smaller cobia with her.
I followed them at a distance of about 300 feet, staying just close enough to keep the pair in site. Cobia have odd personalities and can be surprisingly tolerant of boat activity, so we regrouped and then went in for a second time. Brian made another perfect presentation, but the cobia was done with us. The pair saw the fly, dove slightly to avoid it, and then popped up to the surface when safely away. The rejection wasn't as harsh as blowing a large school of bonefish off a flat, but the message was clear. We humbly idled away.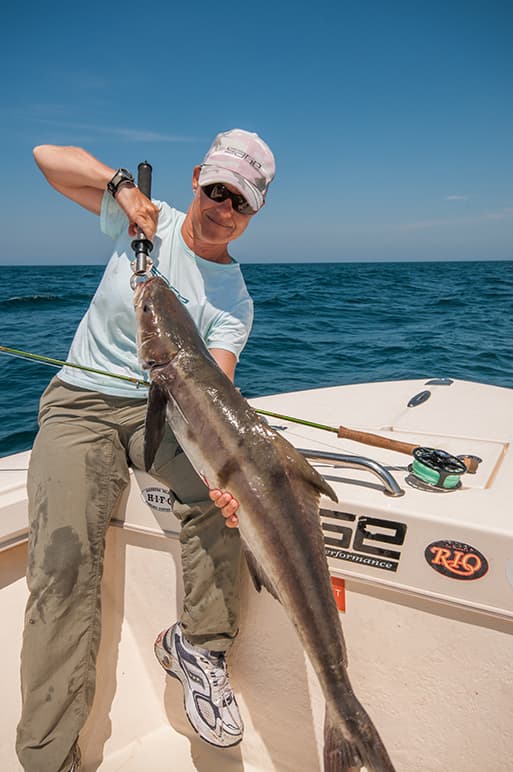 We were out again the next day. After hours of looking, I spotted a pair of fish. Without grinding gears or revving the motor, I positioned Brian upwind and just shy of the targets. Brian's first and second casts landed short. The third was perfect and both fish charged the fly. One of them grabbed the orange-and-yellow morsel, but quickly pulled off. The fourth cast got another aggressive bite and screaming run against a drag that was too loose. The surging rampage caused slack in the line and the fish came off; it was a classic rookie mistake.
This loss was especially painful, because as the cobia season progresses, the fish leave us to honeymoon in Chesapeake Bay, where the remaining fish get a lot of boat pressure. They get skittish, so the odds of getting close enough to hook one on fly go way down. We have other ways to get cobia to take flies when the odds get tough, such as chumming, but sight-casting is my favorite method. It's as challenging for the captain as it is for the angler.
Even if we don't get to land a cobia together this spring, fishing with Brian before our season gets crazy is a bonus. Even after 20-plus years fishing together, it's still fun and we still learn from each other. Experimenting with new fly tackle and photographic gear is especially rewarding when viewed from my new boat balcony. Are we ready for cobia? That's debatable.