JULY FAN OF THE MONTH
BRUCE TENHOEVE 7.18.2018
My name is Bruce TenHoeve. I'm an addicted fly fisherman from Abbotsford British Columbia, who grew up fishing the salt waters around Vancouver Island and fly fishing the small streams and rivers there.
WHAT IS YOUR MOST MEMORABLE FISHING EXPERIENCE?
More years ago than I dare to remember I was introduced to fly fishing by Barry M Thornton our school Principle who was an avid saltwater fly fisherman and also has several fly fishing books to his name as well as some great flies. Mr. Thornton would show us how to tie flies then we would go on field trips to the local flows. Needless to say I was hooked (pun intended). Living here in the Fraser Valley offers almost any Northwest fish species you could ask to target, from small streams for trout, to back waters for carp and bass, to excellent steelhead and salmon waters. Within a few hours drive you can reach either great rivers like the Skagit or the Similkameen or the amazing stillwaters of interior British Columbia around Kamloops and Merritt then you can head north to the Caribou region for even more fantastic fishing, or to the Skeena, Babine. If it's premium Classified C&R fly water you are looking for we have the Elk and Michelle rivers near Fernie B.C. The tough part is deciding where you want to fish. One of my favorite fishing adventures was on the Skagit River throwing dry flies for eager trout with my 3-4wt Trout Spey rod when after releasing a fish I felt I was being watched from up stream, after I slowly turned around (hoping it wasn't the local monster black bears) I found a Bull Moose still in velvet watching me in his river. I attempted a couple of pictures before I started to "talk" to him to hopefully move him along, after all, he was cutting in on my next run.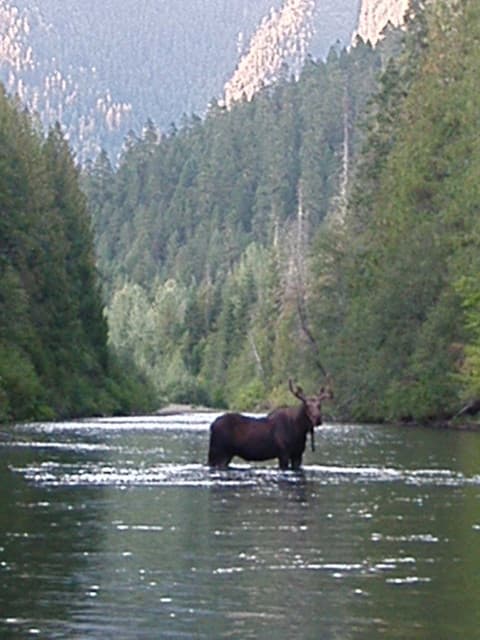 WHICH RIO FLY LINE DO YOU FISH?
My favorite setups for the Skagit is my 3wt single hander loaded with a 4wt Rio Gold or my 3-wt Trout Spey depending on the water. In order to keep my on river gear to a minimum I bring another reel along for my Trout Spey with a Rio Euro Nymph line setup for nymphing using the Rio Two tone indicator tippet for a sighter, it may not be a kosher set up for nymphing but it gets the job done and when you are hiking all day through bush country, the less gear the better.
Two Tone Tippet
Catch more fish without an indicator.
ANY TIPS FOR FELLOW ANGLERS?
If I could offer any humble tips to fellow fly anglers it would be to search out a friendly competitive fly fishing league. I joined our local comp league, British Columbia Competitive Flyfishing League started by Todd Oishi who is a member of the Canadian National Flyfishing Team, as a matter of fact many of the members have national and international Comp League experience. Fishing with such a talented group of flyfishers ups your own game and the learning curve is fantastic, it shows you how to really read the water and work every possible lie in the river when the clock is ticking, it also helps you have confidence in your fly and your technique. Now when I'm on the water I have that extra confidence to get fish in the net.