In Search of the Worm
by Barry Beck 12.12.2013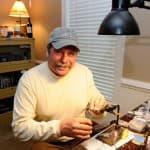 Bob Hines patiently sits in his 23 foot Skeeter in Mansion Bay, he occasionally stands and looks around. "They're here, I can feel it," he says. What he's looking for are the aquatic worms that show up every year in May on this Rhode Island coast and with the worms come the striped bass who plan to feed on them. "You won't believe it," Hines says, "they'll be everywhere." Surrounding us in the bay are other boats whose occupants also believe in the worms and the feeding orgy that is about to take place. So here we sit. My wife, Cathy, remarks that no one is fishing. "They're all waiting for the worms." Bob says. Ok. So we wait.
Brad Gage, the Sage rep for the New England area, put us onto Bob. Brad was all over the worm thing and said we have to meet this guy, that he's the real deal and has designed a number of worm patterns to imitate the hatch and, in fact, he is called Mr. Worm by a lot of the locals. Our travel schedule for May is always busy, but Brad had our attention and after a phone call to Bob we found a couple dates that worked for both of us. We were lucky because, as Brad Gage confirmed, Bob is generally booked solid during the worm hatch.
Our nine weight Sage rods are rigged with RIO Outbound lines, nine foot leaders and one of Bob's worm patterns. The sun is starting to set in the west and being a photographer I start to get a little bit nervous about the light. We need a nice striper with a worm in its mouth and a few shots of the actual worms. "No problem," says Bob "it's going to start at any moment." My Nikons are ready, Cathy stands rod in hand and scans the horizon. I look around and realize that everyone else is up and ready. Over twenty boats, a few kayaks, one canoe, and us – and still we wait. Bob is on his cell phone, no worms are sighted by any of his friends around us. A motor starts and Bob reports that someone is going to scout the other side of the bay. Minutes later the call comes, no worms there either.
Darkness sets in and the sounds of motors starting tell us that it's not going to happen tonight. "Don't worry," Bob reassures us, "we have three days so it has to happen tomorrow." And then what we all love to hear, "It was great fishing two days ago, lots of worms and big fish." Of course. At the dock we hear shared ideas on why the worms never showed up, but it finally boiled down to water temperature. A cold front had passed through, the temperature dropped a few degrees and that probably did us in. Hope springs eternal and, as Bob says, tomorrow is another day. We wrap it up and head to a local restaurant called The Cove and have a great dinner.
The following morning the wind has come up and rain is threatening. We take a look at the bay and decide against trying it. Now what to do we wonder. Bob suggests a visit to the local fly shop so off we go. The shop's manager tells Bob he has sold out of his worms and has ordered more. Back at his house we watch the master at work tying a few of his favorite worms and we keep our fingers crossed that tomorrow, our last day, the elusive worm will show up.
This is it, our last chance as we load up Bob's boat and head to the Ocean House Marina to launch the boat and hopefully find the worms. The 225 horse Yahama easily pushes the Skeeter as the sunrise welcomes in what looks to be a beautiful day. With the weather in our favor, Bob says it's too early for the worms but we need some striper photos so we'll blind cast in a channel that is suppose to hold some good fish. We set up and drift as Cathy explores the channel with a chartreuse and white Deceiver. After drifting about fifty yards she hooks up and Bob excitedly says it is a good fish. I grab the camera and wait. The striper is close to the boat and Bob is ready with the net when the line goes slack. The fish disappears and Cathy looks rejected as she reels in her line. The fly just simply pulled out. It happens sometimes that's just fishing, but we really needed that fish for a photo.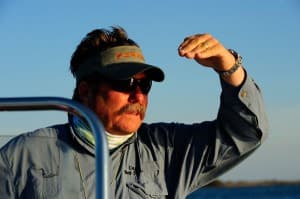 Bob takes a turn and quickly hooks up and in short order we have a fish in the boat. No, it's not a big striper, certainly not a cover grip and grin fish, but it is a fish so we photograph it and Bob goes back to casting. What seems like hours later and a thousand unanswered casts we break for lunch. Bob is hedging all his bets on the late afternoon and the worm hatch. Again we wait.
Soon other boats start to show up. Cell phone calls from other guides ask if we've seen the worms? There is no question in my mind that the fishing here right now is all about those darn worms. Hours pass and no worms and now there are even more boats in the bay. Finally a call from one of Bob's friends, they have found the worms on the outside. Bob turns the key and the Skeeter is quickly up on plane headed flat out and I think this could be it. We find the caller and his boat, the guide is pointing down in the water as we pull alongside. "They're here," he says "I see two or three."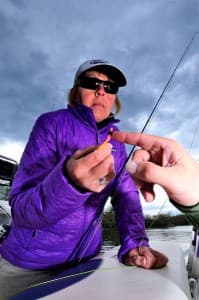 We all look at the worm and to us it looks like an earth worm from Cathy's garden. "Ok, Bob says, "if they're here they'll be back in the bay," so back we go. Everyone's excited, it's going to happen. We arrive back to see anglers casting, the word is out the worms are coming. Cathy's rigged as is Bob, the light is perfect for photos, so please let it happen. We watch and wait as time slips away and Bob's excitement starts to wane. "I can't believe this," he says. Reality starts to set in as the sun sets. It's over so we head home. Wormless and fishless will be our legacy.
Bob apologizes and we laugh because we've been here before. Not waiting for worms, but waiting for insect hatches on trout streams that never showed or saltwater tides that never brought in the fish or weather that never cleared. Anyone who fishes knows that part of what we do is wait, it's part of the game. We did get to spend quality time with Bob Hines, who as Brad said, truly is the real deal. He is a wealth of information about his fishery, a fabulous fly tier, and just fun to be with. The next morning we said good-bye and headed home promising to try again next year.
The next day after getting home an email comes from Bob with an images of a client smiling and holding a large striped bass with a Bob Hines worm pattern hooked solidly in its mouth. The worms arrived and so did the Stripers. Of course.