Hunting Spring Rooster Fish
by Brian Horsley 3.06.2014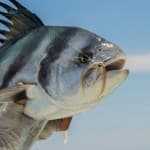 Hunting for Spring Roosters in Baja's Sea of Cortez
A great way to break out of the winter blues is to head to southern Baja to chase roosters. A rooster is one of the most exciting fish a fly fisherman can stalk. They crash bait on the surface with gusto, and at the same time can be as picky as New Zealand South Island brown trout. And they pull once hooked.
There are several methods for chasing roosters in Baja. The beach fishing gets press than fishing from the pangas. But if you have traveled up to 1,500 miles to catch roosters, like we do every year, maximizing your shots at them seems like a logical option. Fishing the pangas, which are equipped with lots of live sardines for live chum, will definitely improve your chances.
Your captain will know the best spots and start by throwing a handful of live sardines overboard. After a few minutes of this, if there are roosters in the area you will know. Then it is your turn — make long quick casts and keep casting until Mr. Gallo makes a mistake and eats your fly.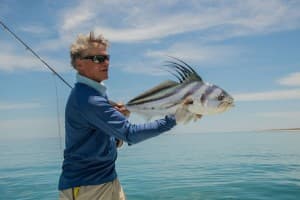 Gearing up for your rooster is pretty simple, but there are a few tips that will make your trip even more successful. You don't want to go to the brawl and show up with your fists — you need to bring a bat.
Roosterfish are very picky, so give yourself every advantage. A good 10 to 11 wt rod will tame even the craziest 40-pound rooster. Fast-action rods like Sage's XI3, One and now the Method are perfect choices. Pair these up with Sage's
6000
or
8000
, proven rooster tamers. Reels need to be strong and stocked with 200+ yards of backing.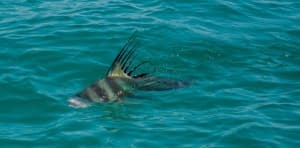 The biggest favor an angler can do for him- or herself is to choose the right flyline. RIO has several lines that will give anglers the advantage. The most popular rooster line is the
Tropical OutBound Short,
either floating or intermediate. These lines will allow an angler to make quick, long casts with a minimum of false casts. This is very important. Other options are RIO's
Tarpon Short
with a 40-foot head or the
Tarpon Technical
with a 60-foot head. Whichever line you choose, make sure it will help you make those 60 to 90 quick casts. The casts need not be delicate — it's more like slam it in the fray as long as your leader turns over.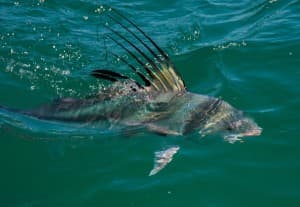 Most panga anglers prefer long leaders from 10 to 12 feet with either 16 or 20 pound test.
RIO's General Saltwater
10-foot leaders work well. To get the additional length, add 2 feet of 25 to 30 pound fluorocarbon. If you are fishing for IGFA records or to their specifications, the length of 25 or 30 cannot be more than 12 inches.
Roosters like their flies fast, so you need to embrace the two-handed strip, which is very popular with surf fisherman along the northeast coast. The two-handed strip lets you keep the fly zoning through the water with no hesitations. Another by product of the two-handed strip is that you cannot raise your rod tip to set the hook — trout sets will only leave you disappointed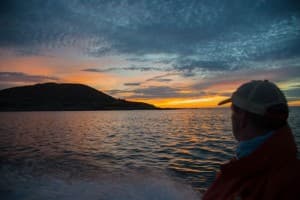 There are plenty of favorite rooster flies, but two of the most effective are Charlie's Airhead and a fly developed by Gary Bulla, the Papagallo inTan. 2/0 are the most popular size. Shake off the winter and go rock a rooster!