Hex Magic in Michigan
by Pete Humphreys 5.20.2015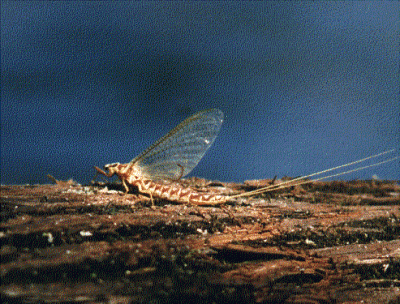 Mention the word Hex to a regular John Doe and it may bring thoughts of sorcerer's spells and curses from the Dark Age's. Mention the word Hex to a Michigan fly fisherman and you will see his eyes twinkle, sweat bead on brow and a strange trembling at the knees. So what is it about fishing the Hex Mayfly hatch that gets us so worked up?
The Hexagina Limbata, Michigan's largest Mayfly is the trout equivalent to a juicy Filet Mignon, topped with fresh crab meat and drizzled with hollandaise sauce, floating down the river. Massive trout eat them; Trout that have grown old, wise and huge by learning to spot the best tied artificial fly suddenly go mad, all their caution forgotten for a few crazy hours. The hatch of the Michigan Giant Mayfly is your best chance to catch a monster trophy trout on a dry fly. But, catching fish is not the only reason we get worked up over this special chapter of our fly fishing year.
For me, it's all about the build up and the anticipation of what's to come. I love sitting in the drift boat, or nestled on the river bank, as the sun slowly sinks, hoping that the night will be a success. As darkness begins to fall, staring up at the sky you see the first bugs cruising up stream against the clouds; you are reminded just how big these insects are in comparison to their smaller cousins. The spinners have returned to the river to mate, lay eggs and die. The bugs build in numbers and on a heavy night, you can hear wings moving air above you as the frenzied insects clatter against each other. The mating dogfight commences. Daylight has now left us for darkness. A quick shine with the flashlight up stream, looking for downed bugs on the water and listening with wolf ears for the first fish to rise. The hypnotic slurping of a big fish on the feed can be mesmerizing.
I was born and raised in England, the son of an avid fly fisherman. The Hex experience is a far cry from the typical dry fly fishing across the pond. The famous chalk streams of Hampshire- such as the river Test, with its gin clear water and beautifully manicured banks hold some enormous brown trout that will readily rise and take Mayflies. Here's the problem – it's all private and very exclusive. During "Duffers Fortnight", the peak 2 weeks of Mayfly season, it might cost $500 a day to fish on the best stretches and be booked well in advance, as there is a limit to the number of anglers allowed on any given stretch at one time. So you need plenty of money and lucky enough to find an open rod on a decent beat. Even better is if have a buddy who will pay your way and invite you as their guest – that's more my speed. Unlike in Michigan, there is light pressure when you are paying for the privilege so there's no need to stake out your favorite spot, four hours before hatch time.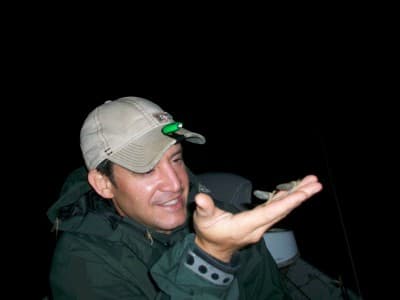 Fishing in the dark is hard work. Being organized and prepared is essential for success. Your window of opportunity to catch fish is usually a small one so you must be ready to get your groove on. Fumbling around in the dark looking for flies, tippet and floatant will not be good enough. You must tune in your night skills, relying on sound and feel to guide you, locating your feeding target by the sound of the rise. Casting a drag free float over a large trout at night takes some experience and skill to get it right, especially under a heavy case of "trout fever". I typically use a 9 foot 6 weight rod. My current favorite is the SAGE ONE 690. The forgiving but fast action on this rod is ideal and has enough clout to handle a trophy fish. Now comes the real superstar of the show for night fishing – enter the
Lumalux RIO Gold
. Seeing your fly line at night is a huge advantage. Drag free floats are essential to fool these wise fish – the Lumalux is a must have in my opinion. I typically charge the line up several times with a camera flash before I head to the water and it will stay lit for a few hours.
As with most fly fishing, "Hexing" is a percentage game and you get points for attendance. Rewards will come to those who put their time in. You only hear fisherman's success stories and not the nights he went home, tail between legs and fishless. Like Michigan dry fly fishing in general, the Hex hatch is extremely unpredictable. Too many bugs with a blanket spinner fall will spoil the fishing as it's tough to fool a fish to eat your artificial with thousands of naturals on the water. On the flip side, too few or zero bugs and no fish will feed at all. I have seen perfect bugs and no fish rising. Who knows? Maybe the fish were full from the night before. The first week of the hatch is always the best fishing, especially the first few nights. Past the magic first week, it can still be good but the fish seem to have gorged themselves and become more selective and difficult to fool.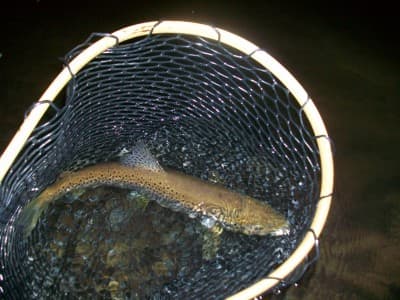 Fly choice is a simple one. Any style of split winged spinner pattern will work, typically tied on 2 XL shanks in either a size 6 or 8. Night fishing is all about showing the feeding fish the right silhouette. Jerry, my good friend and experienced Hex fisherman swears by a purple Hex pattern. He's convinced the darker fly color gives off a better silhouette in the dark. Don't get too wrapped up with matching the body color but do look at the fly from underneath and pick one that you think best resembles a dead Hex. Dun's usually hatch from midnight onwards. Emerging from the muck banks and silt, they float in the soft edges of the stream like gliders with their wings up. They must be considered by the angler but the spinner fall at first dark is your best chance of success. Long after the main spinner fall has ended there will be a steady trickle of dead bugs coming from upstream and I have found the standard spinner pattern to be the best bet for most feeders, even if they are eating duns.
A productive day time tactic while waiting for the spinner fall is to prospect with a swung Hex nymph or emerger style pattern. On some of the Michigan Rivers you will see a trickle of duns hatching off during day light hours if conditions are right. Big trout are opportunist feeders and they will be keyed in on the nymphs and cripples stuck in the film. Hitting log jams and undercut backs from a drift boat is a wonderful way to spend the evening before the main event at darkness.
Most Michigan trout streams get a Hex hatch, but some do not, so it's worth checking with a local fly shop before you make plans. The most notable rivers are The Au-Sable, the Manistee and the Pere Marquette, with peak activity from the middle of June till early July. This can be earlier or later depending on the seasonal weather. Take lots of bug dope, and a good flash light. I prefer the kind that clips on your hat. Bring a friend or family member. There's plenty of quality time waiting for bugs, so why not spend it with someone you love. A word of warning: Be careful. The curse of the Hex may come upon you and you'll be hooked for life.