Getting "in touch" at the Skeena River Lodge
by Pete Humphreys 10.13.2015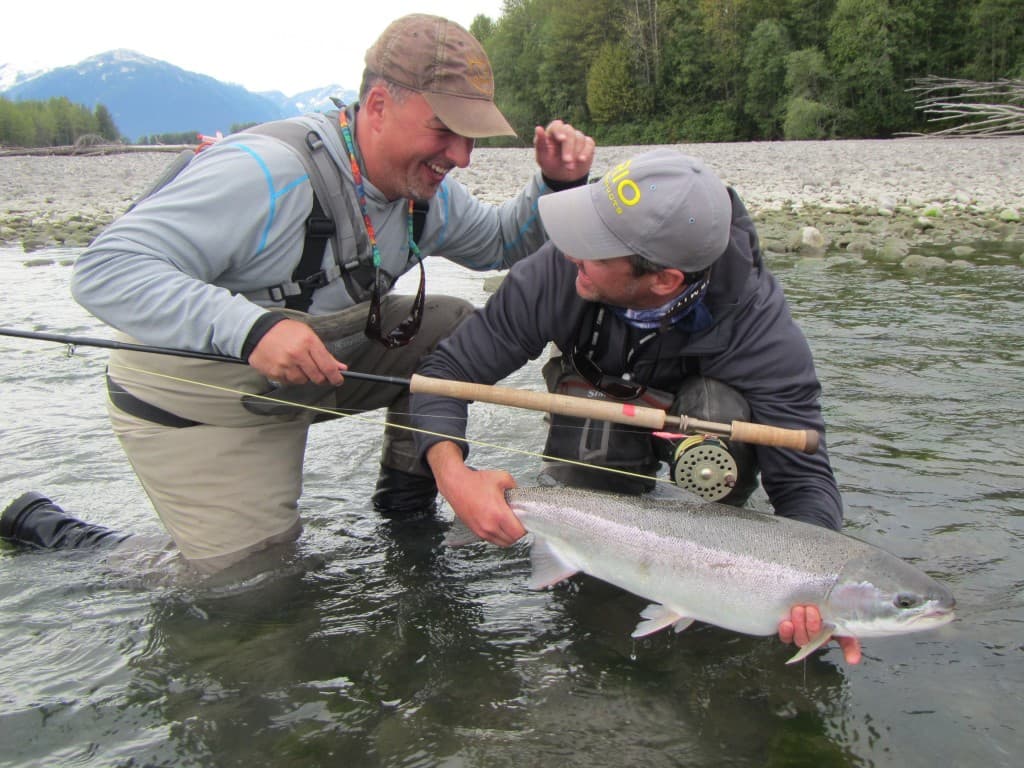 It's a giant leap of faith to pay the $'s, and fly 3,000 miles from Michigan in the hopes that rivers will be in shape and the fish with be running, especially when it comes to the steelhead rivers of British Columbia. This year we had the typical highs and lows that come with most pilgrimages to fish steelhead out west. My 3 pals, Sean "Quincy" Collins, Mark "The Ox" Danhausen and Andy Nelson made up the 4 rod party for 6 days sport. We were guests at the luxurious "Skeena River Lodge" to fish the mighty main Skeena in jet sleds and float the fabled Copper River in rafts.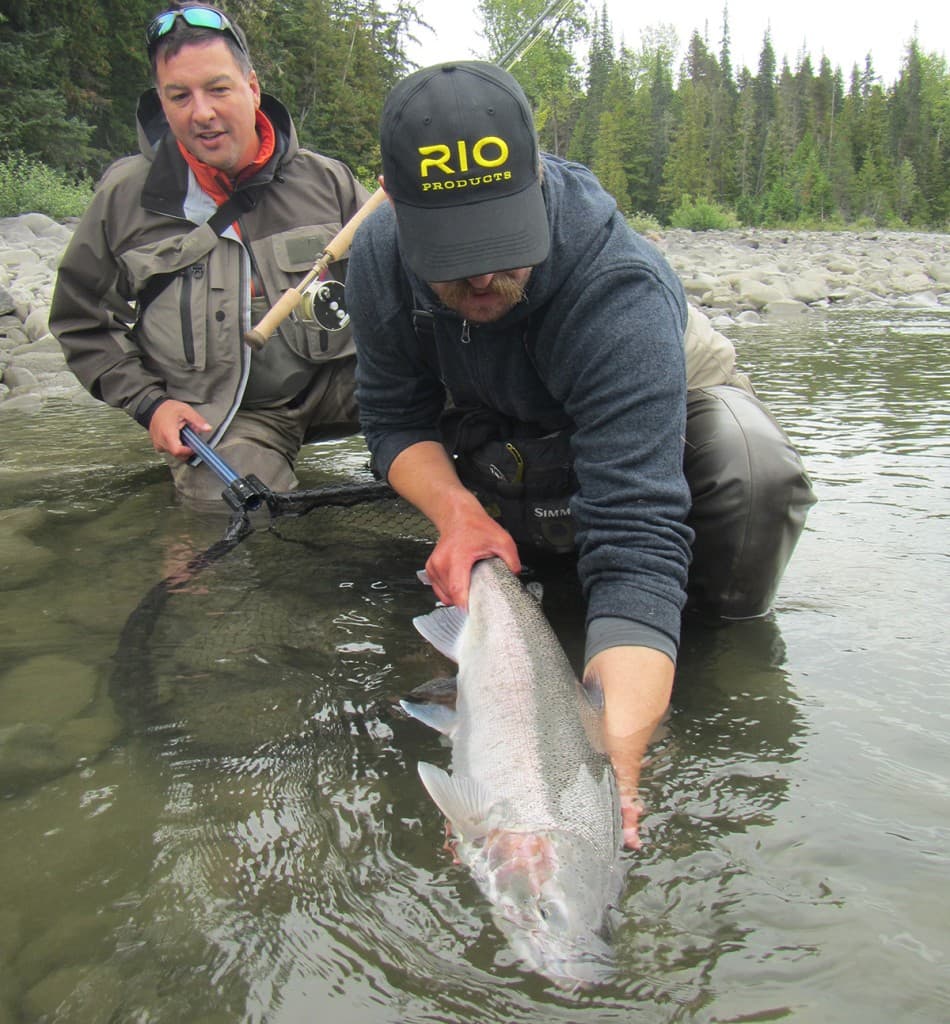 We arrived in Terrace to a Skeena system that was dropping in fast after a large rise in water. The river had come up over 3 feet, being blown out by rain in the Kispiox valley some 75 miles above Terrace. It was on the drop, but probably two feet higher than we'd like and carrying a heavy stain. The Copper was totally blown out and likely to be blown for most of our week so were facing the reality of slogging it out on the main Skeena, which can be very productive but also a hard mistress in the best of conditions. Over the course of the next few days, with excellent guiding and lots of encouragement from Jeroen, Derek, Steve and Ryan we stuck at it and all managed to land a few nice fish including one beautiful big buck. Based on its length and girth measurements, it tipped the scales over 20lbs. Sean Collins also had a great Buck of around 18lbs from the same run a day earlier. Although not the target species, We did land several salmon which came as a welcome bonus. A fresh run Coho is a great tug and can run up to fifteen pounds.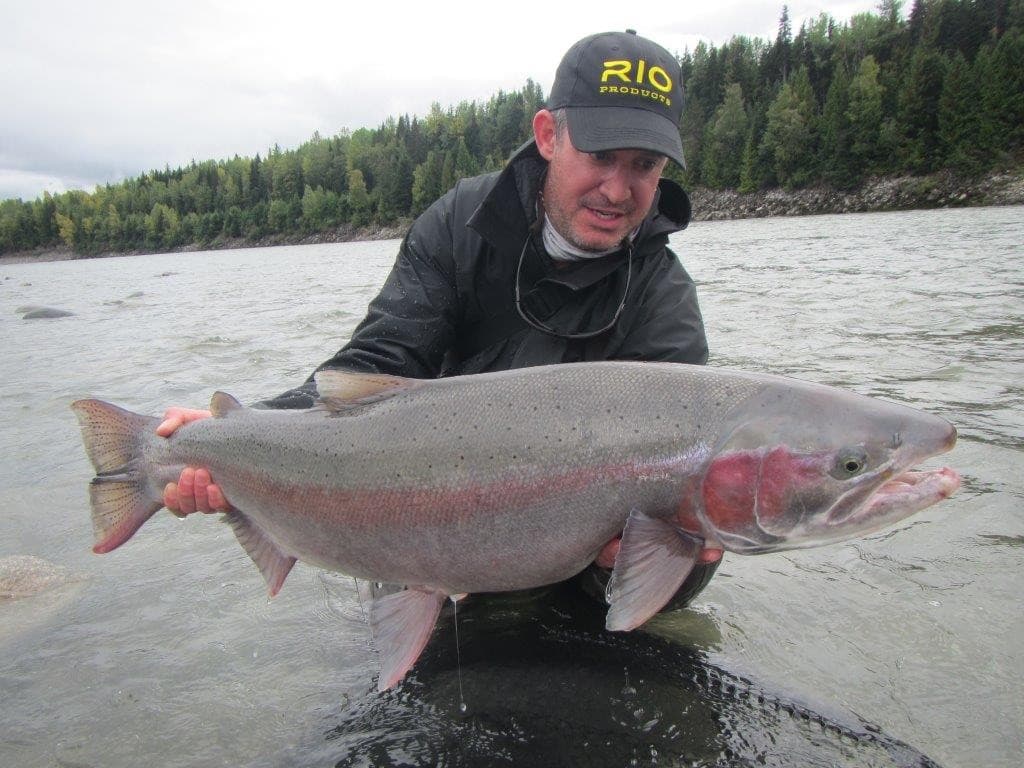 I had a chance to test drive the new RIO InTouch Short Head Spey line. With its forgiving short belly and recent addition of an interchangeable "loop to loop" front taper for switching to a sink tip, it allows for longer casts with not as much stripping in as a Scandi or Skagit system. It was perfect for the Big Skeena, with less running line to manage, the zero stretch core allowing tremendous feel, better hook sets and an increased connection with your fly. I mostly opted for a type 6 tip with an unweighted temple dog style tube fly in black or hot pink.
More rain during our week put things back on the rise again – a "super cell" had dumped in the mountains at the headwaters of the Copper. Unluckily for us, this is the same headwaters as the Telkwa river, a tributary of the Bulkley. The Bulkley joins the Skeena at Hazleton so we knew we had more color and a rise on its way to us from up river. This was the only day we got blanked on the Skeena with a rising river and around a foot of visibility – hard going.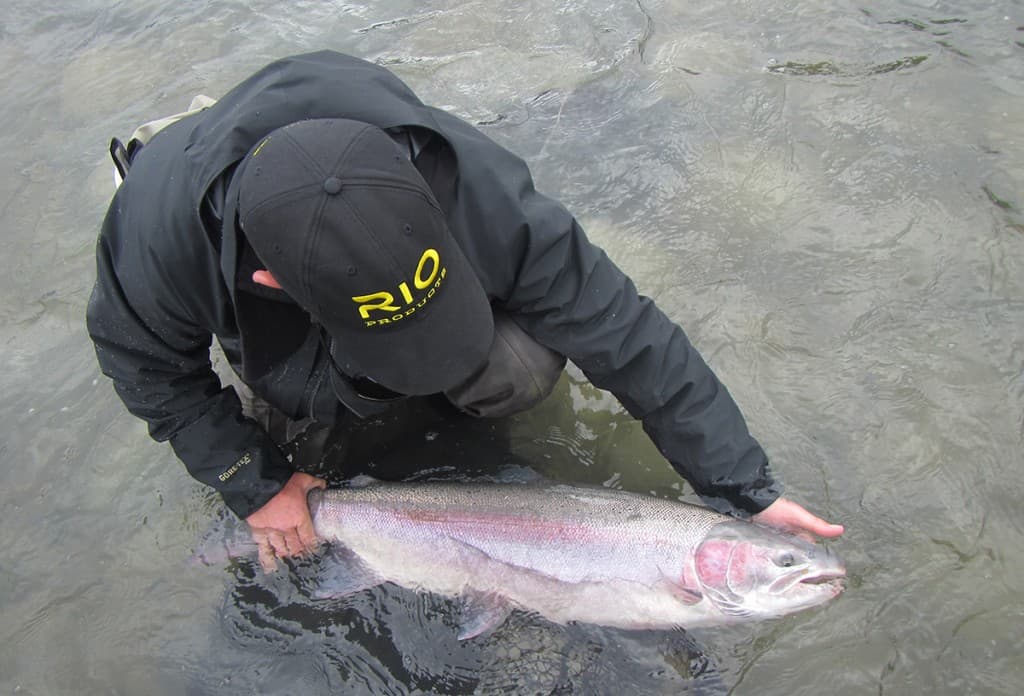 The Copper river was blown out all week, except for the very final day when all four of us floated. The Copper has a legendary status for dry fly fishing, but with only around one foot of visibility, the waking bugs stayed securely in the fly box. For the Copper, a smaller, more intimate river than the Skeena, I preferred the RIO Scandi VersiTip system with the floating belly and type 6 tip. I matched a SAGE ONE 7136 with a seven weight SVT. What a delightful combination this pairing is to fish – an extremely versatile system, effortless to cast and will turn over a surprisingly big fly. Between the four rods we managed to hook ten steelhead on the last day, landing six, up to fifteen pounds. What a great way to end the trip and just reward for slogging it out under generally tough conditions. Not that we kept scores, I think all 4 rods had averaged just over one hook up per day for the 6 days. Not the best steelheading, but considering the conditions, we had done well.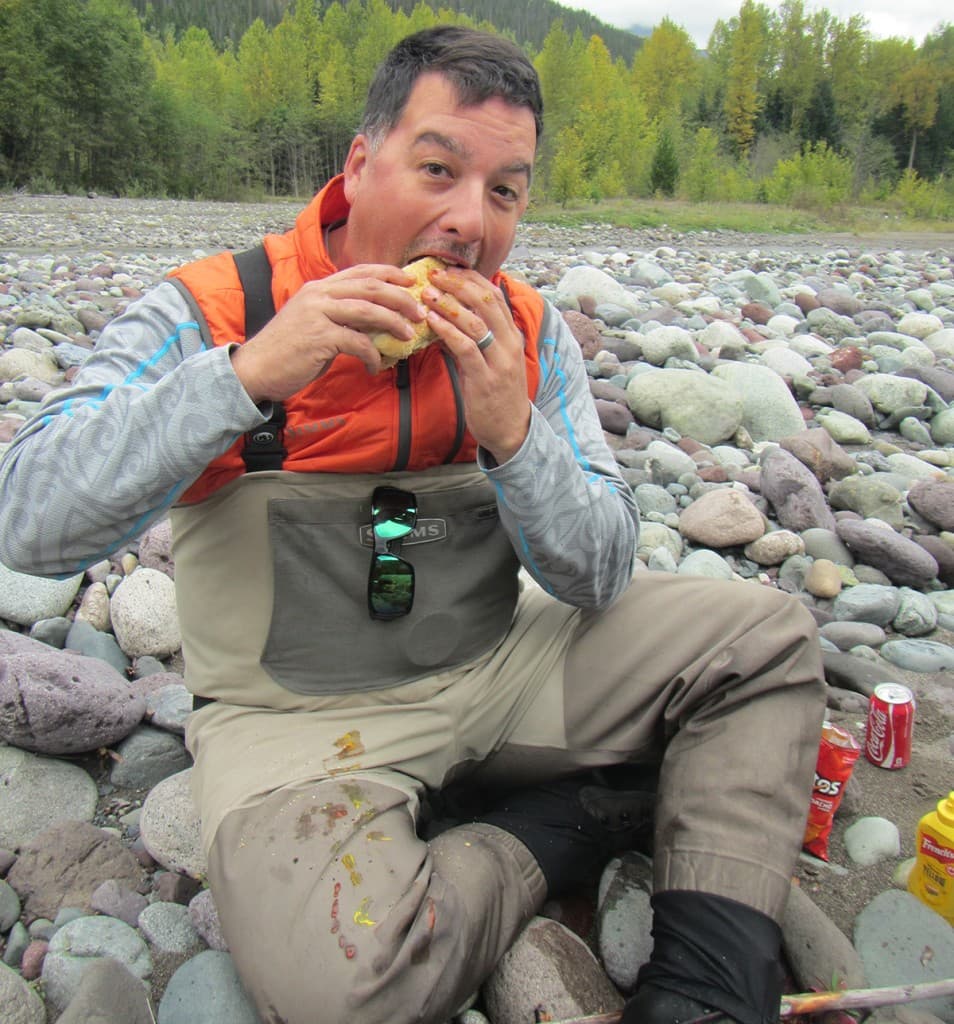 It's on tough trips I am reminded that it's the people that make it special and fun. Being surrounded by like-minded guys who are good sportsman and understand the steelheading game is often not about numbers. It's more about the beautiful places it takes you, the comradery with true friends and being out side in the elements with nature. On one occasion I had a pair of Peregrine falcons land in the tree not 25 yards from me. They bobbed their heads up and down and watched me fish down the pool – priceless.
The Skeena River Lodge staff are a wonderful group who went out of their way to give us the very best possible chance of catching fish. By running a flexible program, we fished every day and only got blanked as a group once, which is incredible in hard conditions. Topped off with the delicious home cooked meals by Lori and Manon. They looked after us like kings and I can't wait to take the leap of faith again very soon
Dates – Sept 5th – 12th 2015, Terrace B.C.
Rivers fished – The Copper and the Main Skeena above Terrace
Conditions – rainy with high and colored water and fluctuating levels.
Fly choice – 3" temple dog tubes in black or hot pink
Rods – SAGE ONE in 9140, 8136 and 7136.
For info about a trip to the Skeena River Lodge, please contact Ken at Fly Water Travel. ken@flywatertravel.com