Getting DEEP – Deep Water Fishing,
By Captain Gene Quigley | RIO 5.24.2012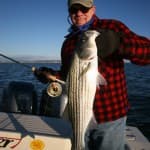 With summer upon is here along the New England coast water temperatures will begin to warm sending our Striped bass and Bluefin into cooler deeper waters. As fly anglers, this presents a challenge, especially when faces with rough waters and moving currents. During the spring months, anglers enjoy using floating and intermediate lines to catch Stripers and Blues feeding frivolously close to the surface. When the fish go deep, it's time to get deep. To do this anglers must be prepared with sinking lines and tactics and techniques that allow them to present the fly ten, twenty, and even thirty feet below the waters surface.
Fly rods and reels for deep-water striper fishing should be your standard ten weight outfits. Your success with this type of fishery truly comes down to choosing the proper fly line and utilizing the right techniques to obtain deep presentations. Nothing less than a 450 grain sinking line will suffice. In fact a 550 grain T-14 would all be better choices for depths greater than twenty feet.
For this type of deep-water fly-fishing I prefer a standard fly line rather than an integrated shooting head system. Rio's new outbound series tapers a thin running line to the sinking head, allowing you to gain further distances during your cast, and it will sink faster by creating less resistance when the line is sinking.
The RIO T-14 sinks at around 9 inches per second, a little faster than the L-13 lead core line. It is also one thousandth of an inch thinner in diameter, which is why it sinks faster than other lines with the same factory sink rates. Having a weight of 14 grains per foot, it allows anglers to make their own custom length shooting heads depending on the rod weight they intend on using. This makes casting the T-14 shooting head very easy because the total grain weight of the line will now match up to the line specific rod weight.
Most factory sinking fly lines range in sizes from 200 to 1000 grains. A 200-grain line will sink at a rate of four to five inches per second and a 1000-grain line will sink from 9 to 10 inches per second. The concern with the heavier factory lines (600 to 1000 grains) are that they require the use of 12 weight fly rods in order to be cast, in addition to slowing down the sink rate down tremendously in faster moving mater. The T-14 will sink very fast and can be cast comfortably with a ten-weight fly rod by utilizing the Rio T-14 chart to match the correct head length.
Leaders should be short. I prefer a three to four foot piece of twenty-pound fluorocarbon. I use the fluorocarbon not because the fish are line shy, but rather it sinks faster than regular monofilament. Longer leaders tend to drag the fly down to the presentation depth. A shorter leader with allow the fly to sink with the line. My flies will imitate the seven to ten inch sand eels and the ten to twelve inch sea herring that are generally prevalent at this time of year.
I prefer to use long, sparse flies that sink fast. Popovics jiggies and stick candies are my first choices when imitating sand eels. For the sea herring imitations I use long bucktail deceivers, half & halfs, and Dave Skok's new mega mushy.
My favorite colors this time of year are all yellow, chartreuse and white, and olive and white. Don't be afraid to make your flies long. In the past seasons the longer 8 to 10-inch flies made up for the most consistent hook-ups. Another tip that enable your fly to sink quickly is to use synthetic materials such as ultra hair, unique hair, kinky fiber and angel hair.