Getting a Loch On It
Ken Woodward 6.21.2016

So, you think you know how to flyfish, eh? So did I (note past tense). When fishing my local waters, and even waters further afield, I usually felt reasonably confident that I could figure things out and get into my share of fish, and I often did (note past tense again...). That is, until I was invited to be on a team for the British Columbia Provincial Loch-Style Championships last September. That's when I swallowed a big dose of humility.
When flyfishing lakes I use every legal advantage available to me, including using a decent-quality colour sounder, a side finder, double anchoring when I find fish with my sounder or I know I'm near a typical feeding lane, loop knots, swivel between leader and tippet, split shot and indicator for chironomids and micro-leeches, cone-head flies, flies with more than one bead, throat pump to sample fish and get dialed in to what they're eating, standing up to cast and fight fish, multiple rods rigged with various lines and setups to reduce time lost while re-rigging, casting wherever I desire to cover fish, and even (shudder) trolling when moving from spot to spot. As a result I usually end up doing OK, and sometimes I'm even fortunate enough to hammer 'em. Well, all of those advantages are forbidden in official loch-style flyfishing competition under FIPS-Mouche rules. That's right, none of the equipment or tactics I mentioned above is allowed!
In loch-style fishing, anglers present their flies downwind of a sideways-drifting boat whose speed can be slowed by using a drift sock, or drogue, dragged behind the boat like a sea anchor. Where it is legal, a team of flies is presented to the fish, often representing several stages of insects from nymphs to emerged adults. Attractors are regularly used, too, especially up here in BC where we are allowed to fish only one fly at a time. A lot more water is covered than when anchored and one is less likely to spook fish than when trolling since the fly, not the boat, will usually be the first thing the fish will see. Many loch-style aficionados also feel that this method is more equitable since no one can camp on a hot spot to the exclusion of other anglers. Indeed, in Great Britain, a land of loch-style experts, anchoring is forbidden on many (most?) stillwaters and loch-style fishing is common.
The sum total of my loch-style experience previous to the BC Championships was a few hours practice by myself on my home lake. It was humbling and, pardon the pun, I felt like a fish out of water. It was also a bit intimidating being the only rookie loch-style angler in the competition and knowing that I would be sharing a boat with anglers from other teams, many of whom were seasoned veterans of this way of flyfishing. And, my only previous competition experience was in derbies where I fished with a teammate where we laughed, joked and had fun despite the self-imposed pressure of competition. I had heard and read about "official" competitive loch-style flyfishing and I had visions of having to be stealthy with my flies so my opponent wouldn't see them, my opponent doing the same to me, having to take turns choosing the next drift, and so on. However, I felt relatively confident that I would do all right in the tournament since the venue was Tunkwa Lake, my home water, and Leighton Lake, which is right next door. I knew the lakes and my competitors thought I'd clean up.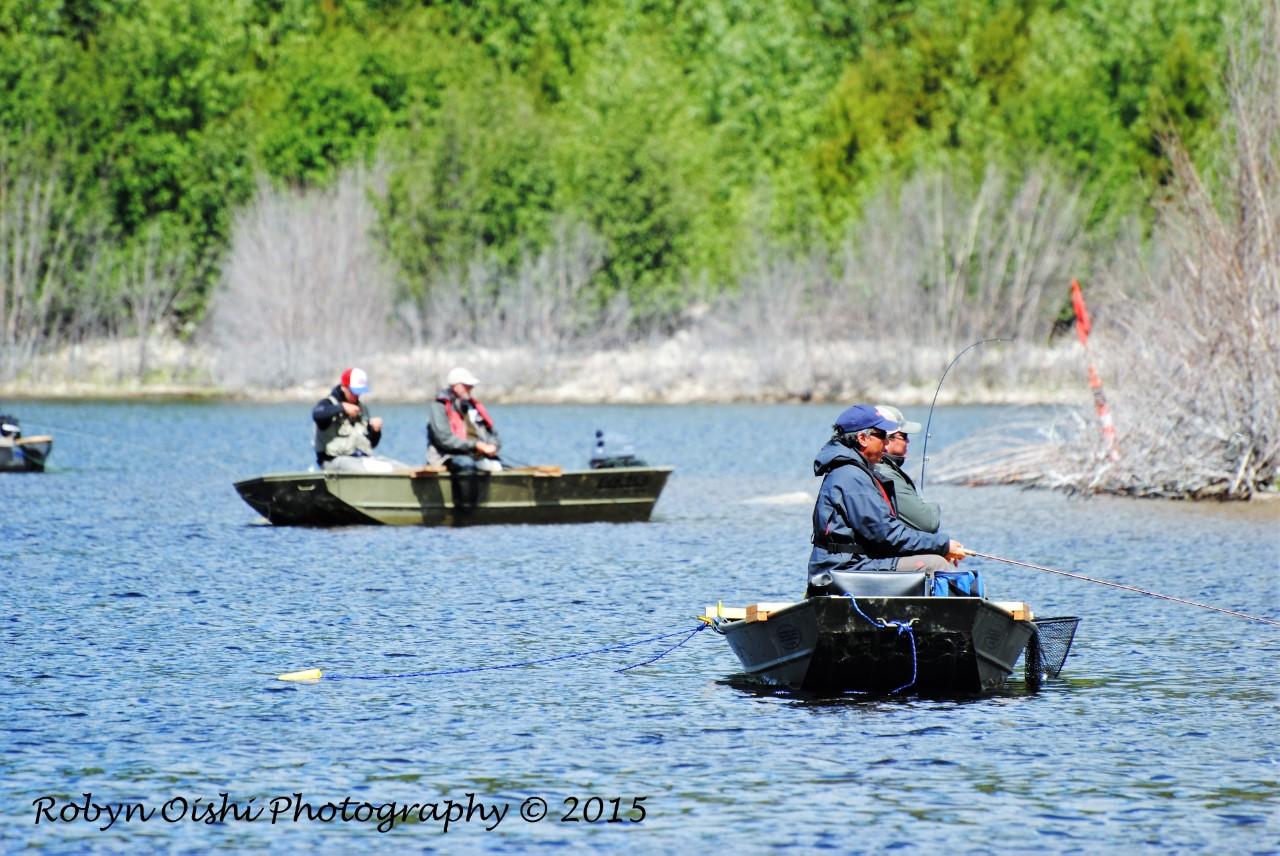 The tournament was a two-day affair with morning and afternoon sessions at each lake. Boat partners from the other teams of four anglers were selected by draw on the first morning. Angling is catch and release and success is measured by total length of all fish, above a minimum size, caught by an angler. Fish are measured in troughs carried in each boat, lengths are written down on a tally sheet, and competitors verify and sign off on each others' tallies at the close of the session. During each session we were only competing against other anglers in our group, and points are awarded based on placing within one's group, with the top angler receiving one placing point on down to the last angler whose placing points equal the number of anglers in the group. So, if there are 10 anglers in each group then the last place angler in a session gets 10 points. Blanking a session - catching no fish - earns an automatic maximum number of points, so it's important not to blank. Interestingly, one can tally more fish length than someone in another group and place below that person. Individual and team rankings are determined by the total session points collected over the two days of competition.
Well, it was humbling to say the least. I found it to be a real challenge to fish from a moving boat with all of the aforementioned restrictions. My normal methods of presentation had to be altered, and often the depth - at which I was only making educated guesses - was constantly changing. However, my boat partners were, without exception, very friendly and supportive - not secretive or uncomfortably competitive at all. My first partner, Alistair, even gave me a fly that was working for him! All four of my partners and I constantly chatted, shared information about what we were doing, and encouraged each other. It was a pleasant surprise. We were supposed to flip a coin to predetermine which of us would command the boat for each half of the session. Since the commander decides where the boat goes and, since one can only cast on one side of the boat, that can be important. Instead, we just had a quick discussion at the end of each drift and then we went to a mutually agreed-upon starting point. It was great to fish with fellows who, while being excellent anglers and very focused on doing well, were also gracious, gentle with their hints and corrections, and made this newbie feel welcome to their competitive angling world.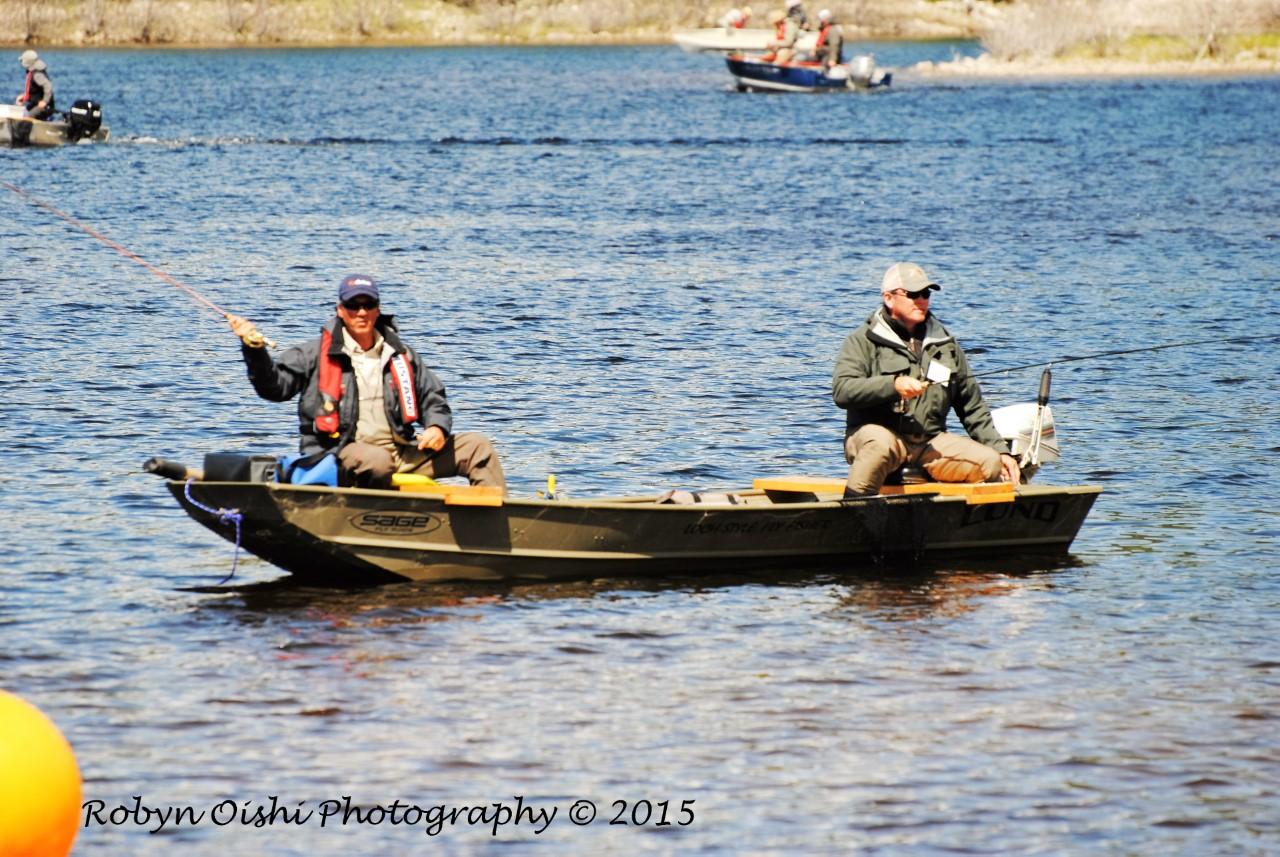 As you can imagine, my main goal for the tournament was to not get blanked since I wanted to do my best to help my team. Happily, I managed to avoid blanking all weekend, but in at least couple of sessions I only managed one hard-earned fish (like I said - humbling!), and I was never so happy to catch one fish! In another session my partner and I got dialed in over a good drift, boated a lot of fish, and we placed first and second in that group which helped both of our scores and our teams. At the end of the weekend, after the points were tallied, I was very happy to see that my team - Team Reel Chaos - earned a bronze medal! Not bad at all.
Loch-style fishing, especially via competition, is definitely worth a try and is a great way to add some slope to one's flyfishing learning curve, especially if you find yourself in need of a good dose of humility. Those who do well at it are excellent anglers and one can learn a lot from them that can be useful when fishing for pleasure. A rich resource of information about competitive flyfishing, including loch-style, is available at
http://innovativeflyfisher.com
/, and a Google search for loch-style fishing turns up hours of interesting reading material.
Finally, if you'd like to mix it up with some crack competition anglers, note that the 2016 North American Loch-Style Fly Fishing Championships are being held at Tunkwa Lake (site of the 1993 World Flyfishing Championships), Leighton Lake, and Trojan Pond - near the town of Logan Lake, British Columbia on June 5-11. See
http://www.flyfishingchampionship.com
for more information. Also, the 2016 Canadian National Fly Fishing Championship & Conservation Symposium, which includes loch-style and river competition venues, is being held on October 4-8 in Merritt, British Columbia, an area well known for its acrobatic Kamloops trout. See
http://www.2016nffc.com/
for more information.