Fly Fishing Lagoons
By Jon Cave 8.09.2012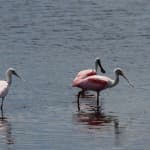 "The Lagoons" is what people call the greater Indian River Lagoon (IRL) system on Florida's east central coast and includes the interconnected estuaries of Mosquito Lagoon, Banana River, and Indian River. While fly-fishing is excellent throughout much of the IRL, it takes on world-class proportions in the waters within and adjacent to the conjoined federal lands of Merritt Island National Wildlife Refuge, Canaveral National Seashore, and Kennedy Space Center. The area is known for its clear water and offers a rare opportunity to sight-fish for a variety of saltwater gamefish. In particular, the substantial populations of redfish and spotted seatrout have made these waters famous since Dr. James Henshall (of Book of the Black Bass fame) first recorded his fly-fishing exploits there beginning in the 1870's.
Tidal and Non-Tidal Zones The lagoons are a highly unique ecosystem and a reasonable understanding of its powerful dynamics is essential for any individual who expects to be consistently successful in these estuaries. Although two of these bodies of water are referred to as "rivers," all three are actually true lagoons – isolated bodies of brackish water separated by land from the open sea. As a result of that segregation, the lagoons, unlike most other saltwater estuaries, are relatively unaffected by tidal fluctuations except in the immediate vicinity of inlets such as Ponce de Leon Inlet at the northern extreme of Mosquito Lagoon. Water movement outside of these relatively small tidal zones is largely the result of wind-driven currents; and, sustained winds from the same direction can raise the water level on the windward side of a lagoon to form a sort of "wind tide" or seiche. Exposed areas can become highly productive as wind-driven currents raise the water level sufficiently enough for fish to swim and vice-versa. Oppositely, the water level drops on the leeward shoreline, and fish tend to move to deeper flats, drop-offs, holes, and depressions when that happens.
Water recharge that comes from rain, coastal inlets, freshwater streams, marshes, and runoff from adjoining watersheds can also affect depth. All three estuaries are relatively shallow with an average depth of 3-4 feet that can vary significantly depending on the amount of runoff/recharge.
In general, fishing the non-tidal zones of the lagoons is very similar to fishing the tidal areas, but you have to think in terms of unpredictable wind-driven water and runoff/recharge as opposed to a predictable recurring ebb and flow. Keep in mind that redfish and seatrout normally face into a current (wind-driven or tidal) when they are cruising and then adjust your fly-fishing tactics accordingly so that any presentation appears to be naturally moving away from a targeted fish.
Unless fish are located in tidal zones located in the immediate vicinity of an inlet, any migration from the IRL to the open sea is minimal. As a result, the ostensibly landlocked fish spend their entire lives in the enclosed lagoon system.
Seasonal Variations The most consistent fishing for reds and trout is between October and July when temperatures are relatively cool. However, the quality of fishing drops significantly during the hottest months because a lack of tides throughout most of the system causes water temperatures to rise to a level that is uncomfortable for most species. As a result, shallow-water sight fishing for redfish and seatrout is limited to either very early in the morning or late in the evening when the water is coolest. While fly-fishing for most species declines in the summer, tarpon are often seen rolling on deeper flats and cruising around drop-offs where they draw interest from hearty flyfishers looking for action in the often stifling heat.
During the summer, the best fly-fishing for all species is usually in the general vicinity of Ponce Inlet where the tidal exchange keeps the water temperate. The rest of the year, the entire lagoon system offers excellent fly-fishing; however, winter cold snaps will drive fish from shallow areas and into the comparative warmth of deeper locations.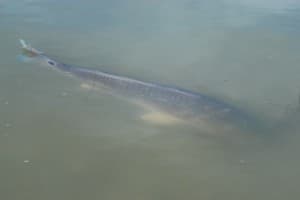 Accessing Fish There are a number of good ways to access the lagoons. Small skiffs, canoes, kayaks, and other light watercraft provide the easiest access to all areas, but wading anglers will find plenty of opportunities as well. There are over 260 miles of earthen dike roads that parallel a large portion of shoreline where a flyfisher is only a few steps away from great fishing. Plenty of guides are available for those who prefer to fish with a local expert.
The IRL offers many unusual contrasts – natural beauty next to space-age technology, peaceful manatees sharing the water with noisy watercraft, and pristine wetlands bumping up against waterfront condos. Despite these curious dynamics, or perhaps even partly because of them, the lagoons remain one of North America's premier saltwater fishing areas and an epicenter for those to like to sight-fish for big reds and seatrout with fly gear.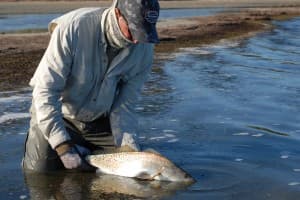 Ecosystems The IRL system is among the most biologically diverse areas in North America. A large part of that diversity is due to its geographic location. Coincidentally, all three lagoons happen to intersect at a point where spartina grass ecosystems that dominate more northerly latitudes overlap with the mangrove-based ecosystems of the south to form an incredibly rich bioregion made up of flora and fauna from both environments. Each of these wetland plants is at the center of a complex food chain, and a variety of sea creatures live in the stems, branches, and submerged roots. The lagoon bottom is dominated by a variety of thick seagrasses throughout most of the system although oyster beds are plentiful in the northernmost reaches of Mosquito Lagoon. This unique combination of geography and biology have created an incredible abundance of plant and animal life in which seatrout, redfish, and other saltwater gamefish can thrive.