Florida Largemouth and Franken-Bass
by Jon B. Cave 1.02.2014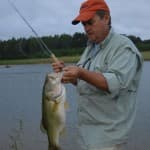 When it comes to flyfishing for largemouth bass, Florida arguably offers the best opportunities in the world. The overwhelming majority of the largemouth population in the State is the Florida subspecies (Micropterus floridanus). One of their predominant characteristics is the ability to attain a greater size than other varieties of black bass. Ten-pounders are caught with regularity and specimens weighing over 15 pounds are reported from time to time. There are also established populations of the northern strain of bass (Micropterus salmoides), but they don't grow quite as large as their cousins to the south although some anglers consider salmoides to be more aggressive.
The territories of both fish overlap in the northern part of Florida and the southern portion of Georgia. And, because the strains are almost genetically identical, there is some natural cross-breeding that occurs in those watersheds inhabited by both fish. Some of these hybrids are believed to possess the best traits from each subspecies – the growth rate and size of the Florida bass and the aggressiveness of the northern bass. George Perry's long-standing (1932) 22-pound, 4-ounce all-tackle world record largemouth is generally considered to have been such a mix.
In order to maximize the most highly valued sporting attributes of each bass, some fisheries biologists in Alabama have developed a privately operated selective breeding program using high-quality brood stock of both subspecies. Their research has produced a Franken-bass of sorts commonly referred to as "Tiger Bass" or "F1 hybrid". The biologists and many anglers claim that these carefully cross-bred largemouth bass are highly aggressive and strong fighters that attain sizable proportions. Unfortunately, their distribution is not yet widespread and most bodies of water where they have been introduced are on private property.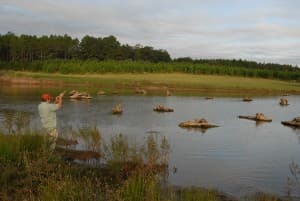 Even though I reside in Florida and fish extensively statewide, I had never been presented with an opportunity to catch the specially bred Tiger Bass until recently when my friend Joe Mahler called with a proposal to flyfish with him for 5 days at Honey Lake Plantation (www.honeylakeplantation.com), a resort and sporting retreat located northeast of Tallahassee. I was enthralled with the opportunity, but frankly skeptical of the super-bass claims. What made his offer even more tempting was that the plantation also had several outstanding floridanus fisheries on the property – each reportedly received very little angling pressure.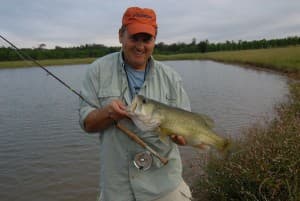 The plantation/lodge is situated among some 4800 acres of beautiful woodlands and rolling fields of native grasses. Several lakes and ponds are located within the property and all offer outstanding fly-fishing opportunities for bass; but, only one body of water is managed solely for Tiger Bass. Joe and I spent 2 days casting for them while walking along the bank using a variety of poppers, eel/worm streamers, and Clouser minnows that all proved productive. Although it's difficult to fully assess any fish's qualities in such a short time, from my experience the Tiger Bass were noticeably more aggressive when they struck a fly, especially when it was presented on the surface, than a typical Florida largemouth of the same approximate size. The initial run of the F1 was comparatively stronger as well, although its stamina didn't seem to be any more lasting than floridanus once they were hooked. Another interesting revelation was that, contrary to the stereotype regarding prime bass habitat, I caught just as many Tiger Bass in open water as I did along the shore, but that may have been a peculiarity to that particular body of water rather than a characteristic of the fish. Our average fish was around 3 pounds, but there are much bigger fish in the pond. Overall, I would rate my flyfishing experience with Tiger Bass as outstanding. They are an exciting gamefish to catch with a fly rod and have the potential to gain the notoriety they deserve once populations become more widely established.
oe and I also spent 3 days casting for Florida largemouth at several different locations including a long pond behind the equestrian area that management claims has Florida bass with the largest average size on the plantation, but they are more difficult to catch. I hooked one monster that easily exceeded 8 pounds, but lost it when the hook pulled.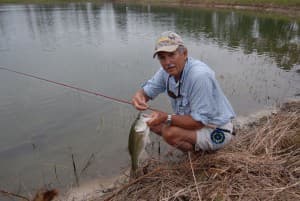 My favorite place was Honey Lake, the plantation's picturesque namesake. Because the lake is relatively large, kayaks are available to allow greater accessibility to the entire area. The water, although dark, is exceptionally clean and supports quintessential bass habitat; a healthy mixture of emergent, floating, and submerged vegetation combined with a perimeter of moss-draped cypress trees. The topwater action with popping bugs was outstanding. The two of us agreed that Honey Lake was the most productive water on the property; and that's saying a lot considering all the excellent fishing we experienced during our stay. Furthermore, we had the entire lake to ourselves! The average bass was around 2 ½ pounds with the largest topping 5 pounds.
Tackle requirements for Florida largemouth and Tiger Bass are the same. Six- through eight-weight outfits are ideal. I matched Sage One and Method Rods to
RIO Redfish Lines
with either 12# or 16# (depending on fly size)
Bass Leaders
. I also occasionally used a Sage Smallmouth II Rod/Line set-up in areas with a low canopy. Weedless popping bugs were needed to effectively fish in heavy cover, especially in Honey Lake; but, Clouser minnows were the most productive pattern in open areas and around drop-offs at the edge of the littoral zone. Eel/worm streamers also worked well, but were a little tedious to fish since they required a much slower stripping speed than poppers and streamers which proved just as effective if not more so.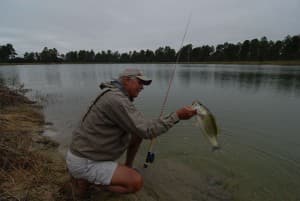 There is no shortage of locations to flyfish for Florida largemouth bass in the Sunshine State, but if your goal is to hook-up with an F1 Franken-bass, then Honey Lake Plantation is a great place to make that dream come true. Moreover, the virtual bass nirvana they've created provides a unique opportunity to sample the best of what each of these two closely related subspecies has to offer.