Float Planes and Big Teeth
by Brian Horsley 4.04.2013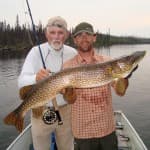 Summer is one of our busy seasons, but this June I had the opportunity to sneak away from work with a good friend and visit Scott Lake lodge in northern Saskatchewan. We went for a week of pike fishing on fly. Scott Lake offers great sight casting to big pike that feed in the warmer shallows. The chance to throw bird sized flies at big, gnarly fish was too exciting to pass up.
After a lifetime spent on the North Carolina Coast, I have saltwater running though my veins, so a fresh water adventure was very different from my day to day fishing. Needless to say, this guide needed a little help planning for the week. Any fishing adventure will benefit from some planning and research, especially one with more "extreme" conditions. My fishing friend Andy was a pike vet and had plenty of advice. Like most good lodges, Scott Lake Lodge had a great check list of information. Besides a tackle list, they had recommendations for clothing and other essentials.
Pike fishing involves throwing big, ugly flies. This is right in my saltwater comfort zone. I planned on taking a Sage TCX 7 weight, 2-8 weights; a Sage Xi3 and Redington 8'3" Predator. and a 9 wt Sage Xi3. One of my favorite lines to deliver chicken sized flies is the RIO OutBound Short. These lines let anglers make quick casts with minimal false casts. They are a favorite for our summer and fall saltwater species. However, the water I normally fish is warm, almost hot, so we use the tropical version. Scott Lake and the surrounding Canadian lakes are cold. RIO makes the OutBound in Tropical and Cold water versions and the cold water version is what this trip needed. I decided to take both floaters and intermediates. RIO also makes a Pike/Musky line as well that many anglers prefer. Do not leave for an adventure and try and make do with any fly line. The wrong line will ruin a trip, so do the research, spend the money and maximize the experience.
Pike have lots of gnarly teeth, so a wire shock is essential. RIO's Powerflex Wire is perfect for dealing with teeth. It is easy to tie and does not kink like single strand wire.
The standard pike flies like Bunny Leeches work very well, but other flies can also be very effective. Bobby Popovic's Hollow Deceiver and Hollow Fly are two saltwater flies that make excellent pike flies. The nice thing about these flies is the way they are tied give them big bulk and profile with out adding weight and they shed water. It also makes them easier to throw. The tying method lets the long buck-tail and hackle pulse in the water. Action like this can get commitment out of a pike with commitment issues.
When you find pike jacked-up and aggressive, try big surface flies. The strikes will make you weak in the knees. Our favorite fly was a big gurgler.
After a very long day of four airplane flights I finally arrived at Scott Lake via a de Havilland Otter. I had forgotten how much fun it was to fly in legendary Otters or Beavers. I met Andy and stowed my gear, then it was time for a big dinner. After an amazing meal, it was time for bed, but the sun was still high in the sky—what's up with that?? A lodge staffer clued me into the 3:30 am sunset, immediately followed by sunrise – good thing I was beat.
The sun was high by the time we got up at 5:30 am. The plan was for Andy and I to spend our first day on enormous Scott Lake. After a 50-minute skiff ride over the lake, we arrived at a remote section. I felt totally lost after the extended weaving ride along rocky shores, low trees and endless horizon. Our veteran guide, Kurt, was in his element and had a super day planned for us.
We started fishing in a shallow lagoon for pike. Andy's eyes were tuned to spotting these long fish holding in the shallow stained water. After missing several fish, my eyes and arms settled into the game. Pike have a seriously bad attitude and their strikes are vicious. In this lagoon the pike were on fire, so Andy announced that it was "popper time" and out came the gurglers. We were NOT disappointed by the vicious surface strikes.
Next, we moved on to a waterfall with a deep pool, a completely different habitat and home to lake trout. Kurt told me that lakers like the fly moving fast, so I tried a saltwater style two-handed strip, He was right! Several husky, 24-inch lakers fell to this strip. While Andy was fighting a laker, a monster pike decided to stalk and eat Andy's struggling laker. It took some teamwork, but we coaxed him to eat my leech instead!
That week we experienced rain, wind, thunder, lighting, and maybe even a touch of sleet, but the fishing was fabulous!