Flats Freaks
William Service 1.12.2021

I go to the trouble to travel to the tropics for the privilege of wading the flats to capture bonefish with a fly and a fly rod. Tarpon and permit don't often show on the islands I've visited with my friends, but there are other big, aggressive fish on the flats that will make your reel hum and your fishing pals holler. When shots at bones are scarce, or maybe to avoid causing panic in a school we've picked a few fish out of, we might decide it's time to tie some wire bite onto the end of leader. I have vivid memory of fighting a big, sassy barracuda that had been following me around the flat, and it was mostly self-defense when I hooked up a lemon shark that circled so close he made my submerged calves feel like shank meat. But during lulls on a recent trip to an outer out-island in the Caribbean, we found different critters to keep our brains engaged and our flyrods bent. We weren't targeting the fastest or the biggest fish on the flats or those whose sexy fish faces have made the most magazine covers; we went after the freaks.
Chris was my partner for this trip and several past. He's a wickedly skilled young fly fisherman who left his fishing buddies, and his high-tech job in North Carolina to worry over the physics and chemistry of fly line manufacturing in a cinder block building on the side of the highway in Idaho. He says he loves his work and that in his off time he's caught Snake River trout on dries 23 months in a row. We miss him, but it appears Chris has found his dream job.
In the months leading up to our trip, Chris and his colleagues had developed some new flats lines that make use of emerging coatings technology and new tapers and line densities and I don't know what all, and they were ready for testing. Waiting for a puddle jumper to take us on the once-a-week flight to the island, Chris showed me a dozen or so slippery new prototypes neatly coiled and organized in a pocket of his gear bag. They all looked delicious and the extra handsome look and feel of the line in the three colors of the Bahamian flag made me reluctant to return it. When we got on the water, those that turned out to be the best, including the three color one that I got to try, loaded the rods effortlessly and shot through the guides like a cannon ball.
"I'm suspicious that I was allowed to participate in line testing so that it could be determined whether the prototype lines might perform well for an unskilled caster. We buy fly lines too."
Check Out RIO's New Elite Bonefish :
Offered in Bahamian Flag Blue, Black, & Yellow SureFire Color Option.
We logged another trip with exactly zero sightings of permit or tarpon. Even the barracuda and lemon sharks were scarce. We were successful enough chasing bones to be satisfied, but when we found ourselves in the inevitable long intervals between sightings and shots, short attention spans had to be tended to. More and more we found we were searching the flats to find all manner of creatures; crabby and wormy, starfish and sponges, frigate birds and flamingoes, and all shapes and sizes of fishes. Then we were thinking and talking more about the weird and cool animals on the flat that might take a fly. We had a loose competition running anyway, and yet another fishing slam seemed to be part of a natural, if completely unnecessary progression. Easy enough, the chase for the history's first Flats Freaks Slam was on.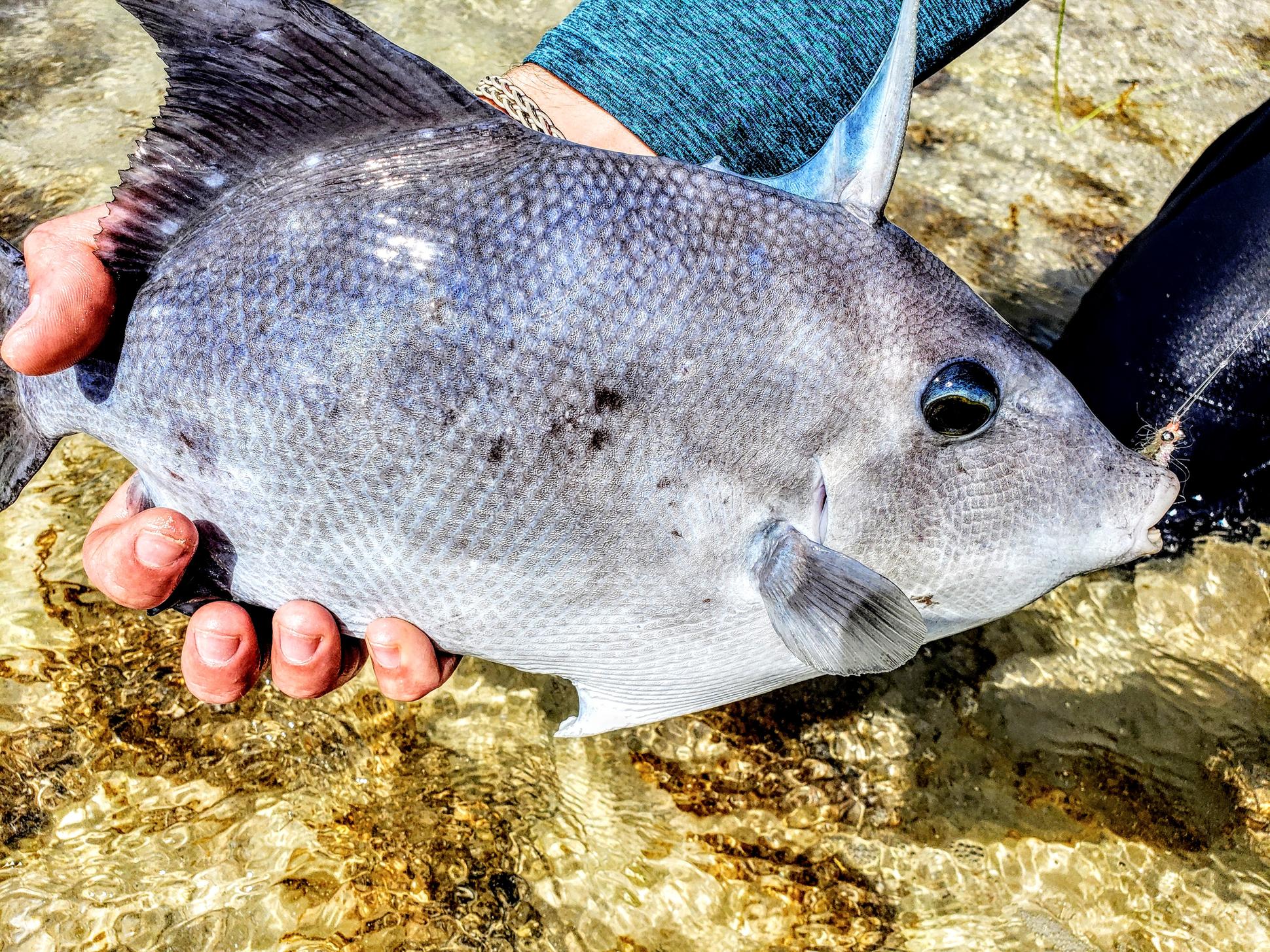 It is well documented that bonefish are hard to see. Learning to spot them on the flats is the hard part of the gig, and nothing but looking and walking happens until you do. But there was welcome relief for searching eyes provided by the triggerfish that wandered onto the flats from the ocean reefs. Even when the sun disappeared behind the clouds the triggers seemed to show up dark as an ink blot. The big ones, too tall to swim upright in skinny water, would flop and roll from side to side, one horsey eye pointed toward the sky and the other toward the sand, while the tail and dorsal fin poked out of the chop, waving like a black flag.
My crab fly with the biggest bead eyes made a heavy landing just a few feet in front of the trigger's lips. There was no immediate reaction from the fish; he kept his course until he accelerated to pounce when he spotted the crustaceous imposter trying to burrow into the sand to hide. The trigger seemed more determined than fast once he was hooked, but he was some of both. When I tried to turn him while he was close, he put his broad side to me and made a run in an arc that made the line sizzle in the water like the horriblest bluegill that ever haunted a Piedmont farm pond. He made a quick turn toward the reef and managed to put a Z shape in my fly line by wrapping it around two coral heads. After some tugging and scraping I got the line off the hazards and brought the trigger to hand before he could lock himself into a coral cave with his spike of a dorsal spine. He was a grey trigger fish, dressed in drabber colors than most of his clownish trigger cousins, with crooked teeth plenty capable of crimping a #4 stainless hook.
Chris came over to see the fish. I sensed that he was envious (he said he was envious) as he had struck out on five or six shots at triggers and we were past the middle of the week. I was surprised to see his eyes light up when I explained, somewhat apologetically, that I had allowed the trigger to drag one of his new test lines across the sharp coral. As it turns out, abrasion resistance was one the line characteristics being studied on this adventure. Chris did a field inspection of the line, found not a mark, and was clearly pleased to have empirical evidence of the durability of a line coating impregnated with a substance so rare and exotic that I was sworn to protect its secrecy (Rhinoceros Horn Powder). Chris made notes in his field book and I checked the trigger off my list. We both ended up getting a bunch before the week was out.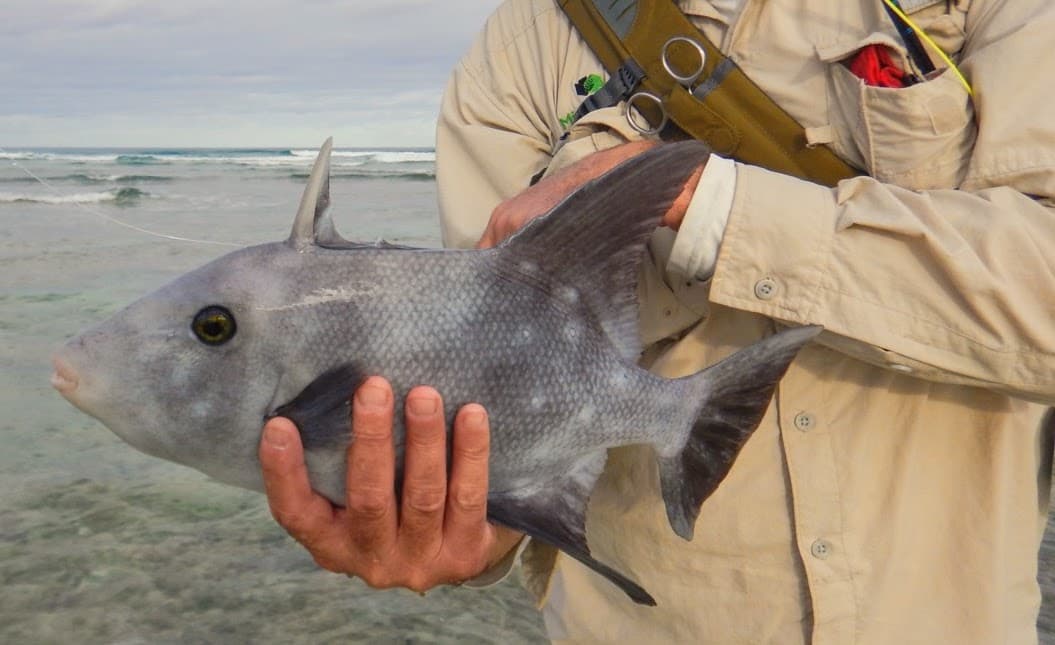 We could not get the boxfish to eat. These smallish bone-plated fish might show passing interest in a fly, parading happily behind the hook to within a few feet of the rod tip only to wander away to what seemed to be more pressing business without a strike or a care. After fussing with a half dozen or so, a mid-sized box took a liking to a fly I had tied with a translucent synthetic fur that may have looked as shrimpy to him as it did to me. He made two tight circles around the fly then put his face down and made a surprising run when he was hooked, getting closer to my backing than any trout I had tussled with in a year. When we were done, I turned the fish over in my hand to study him. He had sad, soulful eyes at the top of his steeply sloped face and what looked like a donkey tail that had been pinned to him by a blindfolded birthday boy. It turned out we were connected by my hook in his dorsal fin. I'm sure he ate the fly, but foul hooks under any circumstances are disqualifying. This was the only box I hooked, my chance at a freak slam was ruined and the fish could rightly claim that he had not been fooled. Chris landed one by the "rules" in a week and had the box checked.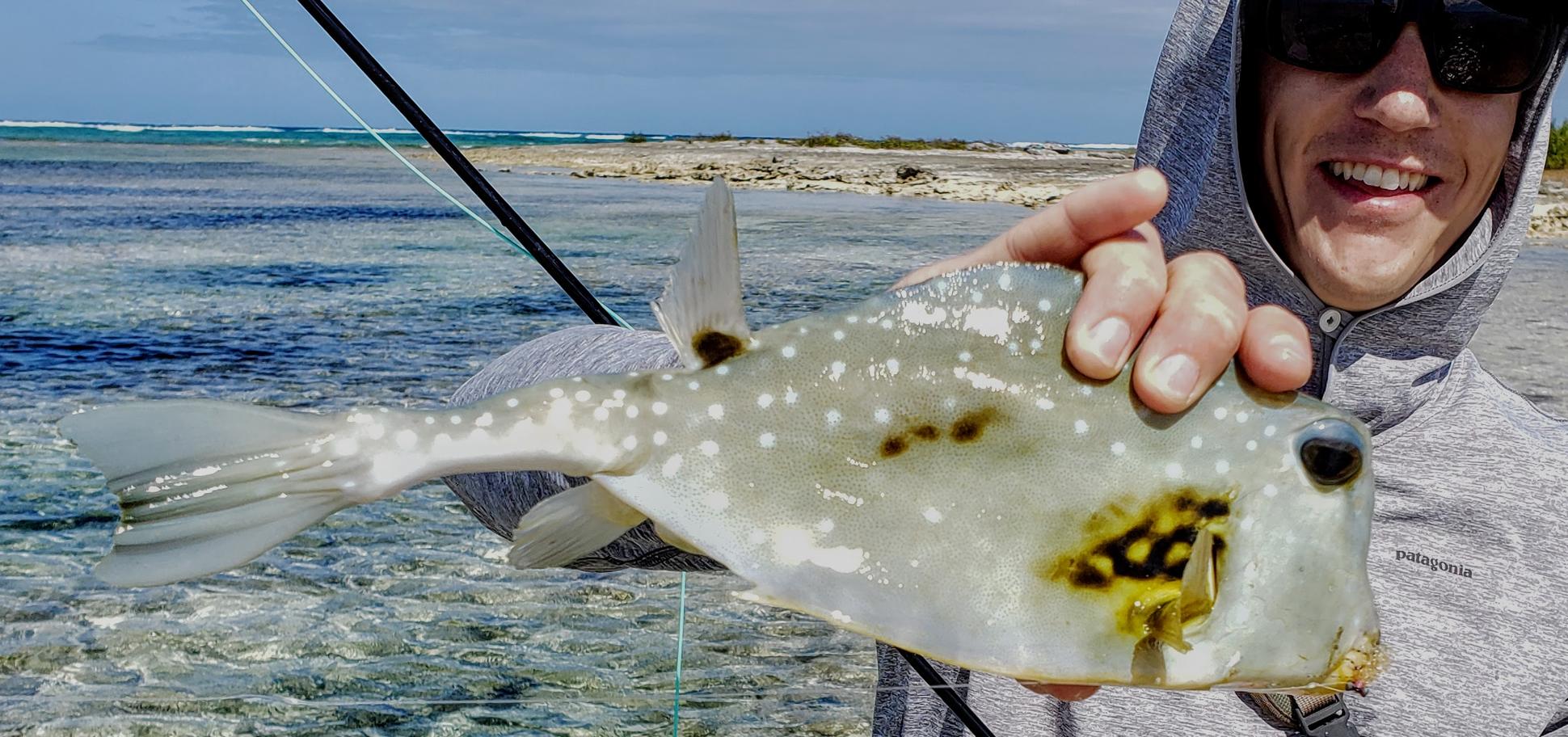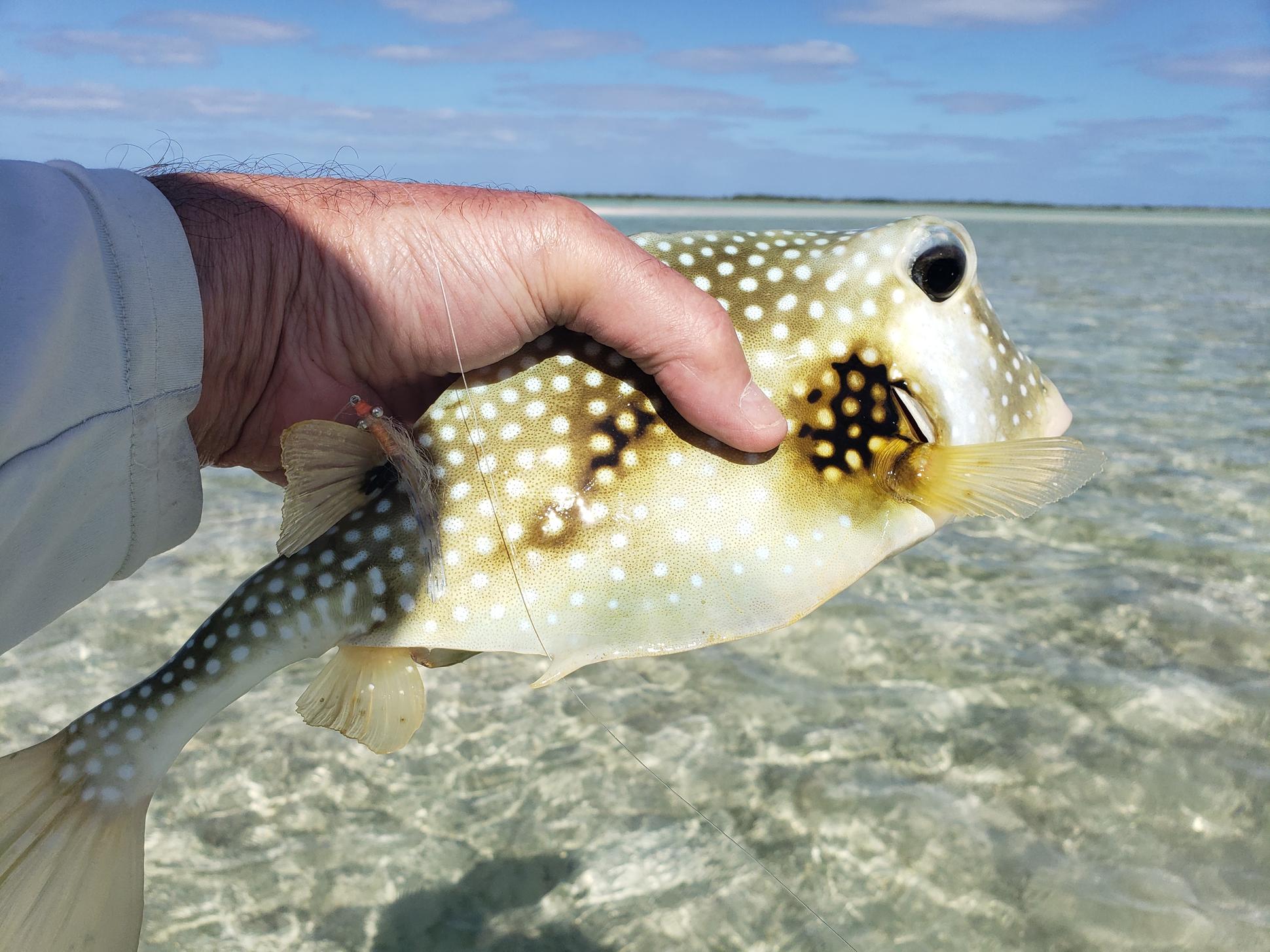 She is especially wary and there is no hope of a take if she sees you or detects your movement. To get closer, Chris crouched into his weird heron-walk that I'd recognize among hordes of fly rod wavers walking the home flat (god forbid) from a quarter mile. Sixty feet from her, he dropped an elegant cast into 8 inches of water. The tiny, unweighted grass fly made a ripple-free entry and settled into the substrate right in her path. He waited for her to approach the fly. She would never chase far, and quick movement of the fly would be as likely to draw her attention as to spook her. Ten minutes in I rolled my eyes a few times and then heaved a loud sigh to so that my impatience couldn't be ignored; "come on man it's a dang snail." He was not distracted. Eventually the conch turned to put her mouth parts, more accurately her "rasping radula", over the fly. After a well-timed trout set (never strip set a conch) the rod bowed over Chris's head and we both yelled. The slightly undersized specimen provided only a quick struggle and it was over. Chris touched his right fist to his heart, looked to the sky and reached down to bring queen conch, the culmination of the slam, to hand. Modestly covering with her claw what she could of the glistening fleshy parts spilling out from under her shell, the queen extended two disturbingly human eyes focused separately to size up the both of us. She saw two long bipeds as bulky as the largest lemon shark on the flats, shrouded in bright colors with predator eyes facing forward. They bared their squarish teeth with the corners of their mouths upturned. As he bent to place the queen back into the turtle grass, a bright tear rolled out the eye of the first, and perhaps the last human to complete the Flats Freak Slam.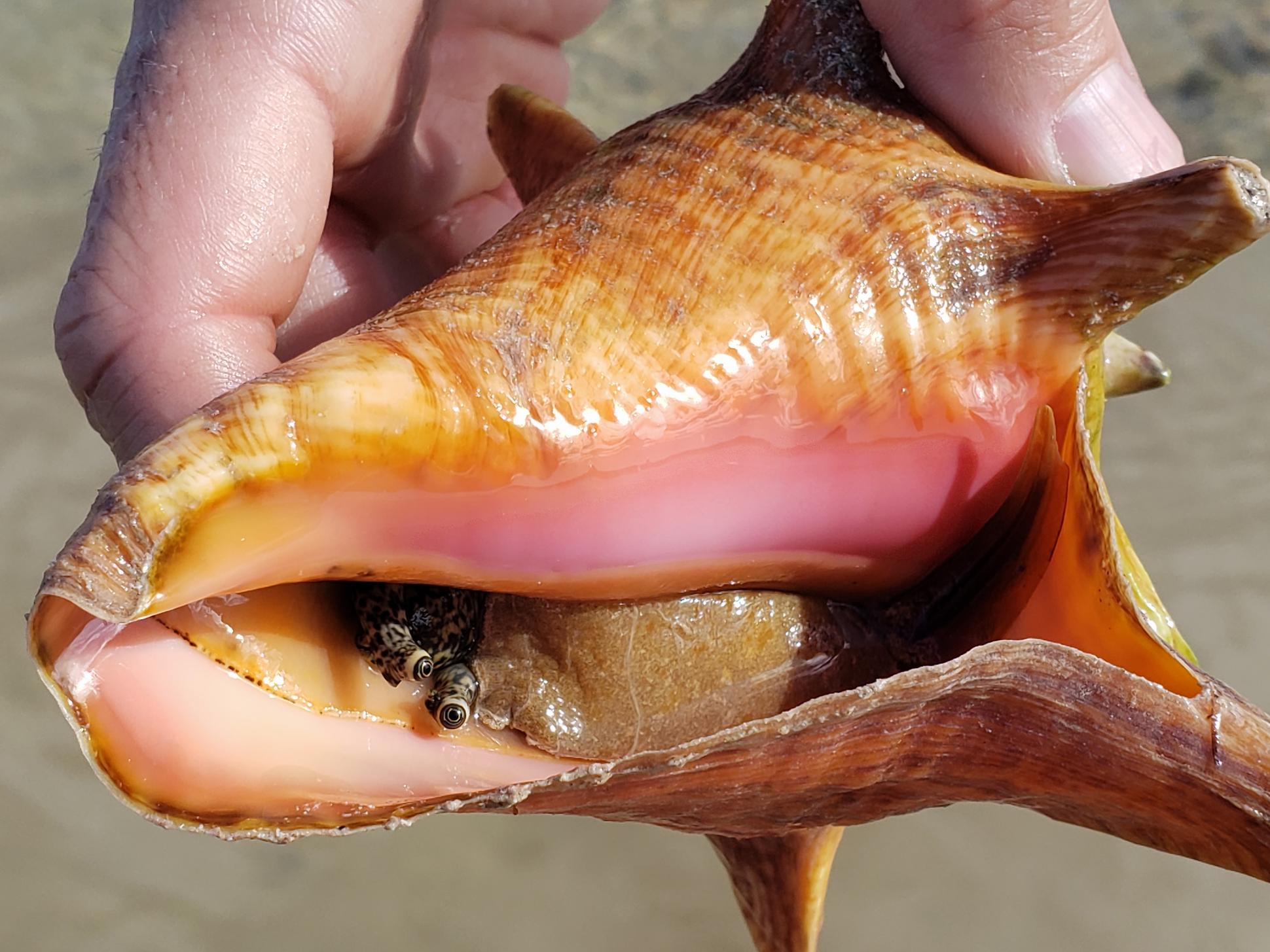 To complete the Flats Freak Slam you must catch and photograph a triggerfish, a boxfish and a queen conch, or some other trio of freaky flats animals. All catches must be made by fly rod, if possible, and all catches must be released, even the conch. Rules may be modified in the field. Submit your photos with dates and corresponding location noted within 60 days and you will receive a Flats Freaks Slam t-shirt and hat, and a Flats Freaks Slam certificate suitable for framing from no one. Try to catch some bonefish while you're out there too.