Five Tips for Better Winter Fishing
Paula Shearer 2.19.2017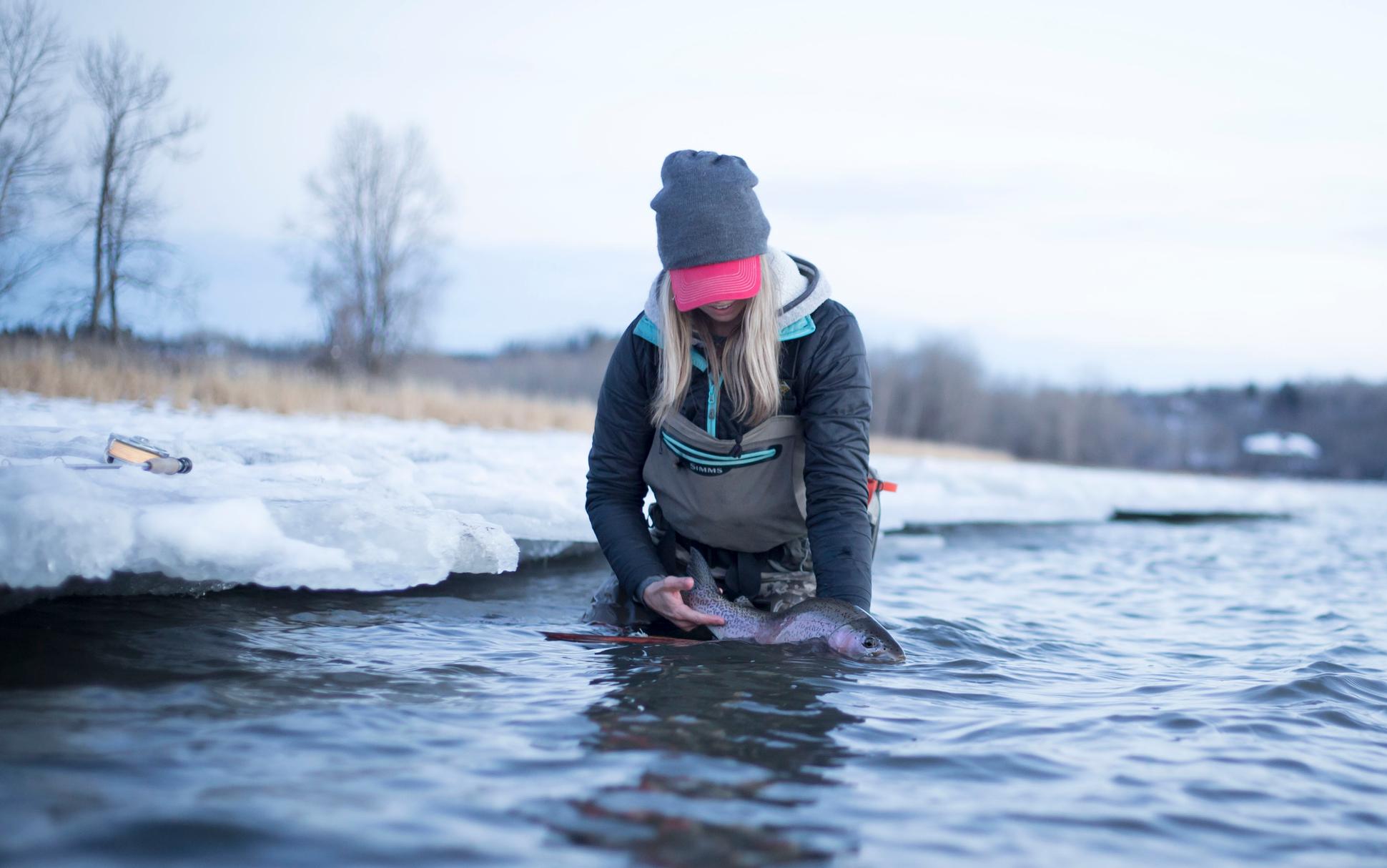 Recently the winter weather has certainly made its appearance throughout many regions. For a lot of people this is a time to hang up the waders and wait for those warmer days of spring, summer and early fall. However for those willing to go out in the cold knowing that your guides are probably going to constantly freeze up, there are 5 things you can do to enjoy the day and potentially catch more fish.
1.When the season changes and the outside temperatures consistently drop below freezing, you can find the temperature can make it difficult to even make a cast, so it is important to be prepared before leaving the house. Wearing the appropriate warm clothing in layers can make an uncomfortable day in the elements that much more comfortable.
2.Winter means cold water and cold water means the fish's metabolism will slow down, so they will seek out slower water to preserve energy. During these colder months, look for slower buckets and seams to capitalize on fish that school up in these areas.
3.During the colder winter months, fish usually don't like to expend a lot of energy feeding. It is during these times that nymph fishing can become the best option to successfully catch more trout. When I am winter fishing, I personally start with smaller flies and work my way up to larger ones. In the winter, small aquatic life forms such as midges are quite active during the warmer days. For those streamer junkies there is still an opportunity to toss these flies even though fish have slowed down. Don't be afraid to throw on a small streamer and start by slowly retrieving it, or even dead drift it as you may find those fish that will move for a larger meal, or just strike out of aggression.
4. Make sure you get your flies down to the bottom. Don't be afraid to put that extra weight on your line either through heavy flies or split shot. During the winter months the fish become less active and rarely move around to feed, instead they become more opportunistic and wait for food to come to them. By getting your flies down, it allows you to get into their feeding zone were the fish are waiting to get that easy meal.
5. For a lot of us we can become impatient waiting for Spring and Summer to make its appearance, but one of the ways we can keep this restlessness away is by enjoying those warmer winter days. During my cabin fever times I am constantly studying the weather to look for the next opportunity to get back out on the river. When you do find those days, don't be in too much of a hurry, sleep in as the most productive fishing usually happens in the warmer hours of the afternoon. Make sure to capitalize on those key hours!
Get on out fishing and enjoy the winter but always be cautious on the ice shelves as they can build up making it unsafe to walk on. Always be aware of your surroundings and stay safe out there.