Fishing Both Coasts
By Nick Curcione 6.28.2012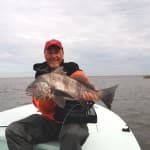 I am not overstating the case when I say have a passion for fly-fishing. It has literally has dominated my life to the extent that I've made major career decisions based in large part on the opportunities I would have to put a fly in the water. Prior to choosing a career is the fact that when you are young you have to play the hand that's been dealt primarily by your family circumstances. In terms of fishing I was pretty lucky in that respect. I grew up in close proximity to Long Island Sound and had uncles who loved to be out on the water.
When I was a freshman in high school my father fulfilled his lifelong dream of moving to Southern California where I traded my beloved Long Island Sound for the blue Pacific, particularly that portion that lapped the South Bay shoreline close to where we lived in Manhattan Beach. I spent most of my free time on the local piers and beaches catching halibut, mackerel, bonito, sand sharks, perch and even some "log" barracuda. The little money I had was used to go fishing on the local party boats. Catalina and San Clemente Islands were considered exotic locales.
In the summer of 1970 I headed east to begin my academic career.This is where I began to fly fish in earnest with bluefish and stripers as the primary targets. Though not as plentiful, I also managed to connect with two species that tend to be overlooked by northeast fly fishers, weakfish and fluke. After three cold, grey, winters I accepted a faculty position back in Southern California. Living only five minutes from King Harbor for almost two decades, I put in over 300 days a year fishing bonito in the harbor. With literally hundreds of miles of unrestricted, readily accessible beach front, the Southern California surf offered new and virtually unexplored opportunities for fly-fishing. As they are today, barred surfperch were the most abundant species. Yellowfin croaker, spotfin croaker, and halibut also spice up the action but the supreme challenge is the corbina. This is the one saltwater species on the west coast that can provide sight-fishing opportunities similar to what you can experience along the Gulf and Florida coastlines. In terms of enticing them to take a fly, they can prove far more difficult than any redfish, bonefish, or even permit.
On the offshore grounds blue sharks were the most easily accessible species but I quickly found that my standard chumming strategy frequently attracted the highly prized mako shark. Drifting kelp paddies on the offshore grounds can also offer some world class action on Dorado, yellowtail and even yellowfin tuna. Inshore, the kelp beds can put you in touch with barracuda, bonito, calico bass, yellowtail and white seabass.
So what measure of fishing wisdom do we derive from this seemingly schizophrenic sequence of bi-coastal transitions? The backdrop for this kind of discussion rests on the well established fact that fishing preferences are highly subjective. Locale determines species, seasons, and accessibility. Obviously where one chooses to live is a major determinant of the type of fishing that presents itself. Any attempt to offer a judgment on the merits of a Northeast vs. a Southern California saltwater fly fishery is fruitless. Both coasts offer a great game fish lineup. The downside for the Northeast is the winter. The other negative is the fact that in many areas the public is restricted from access to the shore. The upside is a fishery, particularly where stripers and blues are concerned, that at times can only be described as fantastic. The major pluses for Southern California are the weather and vast stretches of readily accessible coastline. The simple solution of course is try at one time or another, to fish both areas.
The mainland US is blessed with a great fishery on both coasts and most of the population is within fairly easy driving distance to a coastline. So regardless of where you are, get out there and wet a line