Early Season Dean
by Pete Humphreys 8.01.2013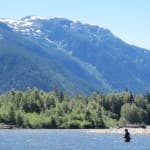 We landed in Bella Coola after a some what "white knuckler" flight from Vancouver. The small twin engine prop plane bounced and jerked as we made the staggering descent though the mountains. Bella Coola is the staging post to gain access to arguably the world's greatest steelhead river, the Dean. We were heading in for an early week in mid July to try for spring run Chinook salmon and steelhead. Danny Hodson was waiting for us as planned. I spied him from the plane window, landing his blue and white Long Ranger helicopter just seconds after we touched down. He was anxious to load up and whisk us away to his exclusive camp on the lower Dean. Along for the ride was my fishing partner in crime, Sean "Quincy" Collins and all the way from the UK, my brother Dave and father in law John Richards. A pair of charming Australian gents, Bruce and Greg rounded out the 6 rod party.
A low cloud ceiling forced us to take the longer route into camp, flying around the sound and up the Dean channel – a 30 minute flight rather than the 20 minute hop over the mountain range. We made a right turn and flew into the mouth of the Dean River; Danny banked the heli down and around and gave us an exhilarating close inspection of the treacherous and violent lower canyon, a half mile of impassable falls that the steelhead and salmon must ascend. How do they make it up? The short flight up the river over giant stands of Douglas fur and Red Cedar, the familiar bank side cabins rising into view as we glided in and gently touched down on the landing pad.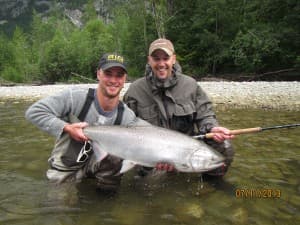 We dumped our gear and headed to the comfortable main lodge, sitting down to a delicious lunch of hearty beef stew. The river was luckily in decent shape as early season can be plagued with high colored water. This year's snow pack was below normal, although the water was higher than I was used to from previous visits in September, we had good visibility and the promise of a dropping river – perfect. We gobbled down lunch, eager to get fishing. I strung up a brace of
8136 Sage ONE's
lined with the
RIO SSVT
belly and 15 foot tips; the first rod with a floating belly, the second with a full intermediate – a line system so versatile I had every possible situation covered, from the chance of a skated dry, down to dredging with type 8 tip on the INT belly.
We were on the river by one o'clock; I jumped in a boat with my bro Dave, guided by Everett Hodson, the oldest brother of three talented and tenacious Hodson boys who run the guiding operations in camp – Everett, Ben and Jon. They are give or take around twenty years old but man can these guys throw a spey line and run a jet boat. They are built like mountain goats and have grown up on the Dean River; hard as nails, excellent anglers, knowledgeable, kind, friendly, hard working and great company on the river.
Ev dropped Dave below camp at the top of a famous pool called Delirious, and zipped me back upstream to one of the excellent runs just above Hodson's lodge. The pool had a classic eye in the head, a long soft inside seem and an enticing bubble line where the faster outside stream met the slower inside current – "Bound to be a fish holding in there" I said to myself. I stripped a couple handfuls off my reel and flicked out my first short line of the trip. Ev motored off to check on Dave. My weighted temple dog tube and type six tip was too much line for this run, especially on the intermediate belly. I was hanging up but quickly cured, switching to the type 3 tip and a lighter fly – it now fished perfectly. I methodically worked down the pool; no pulls or grabs, just breathtaking scenery and a good hours casting practice to work out the kinks for the week ahead. The Dean has such beauty – just being there is a rush, a fish would be a bonus.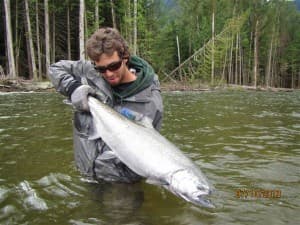 The boat whined louder in the distance as Everett approached from down river, he glided into shore and killed the engine. "No luck for me" I yelled. "Your brothers got you beat", Ev shouted back. "Dave landed a thirty five pound spring salmon".
It's a giant leap of faith to travel eight thousand miles from the UK on the off chance, never mind the expense of the trip, so this came as welcome news and I was delighted Dave had struck on his first day in camp. There were other successes on day one; Greg and Bruce from team Australia had hooked some fish but none to hand. That evening we stuffed ourselves with the most delicious lamb chops, drizzled in a mint curry sauce, served with fresh veggies and a filling risotto. The food in camp is lovingly cooked by Danny's delightful wife Darcy – it's simply stunning, delicious and on the healthy side.
The week moved along, we all landed some fish and found it to be a mix of bright Chinook salmon (the Hodson boys called them Springs, I found myself calling them Kings as we do in Michigan) and a few hard earned steelhead. The Springs seemed to have two choices of behavior; the first was to simply go back to the sea, destroying your tackle, pulling the hook or breaking off, disappearing down the rapids, around the corner and out of sight. The second was a bit like being hooked to an unmovable bag of concrete that is wobbling back and forth on the bottom. I quite liked the first option – rod smashing, unstoppable power, backing gone and a break off. Option 2 was far more exhausting and usually a 20 minute work out. A highlight was a 30lb bright fresh Chinook landed by Sean Collins. Fortunately we were all there to see the fight and this fish had the best of both worlds; explosive early runs where it almost left the pool but decided to stick around, proceeded by the dogged war of attrition. We finally tailed the beast and the hook was almost pulled straight. We cradled it lovingly and "ohhed and arrghed" at the massive silver flanks – it was scale perfect and must have just swam in the river straight to that spot, rested and grabbed Sean's orange temple dog.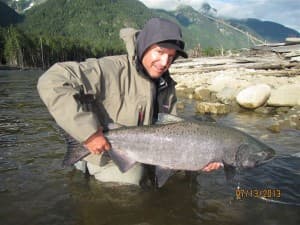 The elusive steelhead, although hard to get a hold of, when they did make a spectacular appearance, surprisingly most of the fish were bigger than average Dean Fish. I wonder if the bigger fish make the early run, like salmon in Norway. The steelhead we hooked were mostly around 15 -17lbs and some where landed that approached the mythical 20lb class. My bro Dave kept his end up, landing a handful of the best looking steelhead you will ever see and I must make mention of a fish that I'm sure was well over 15lbs that handed me my hat. I was fishing the sexy tail out of the bridge pool when my line snatched tight and as if attached to an accelerating Ferrari, one hundred yards of orange backing shot out of my rod tip. The fish held in the top of the next set of rapids and we had a stale mate, as I tried to apply pressure the steelhead resisted. I tried the old trick of slackening off my line which helped to calm the fish but it would not commit to re joining the pool. Ben arrived in the boat and I hopped in. We got some line back on the fish but then it left the pool and bolted down a 200 yard set of rapids and into the run below. We gave chase as Ben skillfully backed the boat down the run. We got the steelhead under control but not for long, it shot off again rolling just under the surface I could see it was over 15lbs and then the hook pulled. What a ride!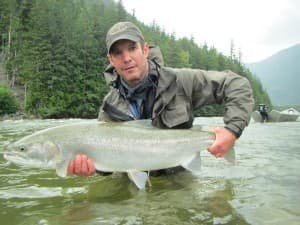 Bridge pool was also the scene of a second epic battle fraught with near disaster when my father in law John got the better of his first BC steelhead, a big buck around 16lbs He was so proud. We had a few extra scotches to celebrate at dinner and later, sat around the camp fire puffing cigars and playing darts. Annoyingly, unlike Cricket and Rugby, Greg and Bruce from team Australia were quite good at darts and would take great joy in handing the Brits a severe butt kicking.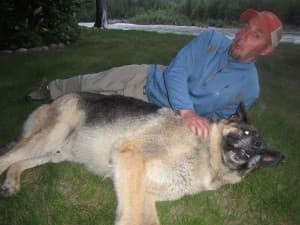 The week flew by as they always do and sadly we were back in the helicopter on our return flight to Bella Coola. The fishing had been challenging but rewarding if you stuck at it and most of us had hooked one or two fish a day, every rod in camp had landed a steelhead. Hodson's lodge is a classy affair and run superbly. I felt privileged to have spent a week with the Hodson family – every member of staff in camp is related and we are lucky to be allowed the chance to share a glimpse into their world on the magnificent Dean River.