Down & Dirty
Barry Beck 2.08.2018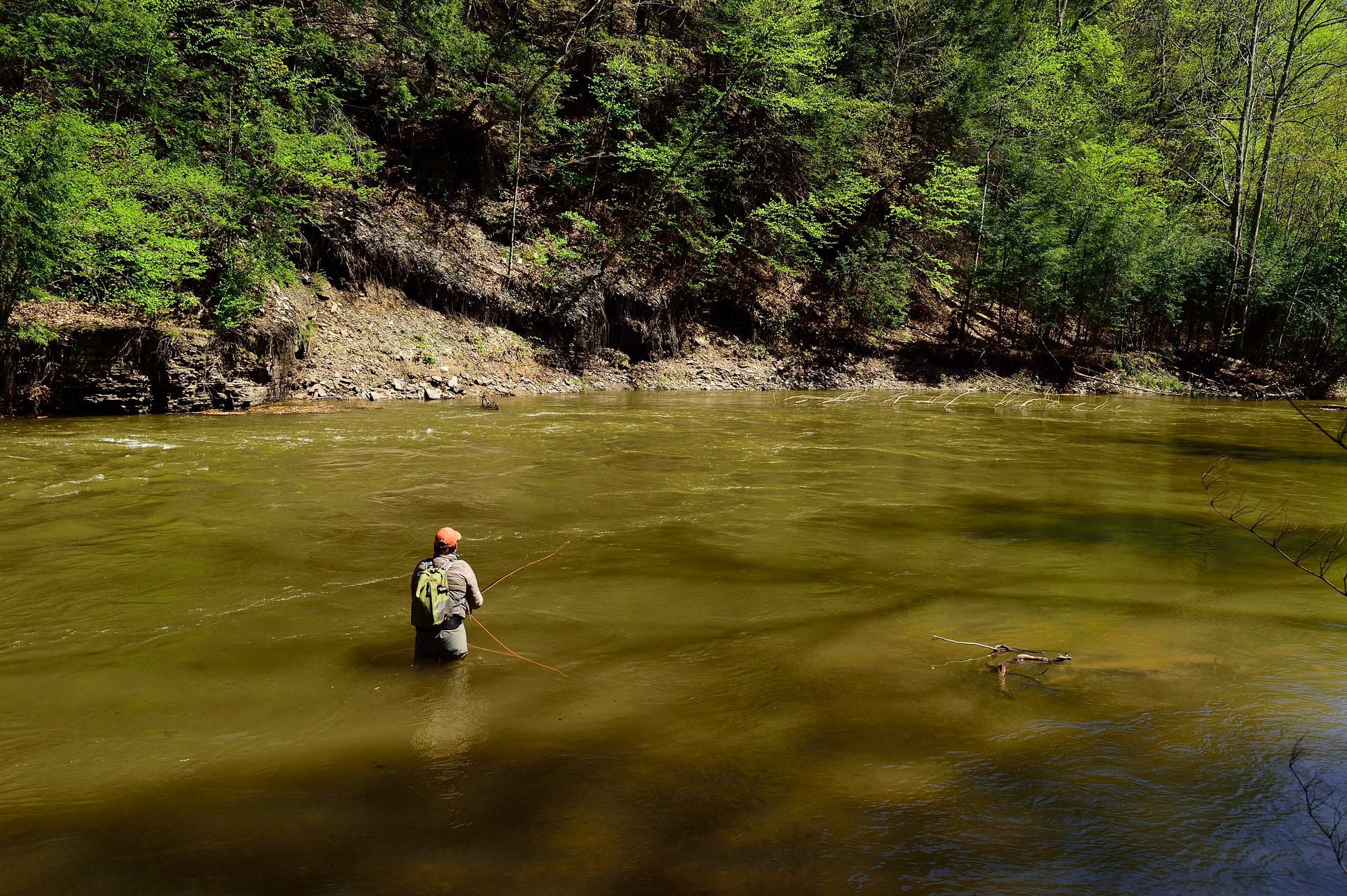 Sometimes it just goes that way, you plan a fishing trip, pick the best time for hatches and water levels, you watch the extended weather forecast and everything looks good. Perfect, you think, this is going to be great. The day finally arrives, you're packed and ready to go. One more quick look around and you're off. Maybe it's just a few hours of driving or maybe a plane ride but, whatever the case, anticipation is high. You arrive at your destination whether it be a lodge, motel or a campground, doesn't matter – you just want to get fishing. You're finally ready to wet a line when.... On the horizon the sky starts to darken and storm clouds begin to move in. You shake your head and think this doesn't look good. You pull out your cell phone and check the local weather and there it is – strong thunder storms and possibly two to three inches of rain. You ask yourself what happened to the great weather forecast you had earlier in the day. Suddenly there's a flash of lighting and the ground shakes with a clap of thunder. You curse the meteorologist thinking how could someone like that get it so wrong and still keep his job. You curse him again as you run for cover.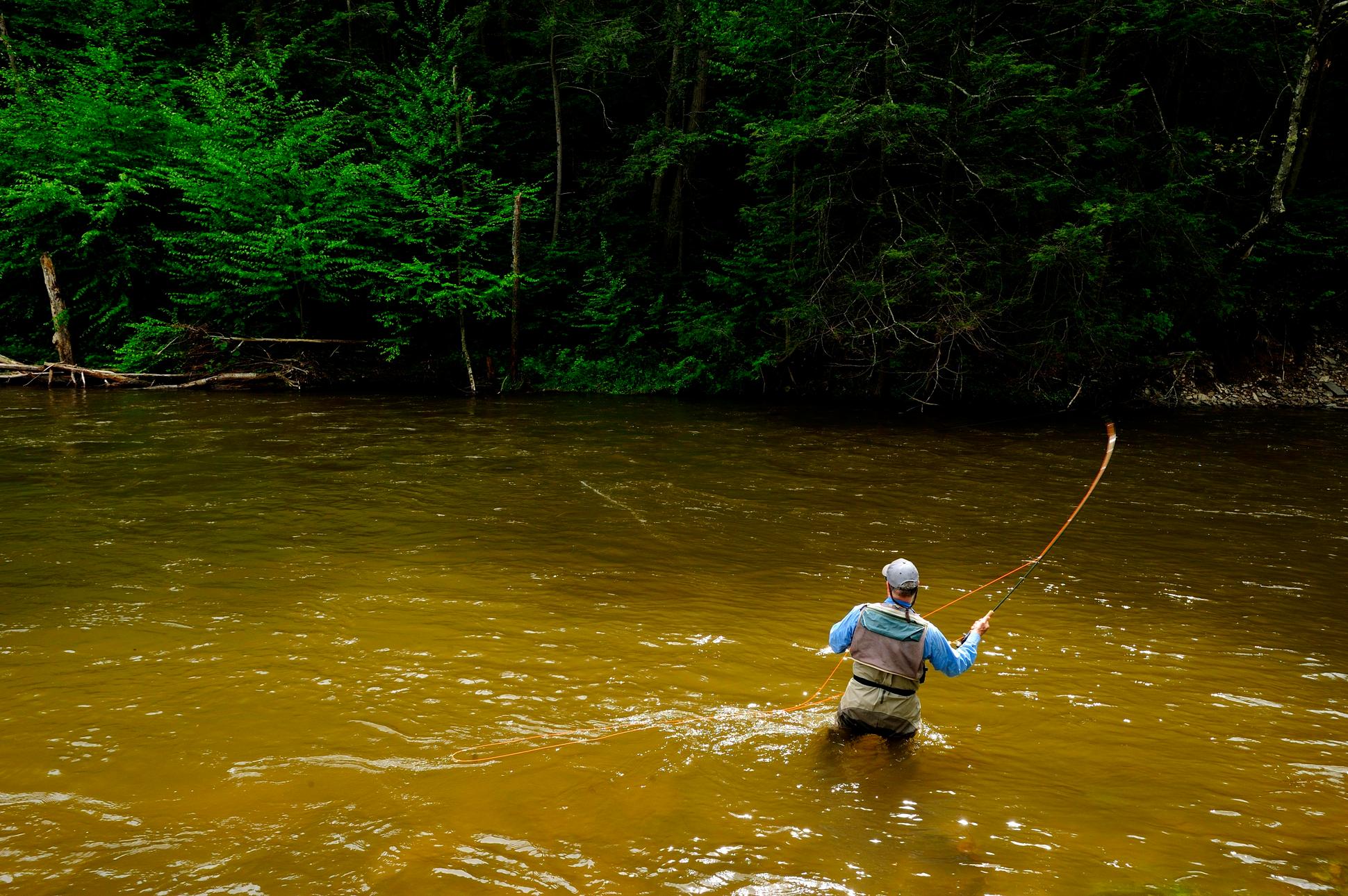 With the storm in full swing you decide to bag the fishing and head to the local bar. The bartender is a fly fisherman and sympathetic so he listens to your whining and your concern about what this storm will do to the river. He tries to be optimistic saying that maybe the river will be okay and comments that the water runs off quickly. He says, "You'll probably be okay," but you can read between the lines. Later on, ready for bed, you check the time, it's eleven p.m., and the rain is still pelting down. You fall asleep full of doubt. Morning arrives and the sun peaks out suggesting a great day. You grab a coffee and drive to the river. The parking lot is empty with no other anglers in sight and when you see the water you know why. Why would anyone want to throw a fly in that high muddy river. When sh*t happens, adapt or die, as friend Ron Tanawaki often says. You think about this for a minute and tell yourself okay, so let's adapt and go fishing. After all, you're here and the fish are still in the river, probably hunkered down on the bottom, but hope springs eternal so off you go.
When sh*t happens, adapt or die
When the above scenario happens to you, think down and dirty. We need to get our flies down and in front of the fish and we need to do it quickly. In dirty water choose a fly that is easy for the fish to find. As a guide, my first choice is always a size 4 black super bugger, a hybrid wooly bugger with heavy weighted eyes and bulky hen hackle body, marabou tail, and silly legs. Along with a super bugger, are black fur leeches and anything else as long as it's big, black, and heavy. It's important to read the water, look for side eddies and slack water where a trout might hold. In high water trout will often pull close to the bank and sit on the bottom. The downstream side of large boulders provide a safe haven so cover these areas carefully making sure your fly is on the bottom.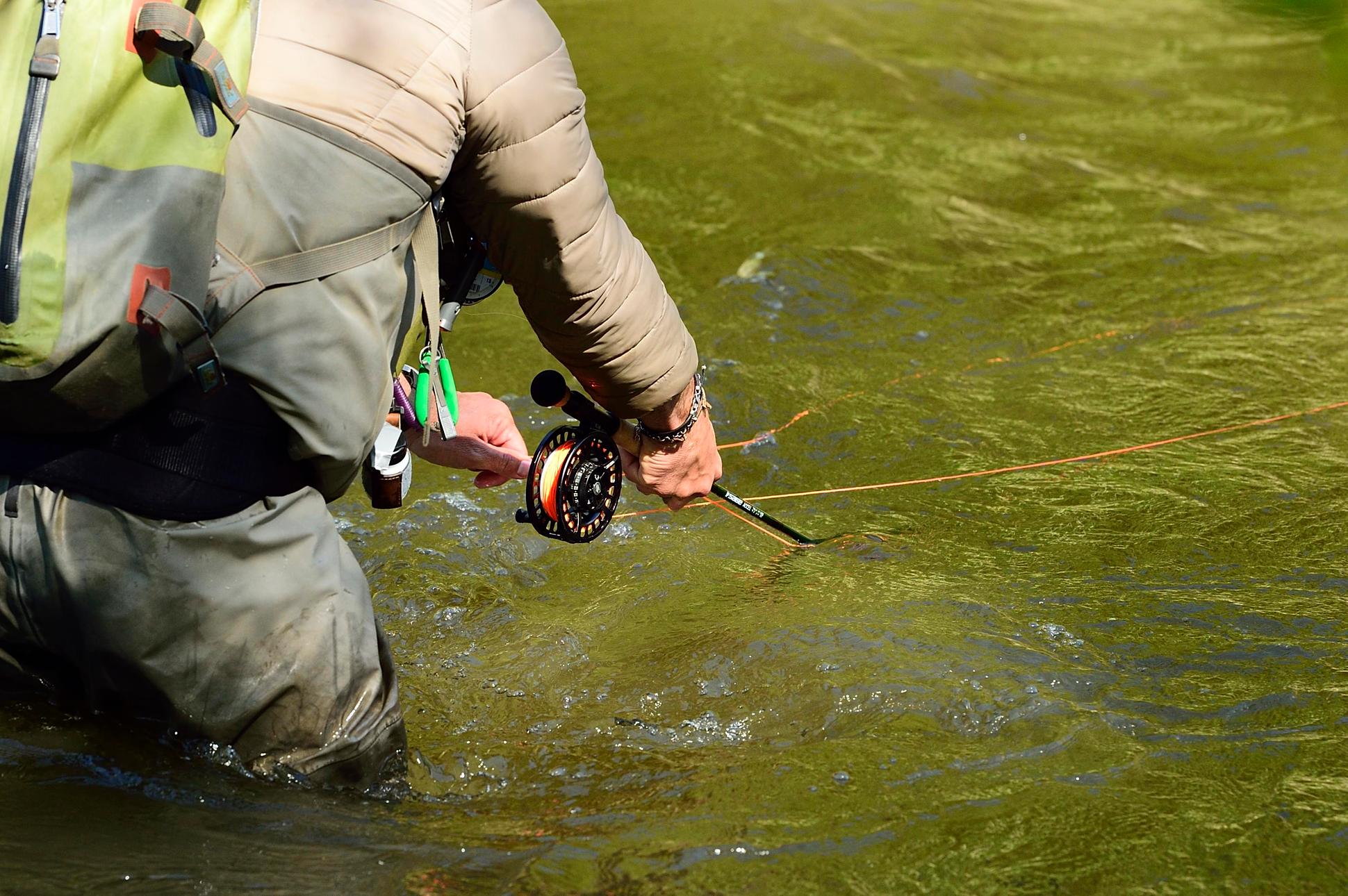 Put away your four or five weight rod and uncase a faster six or seven to handle the larger heavier flies. My go to rod for this kind of work is a 796-4 Sage X. The longer nine and a half foot length allows me to mend better and fish my flies more effectively. I always have a spare reel with a RIO 250 grain sink tip to get to the bottom quickly with a RIO Big Nasty tapered leader – perfect for this kind of fishing. In off-colored water fish are not leader shy, so a short six foot leader tipped out at 16 or 20 pound test works best. I can't emphasize enough the importance of mending and good line control. If you need to get deeper try stack mends, casting upstream and then quick mends one on top of another stacking slack coils of line to allow the sinking tip the to dive the fly deeper. Try mixing your retrieves from very slowly crawling the big streamer along the bottom to high sticking shorter casts so the fly dead drifts and at the end of the drift tease the streamer back to the surface.
Get Down!
When you need to sink your fly to greater depths, the InTouch 24ft Sink Tip will get your fly in the zone.
A few seasons ago Sage owner, Jay Green, flew in from the west coast for three days of dry fly fishing. It was early June and the sulfur hatch was right on time. The evening of Jay's arrival, we had a thunder storm that stalled over the headwaters of the stream. The next morning Jay and I were greeted with a completely blown out stream. It's a long flight from Seattle to Pennsylvania and I could sense Jay's disappointment, but I also knew that no matter what he was here to fish. I grew up on this stream and I knew two pools that might be worth a shot, so we started out. The first pool had water backed into the brush but there was still about ten feet of slack water in front of the brush. Jay started at the head of the pool carefully working a large size 4 black super bugger along the bottom with a very slow, deliberate retrieve. An hour went by with no hit so we pulled out and headed for the second pool. My hopes were dimming.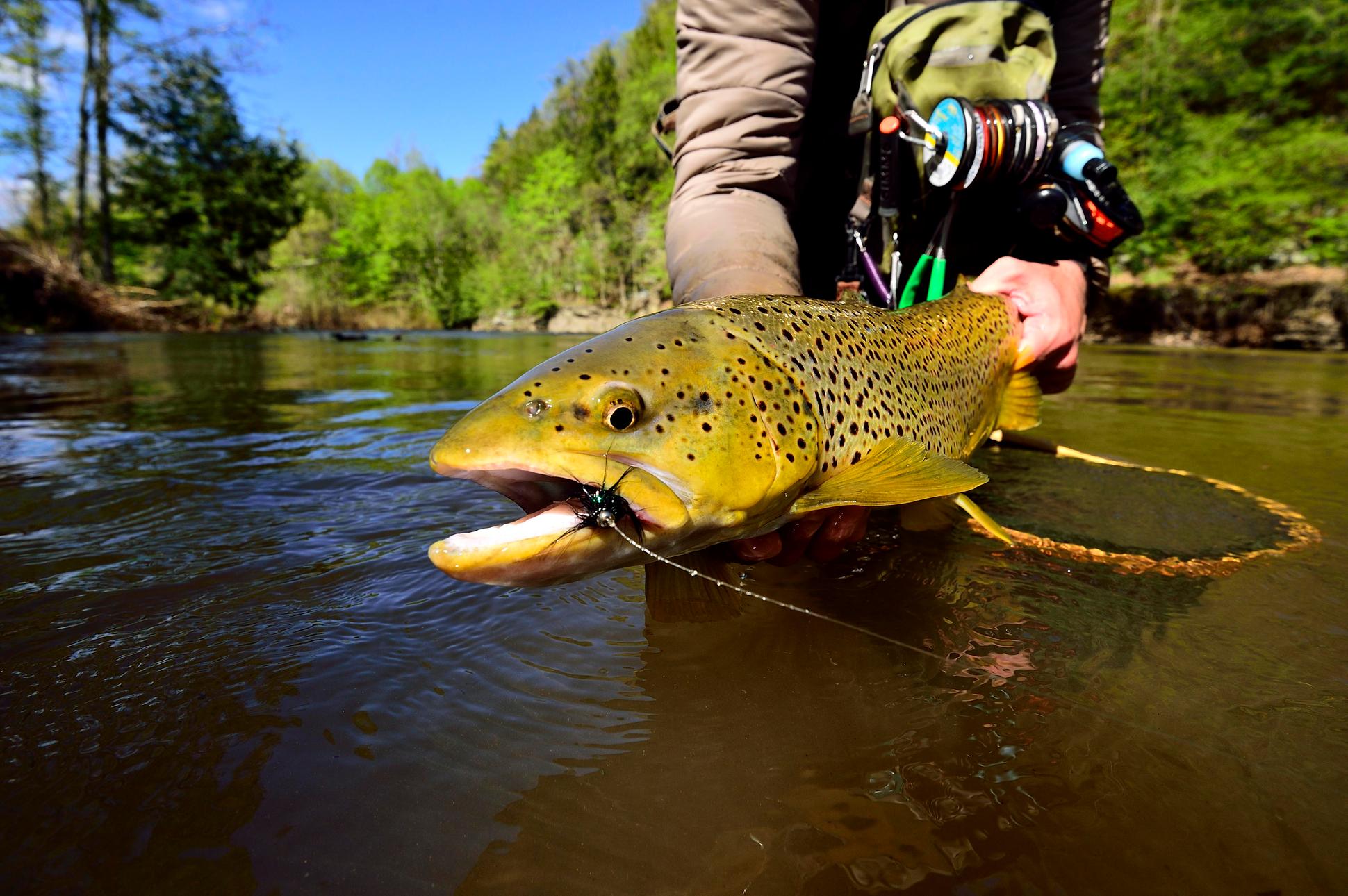 My cell phone rang and a good friend who owned a short piece of water further upstream asked if I was guiding. I replied that I was out but it was pretty dismal at the moment. He told me that I was the only one crazy enough to be on the water, but then offered us to try his water which I knew had a pool with a deep undercut bank. This pool was almost always fishable no matter what. We went and Jay started out working his fly close to the undercut bank patiently mending, mixing it up with slow retrieves. Time passed and I was ready to give up when Jay's rod doubled over, his reel screamed in protest and I watched as the fish made a run out into the heavy current and then in amazement when Jay was able to turn the fish. Most anglers would have lost that fish, but Jay has landed lots of game fish in fresh and saltwater and knew how to play the game.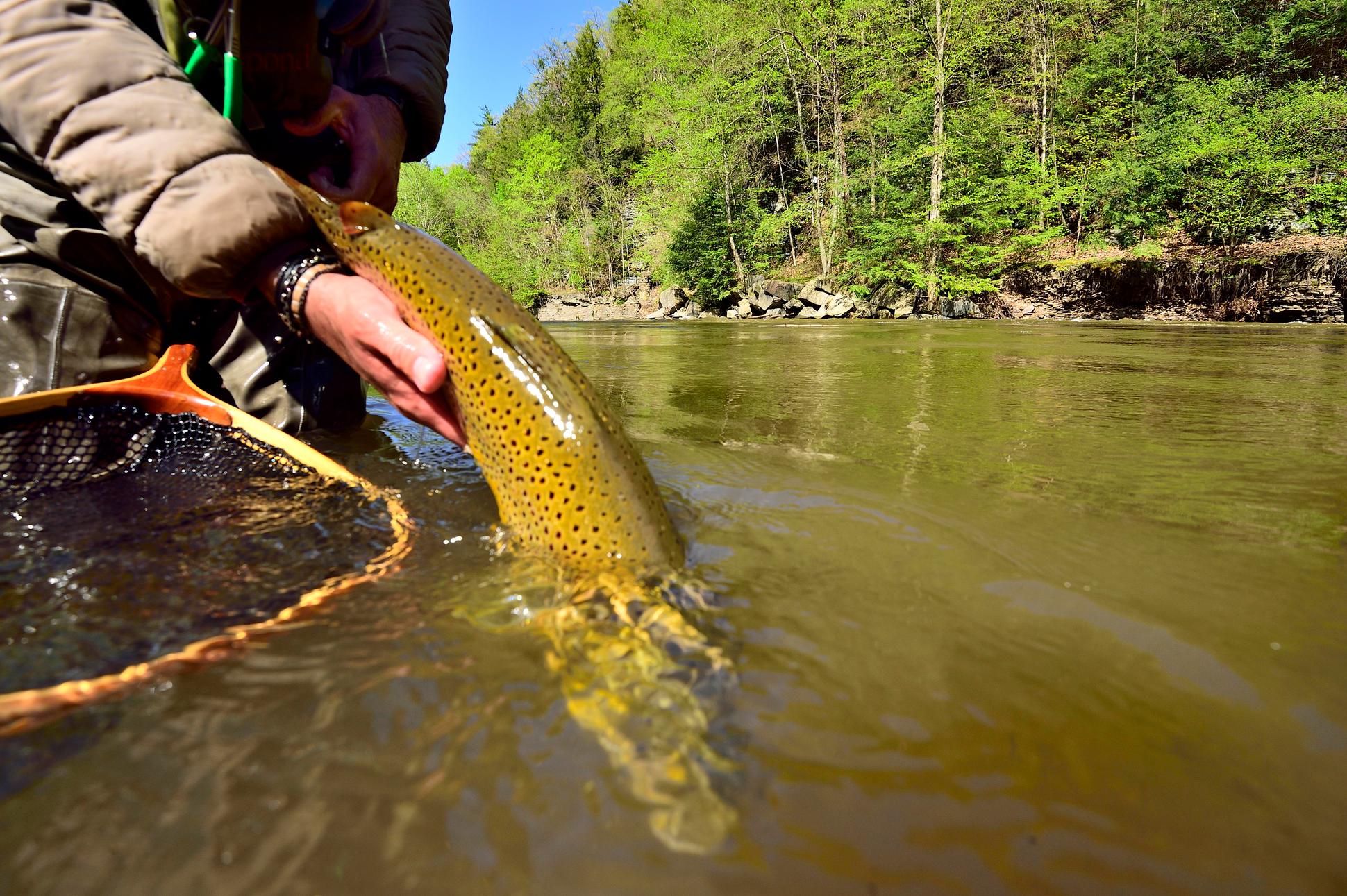 There was no question that this was a big fish and when the twenty seven inch prize lay in the net Jay looked up and said, "Now that's a nice fish," I couldn't have agreed more. Patience and technique paid off. To catch a fish like that would make anyone's day, but to catch a fish like that in those conditions was over the top.