Do You Dangle?
by Phil Rowley 4.26.2016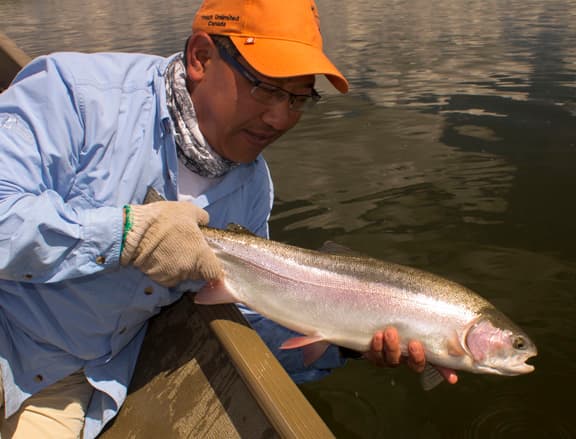 When targeting trout using chironomid patterns most stillwater fly fishers focus their effort in shallow water less than 15' deep. For many, a floating line, leader and a strike indicator is all that is required to be successful fly fishing lakes. There is no denying proven success of this method but there are other ways to fly fish lakes. For example, when trout are targeting chironomids in water over 20 feet a floating line and indicator isn't practical, particularly when the wind is up. Wind often causes you to overpower your casts causing a string of frustrating tangles.
Using fast sinking lines to suspend or dangle chironomid patterns just above the bottom directly below in deep water is a productive alternative to floating lines and long leaders. But be warned dangling is addictive as the grabs are often heart stopping. A student of mine once referred to the take, "Like a train taking a mail bag!" I most often dangle in water greater than 20 feet although you can use this method as shallow as 15 feet depending on the water clarity. Usually, the clearer the water the deeper you need to be. Dangling is a smart presentation option when the wind is up. The short leaders used with this method are easier to cast than the long leaders deep water dictates when using floating lines.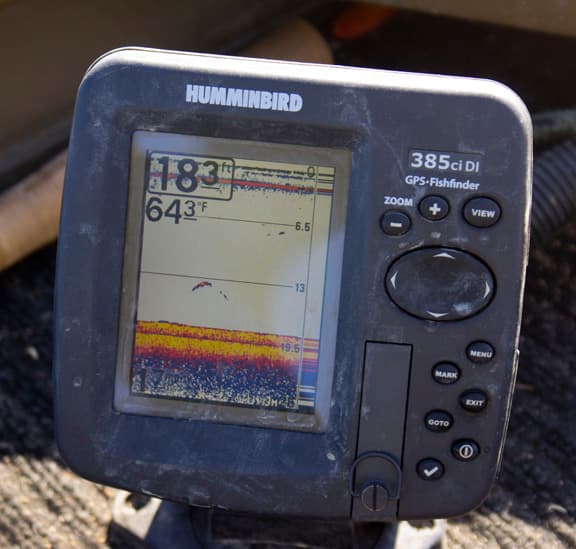 Although any sinking line will work, a fast sinking In Touch Deep 6 or 7 non-stretch density compensated line works best. Leaders are short, often no more than 4 feet. I build leaders using two sections of Fluoroflex® Plus tippet. Start with a three foot section of 2X attached to the welded loop using an improved clinch knot. Add a foot of 3x Fluoroflex® Plus to the 2x section using a triple surgeon's knot to complete the leader.
As fish have to come to you with this method moving around to find fish is common. Use a sounder to locate fish. Look for arches or portions of arches to mark fish. Target troughs or the first deep water refuge adjacent to a shoal or drop off. Avoid arbitrarily anchoring in a deep water basin unless there are signs of a hatch. Watch for birds such as swallows working low to the surface or cast chironomid shucks on the surface as indications that chironomids are emerging in deeper water. Focus your efforts in these areas to locate trout. Work an area for 15-30 minutes. If there are no takers move. Sometimes a short move of two to three boat lengths is all it takes to find fish.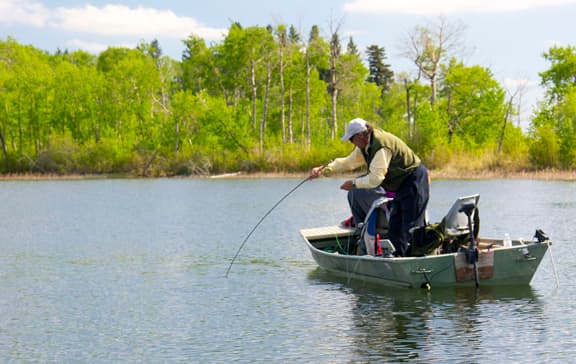 Once anchored over a likely spot you need figure out how much line it will take to hang your flies roughly one foot above the bottom. Begin by attaching a weight such as pair of forceps to your fly. Lower the forceps and fly into the water until they hit bottom. Reel in the line until you pick the forceps off the bottom. The weight of the forceps will bend your rod tip, almost as though you have hooked a fish. Reel in three to four extra turns to ensure your fly is about one foot off the bottom. Strip in the line and remove the forceps. You are ready to go. RIO's In Touch sinking lines feature built in hang markers. Once you have set your depth pay attention to which guide the hang marker is adjacent to so you can easily reset your line and leader after landing a fish without using weight.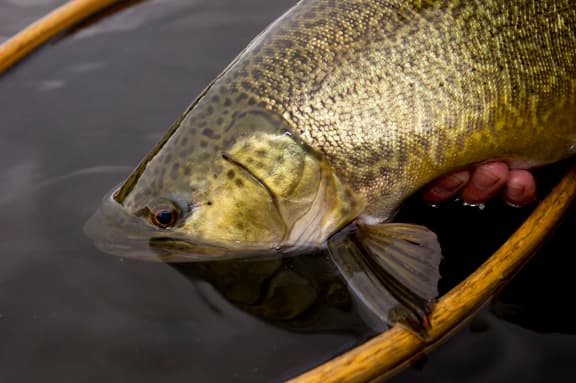 Once your line and leader length is set make a cast. Let the line, leader and fly sink directly below the rod tip. Your casts will seem short. Avoid the temptation to add line. Remember, you set the depth, so once the line is hanging vertically your fly will suspend just above the bottom. Let the fly sit or dangle for as long as you can stand it. If there are no takes begin a painstakingly slow retrieve coupled with pauses to suggest an ascending pupa. Continue the retrieve until the leader is almost in the rod tip. Let the leader hang for a short time and if there are no takers re-cast and begin this process again. The majority of takes occur as the fly suspends just above the bottom or just as it nears the surface. No matter where you are in the retrieve be prepared. Most takes are savage. After a few staggering grabs your dangling addiction should be complete.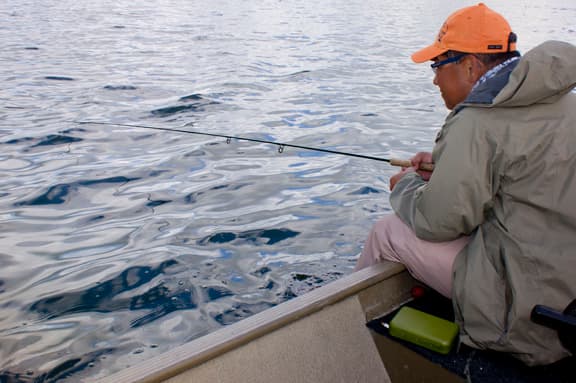 Dangling involves fishing within close proximity to anchor ropes, fighting fish can be challenging. I prefer using long rods, 9.5 feet or greater, as they help steer and control fish. Once you recover from the shock of the initial strike let the fish run. Allow the fish to tire itself away from the boat. Should a fish run near or across an anchor rope steer the rod in the direction of the running fish and follow it around. Do not pull opposite to the run. All you end up doing is pulling the line into the anchor rope. If the line wraps around the anchor rope, don't panic. Fly line around the anchor maintains tension on the fish. Raise the anchor slowly until it hangs just below the surface. Lock the rope and gently move the line off the anchor. Scotty Anchor Locks are ideal as they allow you to raise the anchor one handed so you don't have to let go of your rod. The key is remaining calm and managing the situation.
The next time chironomids are on the menu and fish are not prowling the shoals venture out into deep water and try using your fast sinking line to suspend or dangle the flies directly below. After one crunching take I am sure you will become a dangling addict just like me.