Deschutes Steelhead
by Simon Gawesworth 10.17.2013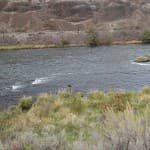 Steve swinging in the "Grocery Hole", downstream of Maupin.
Where: Deschutes – Around Maupin
When: 11th and 12th October
Who: Simon Gawesworth & Stephen Roberts
Conditions: Pretty well perfect! Water 50 degrees and clear. The weather was overcast, no wind, with mild temperatures and occasional light rain
Best Fly: "Steelhead Coachman" and "Engagement"
Tackle: 1) Sage Method, 7126-4, balanced with a Sage Evoke 8 reel 2) Sage ONE, 7126-4, balanced with a Sage Evoke 8 reel
Lines Used: 1) #7
Scandi Short VersiTip
, with 10 ft intermediate tip, attached to .026" ConnectCore Shooting line. 2) 480 gr
RIO Scandi
, attached to .032" ConnectCore Shooting line.
Technique: Swinging wet flies
Report: RIO's marketing manager, Simon Gawesworth, and UK line tester, Steve Roberts, hit the Deschutes for a morning, afternoon and evening session, hunting some steel. A quick stop at the well-known Deschutes Angler Fly Shop on the way to Maupin revealed that there were fish around, but not a lot being caught. The two anglers picked up some local flies that were to prove very successful. The John Hazel designed "Steelhead Coachman" and the Amy Hazel designed "Engagement" ended up being the productive patterns -which just goes to show the value of local knowledge!
The river was clear, and ran around 50 degrees in temperature, and with ideal weather conditions hopes of a grab or two were high. The main downside of such good conditions at a prime time of year is a busy river, and almost all the main pools from Maupin downstream had anglers in. Not finding much access Simon and Steve resorted to prospecting tactics – fishing small pockets of water that were less fished, and then moving on to the next "pocket". In most of these pockets, the slower inside seams were fished, resulting in casts of less than 30 feet, and this proved a very successful technique. Three of the four steelhead landed were caught in these pockets with such short casts, and it is a good tactic to remember on more heavily fished waters.
The first steelhead landed was a beautifully colored native male fish of about 8lbs, on the Friday evening, which took the fly about 6 feet out from the bank. The next two fish (Saturday morning) were around 5-6lbs, one coming from right in front of a log jam, in the soft water, and the other in a perfect "fly-water" bucket, that was on the inside edge of a violent maelstrom of current. Simon, who caught this fish, said it took so softly that only the ultra-low stretch of the
ConnectCore shooting
line that he was using enabled him to know the fish was there, and to make him react in setting the hook. The last fish of the trip was caught about 11 o'clock on the Saturday morning, and again was caught on a very short cast. This fish hit the fly so hard and fast that it was instantly on to the backing and across the other side of the river. This fish was about 8lbs, and with very little color on it, indicating it had not been in the river system a long time. All four steelhead were native fish.
The main takeaways from this trip were:
a) The intermediate tip outperformed the full floating line by 4 to 0 – definitely the line of choice this time!
b) "Prospecting" by hitting small pockets that are left alone by the majority of anglers was far more productive than fishing the more established, and heavily fished pools. 3 of the steelhead were caught in such "pockets".
c) The sensitivity of the ConnectCore shooting line certainly resulted in at least 1 steelhead that would not have otherwise been caught.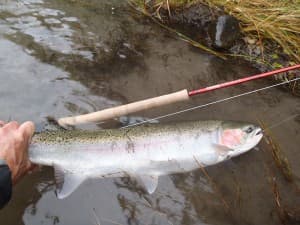 Landing a very feisty, fresh native steelhead that took the lucky angler on to the backing instantly,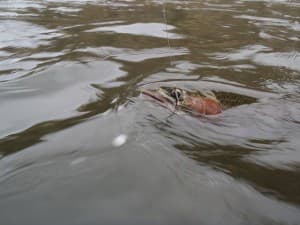 Landing a very feisty, fresh native steelhead that took the lucky angler on to the backing instantly,