December Fan of the Month
Stephen Roberts 12.04.2017
My name is Stephen Roberts and I live in London, UK. Although I'm on the doorstep of the River Thames, unrestricted pollution from the industrial revolution of 18th Century killed all the Atlantic salmon and native brown trout. So having no local water resource, of necessity my fly fishing involves travel. Its as easy to head overseas as well as staying in the UK, and in doing so, fishing for a wide range of species and in very different conditions.
Most Memorable Fishing Experience
That's a hard one as I absolutely love all my time by the water - even if its not always catching fish. Taking 2017, my first trip of was to the River Tweed in Scotland in April, one of the UK's most prime fishing rivers forming part of the border with England. Favorable conditions led to 2 nice fresh salmon in the net. Then it was on to Belize in May, successfully catching numerous bonefish, a snook and a permit but losing 2 tarpon - oh well, that's fishing but still a great experience!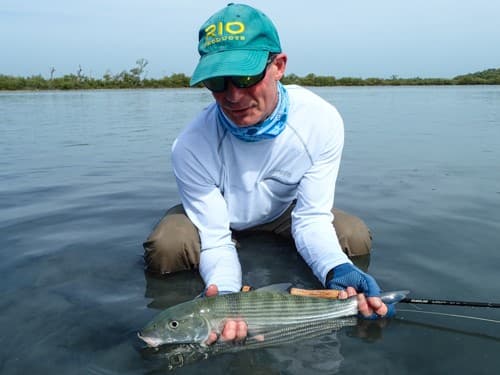 Back in the UK, from June on wards the gin clear waters of the Southern chalk streams come into their own, where fishing for brown trout is at its most challenging. A nice brownie in the net is just as rewarding. In July, I headed to the Kola peninsula in Russia, fishing again for Atlantic salmon. Thanks to the amazing luck with conditions, I hooked over 30 large fish, landing 23. That was a pretty special time.
More recently, it was to the USA, fishing for steelhead on the rivers Cowlitz and Kalama Washington. I was enjoying the casting and the scenery so much, I had actually forgotten it was the fish I was after, so was pretty shocked when the line jerked with the aggressive take from a 10 lb hen.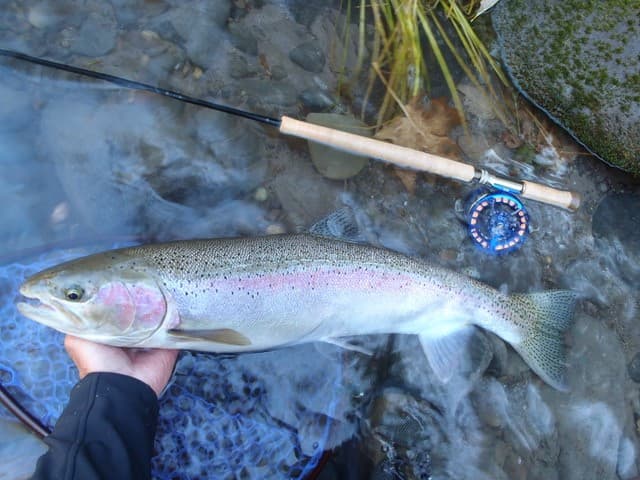 And then it was on to Craig in Montana for brown and rainbow trout. Success came from both bank and boat, with a wide variety of trout-spey and single handed rods. All these days are memorable experiences, made by the people I fish with as much as the fishing itself.
WHICH RIO FLY LINE DO YOU FISH?
Simple - the line that matches the rod and the type of fishing technique I'll be doing. For example, a RIO light-line when fishing dries or a RIO Big Nasty when using streamers. I do though always use in-touch lines whenever possible as I firmly believe that these detect a fish take far faster than other types of line. I also think that these help casting technique as well as it removes the elasticity from the set-up and thereby putting more power through to the taper.
WHAT'S YOUR FAVOURITE FISHING TECHNIQUE?
I really don't have one. I am as happy with a 6' Redington Butter Stick in a narrow stream as I am swinging streamers using a double handed 15' Sage X. What makes all this so easy though is thanks to the amazing range of lines made by RIO that make it possible to fish a size 20 dry fly through to a 2/0 tarpon fly and everything in between. The lines RIO have on offer enable fishing in a wide variety of situations without the need for the technical ability of the professionals.
ANY TIPS FOR FELLOW ANGLERS?
Whenever and whatever type of fishing you're going to do, don't compromise the experience by not having the right equipment. Anglers generally concentrate on just the rod and reel, and underestimate the importance of the fly line itself. I always take a selection of fly line models, making a selection at the water's edge when I've seen the conditions and decided on the technique I'll be using. The fly line I will then put on to the reel will always be the one that will the size of fly whilst giving the lightest presentation.