Crooked Island Bonefishing
by Sarah Gardner 4.27.2015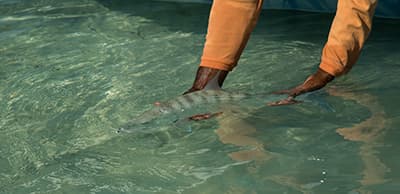 It turns out you can teach salty old dogs new tricks—especially when you throw them a bonefish
For most fly fanatics, bonefish are their first saltwater quarry. But our 2015 Crooked Island Lodge group was quite the opposite. That's because they were already seasoned false albacore anglers, all well-versed in targeting fish species in the salt. Indeed, as I looked around the breakfast table on the first morning, I mentally tallied the thousands of albies released by the folks in this group.
On the second pass through the group I noted the hundreds of sailfish, dozens of tarpon, and handful of marlin landed by these folks. This crew could obviously handle big rods, big fish, and bad weather. But bonefish are different, and the few bone veterans in this group had several years of rust to polish off. As the last breakfast plates were cleared, the palm fronds went from lightly fluttering to vigorously flapping. It made me feel anxious about their ability to adapt.
Brian and I brought our crew to Crooked Island Lodge because of its warm southern location. During most winters, Crooked's bonefish flats are generally immune from the cold fronts that whip across the Eastern United States and down into the Northern Bahamas. But in 2015 that reputation for immunity was tested, and things got a bit breezy and chilly. Luckily we knew our guides could find fishable conditions in a hurricane, thanks to Crooked's vast and varied flats.
When we arrived at the lodge I took several people out on the airstrip and we worked on casting. As a host who also guides for a living, I think it's really important to work with people during big trips. Before they get on a boat, I can help fix casting problems and practice executing the situation-specific casts they will need in the field. Casting practice helps me match each client's personality with a guide. It also allows me to assess and address tackle issues.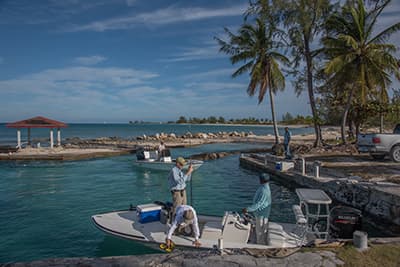 Thankfully we are able to "tweak" gear before people get on boats and into trouble, but rarely do I find a bad rod. Some folks on our trip had new Sage SALT rods, while others had older "hand me downs," such as the Sage Xi2. One tactic I do find solves a lot of casting problems is switching fly lines and adjusting leaders. Everyone in our group followed the tackle packing list we had prepared to the letter, probably because they'd had such good success with other RIO Saltwater lines. Equipped with
RIO Bonefish
or
Bonefish Quickshooter
lines paired with
RIO Bonefish leaders
, everyone was enjoying good fly turnover—perhaps too good.
We practiced double-hauling, and aimed at targets from different casting directions, which gave them a good dose of casting into the wind. I also stressed listening to the guide and trusting his instructions, especially as they learned how to sight and see fish. Even though I repeated the promise of great guides and leeward flats to our group, my stomach still knotted up when we arrived at the marina—we were greeted with whitecaps and ocean spray flying over the breakwater. Would they be able to hear their guides in this wind, much less cast into it?
While Brian, Shakey, and I wrestled successfully with difficult conditions, I worried for my peeps. The wind was extreme, even for Crooked Island. When we got back to the dock I could see our people from a distance, but I could also see smiles. Better yet, my two gals caught fish! In fact, almost everyone caught fish that day. Phew. We spent dinner debriefing, answering questions, and troubleshooting. This dinnertime process was repeated nightly for the entire trip.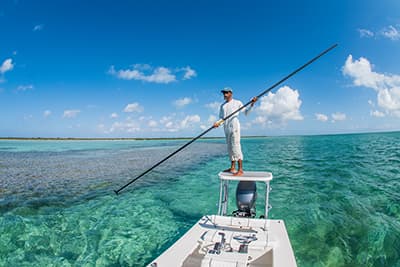 The bonefish were testing their skills. They were learning that smashing flies into pods of fiercely feeding albies, stripers, or bluefish is not the same as casting to a bonefish. They really had to learn how to balance turning the fly over but not spooking the fish with a loud splash. Everyone whined about the wind, but they got better and caught more fish every day. Finally, they were grinning when got a calm day, but Brian and I just smiled, saying nothing as people happily jumped aboard skiffs and headed out into the glassy sea.
We got the expected gloomy reports at dinner. "We want the wind back," many quipped. The bonefish had been even pickier and less tolerant of sloppy casting in the slick, calm conditions. To quote one of our guides: "You must be more polite when you cast."
The hunters in our group were beginning to embrace the bonefish game. They loved spotting fish, setting up for the cast, and then easing in with the presentation. They weren't defeated when a fish passed up a fly, being able to pick it up quietly and reposition it at will. Everyone started picking off fish that had been beyond their skills at the beginning of the week, and guides were reporting that everyone was successfully acting on their instructions from the stern. Heck, they were also catching fish while wading alone!
Instinct, experience, and great teaching guides were key to our group's success. Tackle deserves credit, too. Everyone was focused on fishing, not suffering with gear that wasn't executing properly, which is the way it should be. Fly lines and leaders were turning over flies so easily that casting became second nature. Our "old dogs" had definitely learned new tricks.