Creating a Multi Purpose Leader
George Daniel 3.23.2016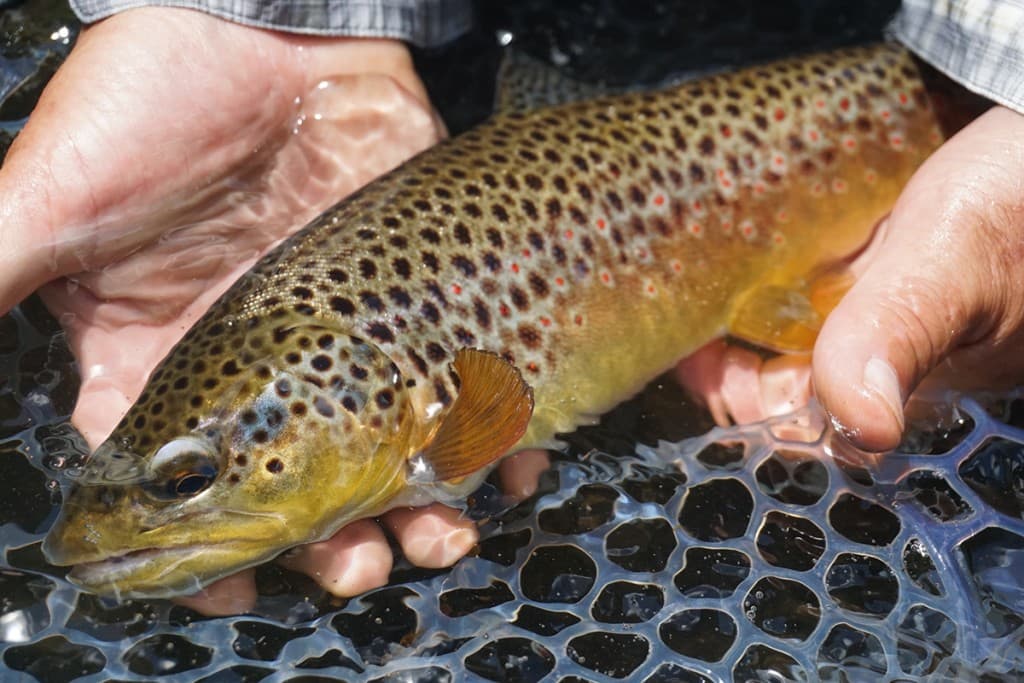 In a time where specializing seems to be the norm in the fly fishing, it's nice to know that there are multi purpose tools available. First, I do have to admit that I'm a gear junkie. I enjoy testing out all the latest gear the fly fishing industry has to offer. Within recent years the industry has answered the call from anglers to develop specialized gear to handle specific angling situations. For example, the call to develop long light rods to handle European nymphing scenarios has been answered by a number of manufactures. Fly lines have been developed to target carp. And leaders were developed to handle everything from tarpon to spring creek trout.
While I rely heavily on these specialized tools, there are times when I look for equipment that can handle a number of scenarios. For example, near my home in central PA I may have the option bounce back and forth from catching fish on nymphs to dry flies. Instead of having to change out leaders every time I decide to switch tactics, I prefer to use an all purpose leader that allows me to use the same base leader but switch out tippet sections to match conditions. This is especially true during hatch season in central PA (April through June) where there's a good you can walk upon some trout sipping the surface.
Most often anglers don't make the necessary changes due to the fact that it take too long to build another leader or to switch out one leader for another. This is the reason I prefer to use the leader formula I'm about to discuss. It's important to remember that is leader is not best suited for any situation but can effectively used for both nymphing and dry fly fishing. Also, I want to point out that I prefer longer leaders for both nymphing and dry fly, so you may want to shorten the leader to better match your fishing needs.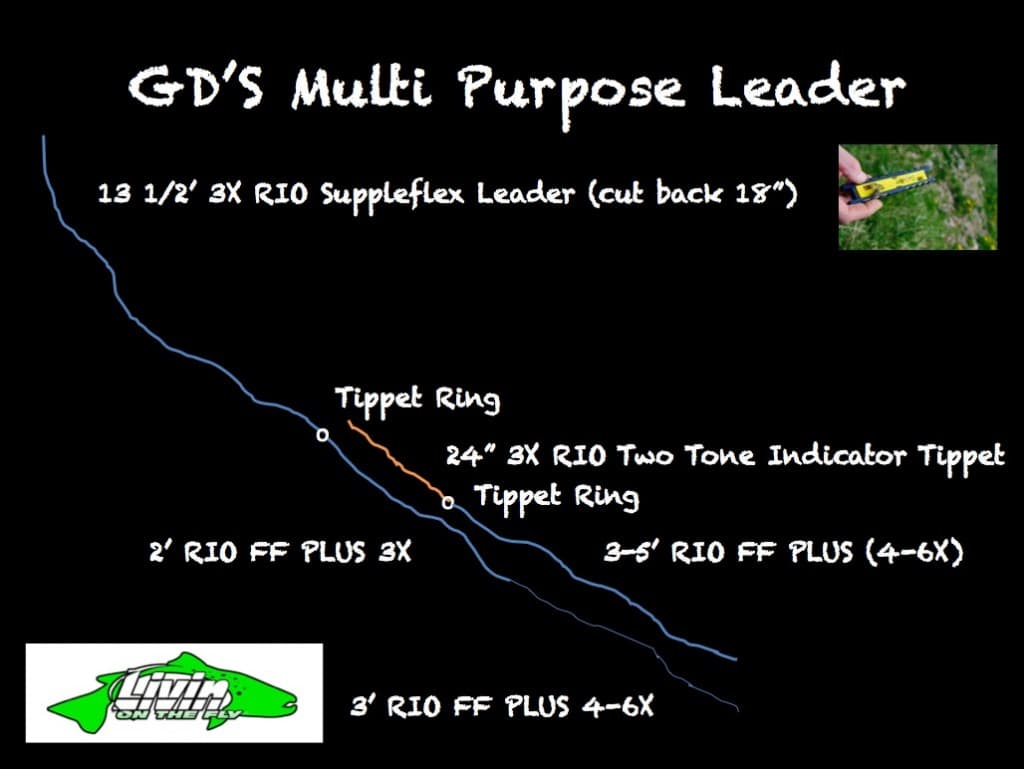 Base Leader. The base is a constant-it doesn't change. The base I choose is a
RIO Suppleflex Leader
. I prefer to start with the 13 ½' 3X diameter and cut back approximately 18 inches to give me a 12' base tapered down to 2X.
If I choose to nymph fish, I'll attached 24 inches of RIO's 3X
Two Tone Indicator Tippet
to the tippet ring attached to the base leader. Then off the Two Tone Indicator Tippet I attach a second tippet ring. Off the second tippet ring I'll attach my tippet followed by my nymph(s). Tippet length is base on personal preference and conditions but my tippet length usually runs between 3-5' back home. Remember, the idea is to keep the two tone indicator mono out of the water to allow a better visual. This is the basic nymphing rig attached to my base leader.
However, if a hatch occurs and I begin to see fish rising-I'll cut off the entire nymphing rig (that is the two tone indicator tippet and rest of tippet and flies) below the first tippet ring. That is, I snip the rig below the top tippet ring and wrap the nymphing rig around a storage device and stash it in a pocket.
Then on a separate storage device, I have dry fly rig that has two tapered sections of tippet to help turn over the light dry fly. The tapered section starts off around 2' of 3X followed by 3'of 5-6X
Fluoroflex Plus Tippet
attached to my dry fly.
The base leader along with the two storage devices (pre-rigged) allows me to bounce back and forth from dry fly to nymph and vise versa. Again, my leader design is just example of what works for me, so please go out and experiment to find a system that works for you.